BookMyShow, the ticketing platform, launched its own streaming video service in February this year.
It's called BookMyShow Stream, and you have the choice of either renting or buying titles through the platform.
The combined package now being offered by BookMyShow reminded me of Fandango in the US. They too have a streaming service, and they even have a section that is amusingly titled, 'Not on Netflix' 🙂
But, on a larger note, the idea that a ticketing platform also offers streaming video offers an interesting perspective, I thought.
I looked at movies that are available on both platforms – theaters and streaming.
The new Tom & Jerry movie is a good example. The same movie is available to consume on multiple formats, on a single platform.
You could book tickets for the film in a theater of your choice, or you can watch it right now on the device you are browsing the site from, either by renting it or buying the digital version.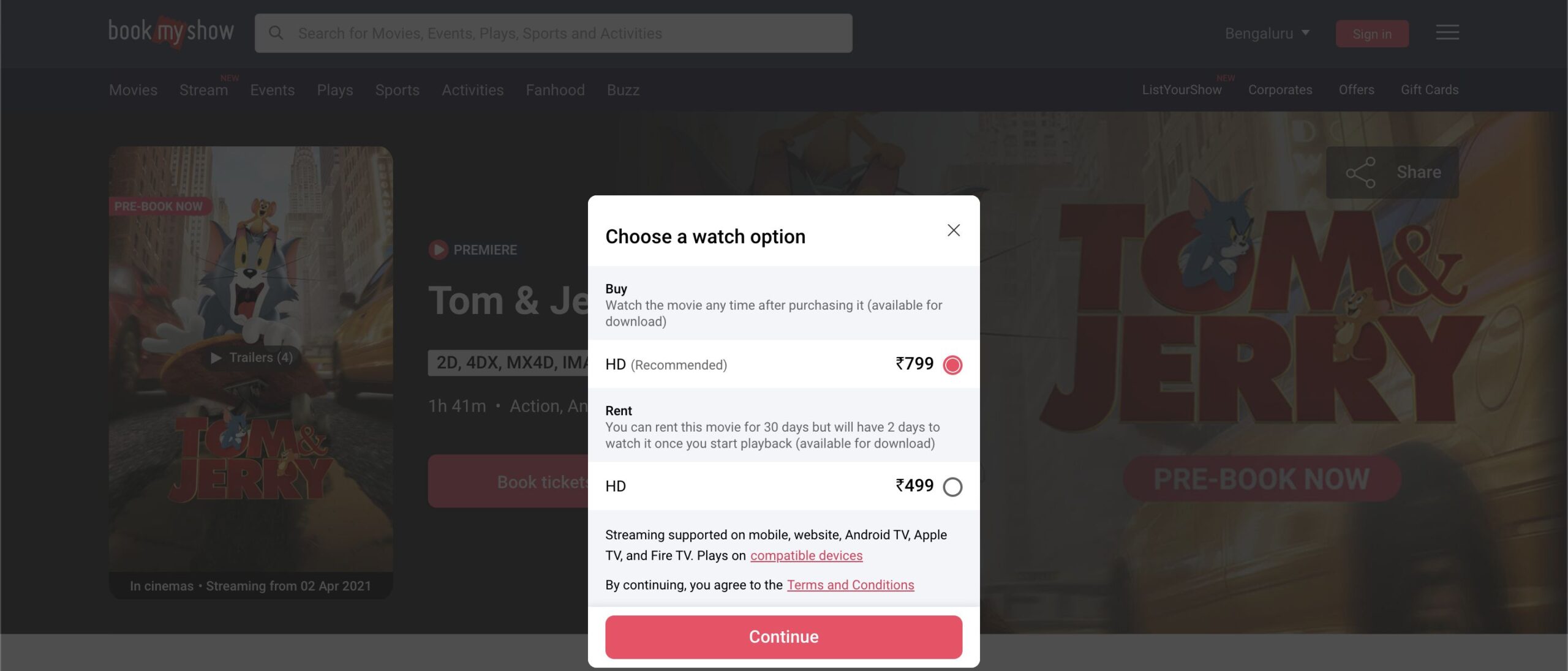 Fandango offers a similar experience. Take a look at the Monster Hunter example – book tickets in theaters, or stream it right away, by renting or buying it.
This is true choice, for the convenience of consumers/users.
There are not many titles like this, of course, on either platform. Real-world problems like the survival of the theaters (and the entire value chain/ecosystem) necessitate that a simultaneous digital release does not happen (this line of thought was decimated by the pandemic).
The closest we have seen such choice is in music and books, earlier.
With books, on Amazon, you have a wide choice – you may order a physical copy of a book, wait for it to be delivered the same day or the next day, and start reading it. Or you may order the ebook version and start reading it instantly on your Kindle. Or you may order the audiobook version and start listening to it instantly on your phone.
With music, you may start streaming it right away. Or order a CD, wait for it to be delivered, and then start listening.
Real-world issues come up when the ebook or audiobook version is produced and released after some time, to give the printed book a window to sell, much like how theatrical releases mandate a window for theaters to make money first before streaming options can kick in.
Other forms of 'windowing' could include higher pricing for streaming vs. relatively cheaper pricing for theaters. This is a persistent bugbear for most people considering ebook – they always ask why the ebook version is priced so close to, or even costlier than the physical printed copy when there is no printing or paper costs involved. But, I presume this is largely to give the printed books a fighting chance at sales given the sheer physical world effort it takes to produce a printed book.
But how would content owners see such platforms that offer a multitude of consumption choices for users?
Would they be happy that an audience is there to consume the content (movie, book, music, or even games that can either be bought as a physical artefact or streamed on platforms like Twitch), or rue the fact that the most profitable mode of consumption is not in their control anymore? That is, the choice is available only for consumers and not producers of the digital goods that were once physical?
If they want to control the mode of consumption, they need to move to other platforms that offer singular forms of consumption, thereby losing the audience that the multi-consumption mode platforms hold.
Finally, who has the power now? At one point, it was the content owners. Now, is it the consumers? Or the platforms?
If you argue that it is the platforms, didn't they hold absolute power even earlier – theaters and book stores, for instance? Of course, one could argue that an Amazon (or Fandango or BookMyShow) is a single entity holding all the power, but theaters too formed coalitions to enforce release windows that content owners could not oppose!
---
Related reading from this blog:
1. OTT Master (February 1, 2021)
2. Value additions to justify pay-per-view on streaming (December 7, 2020)
3. Own, stream, rent. (October 9, 2020)
4. Inculcating the pay-per-view habit for new movies on OTT in India (May 19, 2020)
5. Movie-watching: from a group experience to home/mobile experience (January 21, 2020)
6. OTT overdose (July 19, 2019)
7. Streaming is the new mainstream (March 27, 2019)
8. TRAI's new cable TV pricing plan, the death of appointment-based content consumption, end of serendipity in content discovery and Netflix's Bandersnatch (December 29, 2018)
9. Sarkar music launch and the death of the music CD (October 3, 2018)
10. Stars – from TV to movies to OTT? (January 18, 2018)
Comments
comments