A front-page ad by Amazon Prime Video on January 29, 2021, in the Tamil daily Dinathanthi announced, "Watch the film comfortably in your own home". The reference was to the Tamil film Master, starring Vijay. The film released in the theaters on January 13, 2021, for Pongal, and landed on OTT in just 18 days!
For a film with such a big star and for a film of such budget/scale, landing on OTT in just 18 days would otherwise be seen as a sign of the film not doing well. But, the film was a huge success despite the constraints posed by the pandemic in terms of in-theater seating.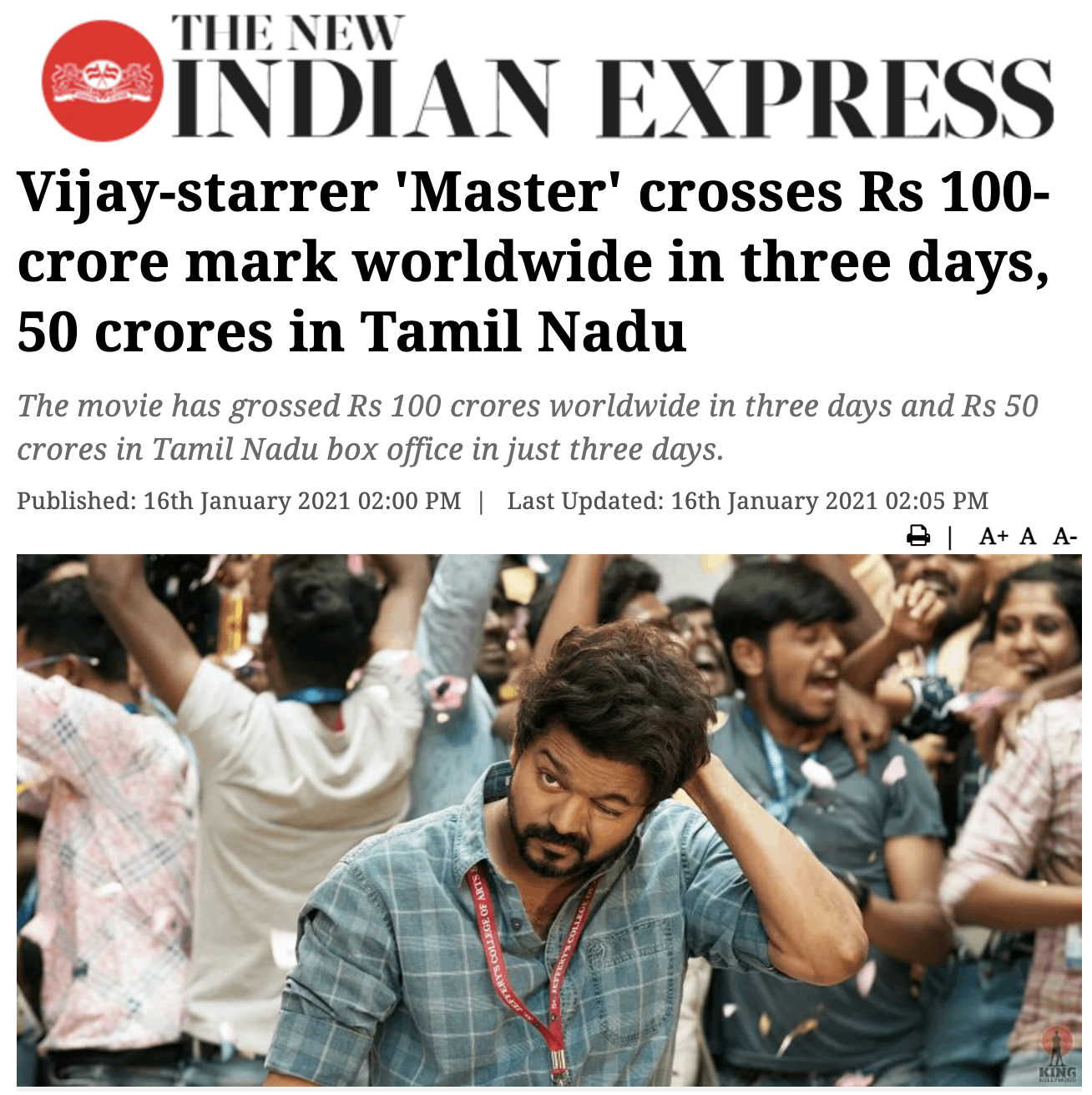 The film also received fairly good reviews all around, so the quality of the film or its business prospects had nothing to do with allowing it to land on OTT in a record 18 days.
But for the pandemic, the usual cycle would have been like this:
Release in theaters: January 13, 2021
Land on OTT: mid-February (about 30 days)
Satellite TV premier: mid-March (about 60-100 days)
But, 2018's blockbuster Tamil film 96 was premiered on satellite TV just 33 days after its theatrical release!
So, bottom-line: the so-called 'window' between theatrical release and OTT/TV release is shrinking dramatically. It was shrinking even before the pandemic, and because of the pandemic, it has shrunk even more. And the unheard-of happened: a huge star's successful, well-reviewed film landed on OTT in half the time it would have otherwise taken to reach the streamers.
This shortened 'window' offers benefits even beyond the commercial – even people who do not speak Tamil and who may not have otherwise ventured to theaters in their non-Tamil Nadu cities, have ended up seeing the film on the January 29/30 weekend! Why? Because it was spoken about and more importantly, it was simply available at the flick of a button!
I can't help but remember the struggles Kamal Hassan went through to take his Vishwaroopam to DTH, under a pay-per-view model. He planned to release it on DTH a day before the theatrical release, and the pushed it for a week later after protests from theater owners and finally, I have no clue if it did release on DTH or not! It was a complex mess back in 2013.
But, in 2020 and 2021, we are still evading the actual crux of film releases – a theatrical release is pay-per-view. A streaming release is not pay-per-view!
We may be paying about Rs.200+ for a single ticket at a decent theater to watch Master.
We pay Rs.999 for Prime Video, for one full year.
The economics of this model does not work in the long-run at all, if you consider how movies are bankrolled currently, particularly the big-budget ones.
Master may have been the perfect vehicle to try pay-per-view on OTT, but the producers and Amazon seem to have taken the route of using the film to build their user-base of paying subscribers, like most other streaming platforms around the world.
But, at some point, the streaming brands would consider that their period of acquiring users is over. And that would be the time when pay-per-view on digital platforms would truly begin. I reckon it'd be just a matter of time.
And once the streaming giants truly usher in pay-per-view, the simultaneous release of films would follow – release in theaters and OTT at the same time.
It's not an unheard-of phenomenon either. Books are released simultaneously as printed copies and as e-books all the time. People choose how they want to 'consume' the book, based on their preferences.
Pay-per-view is also the next natural stage in the evolution of the distribution of content. From theatrical pay-per-view (in a special venue called 'theaters') to offering such content on a subscription platform as part of the a la carte offering to making them available on a pay-per-view basis. The payment mechanism and processes would be improved too, to not making them seem like a separate chore to select, pay and watch.
It's just a matter of time before people get the choice of how they want to 'consume' a movie on the day of its release – in theaters, or, in the comfort of their homes.
Why pay-per-view matters and how to build that as a habit? Some ideas from my earlier post.
Comments
comments