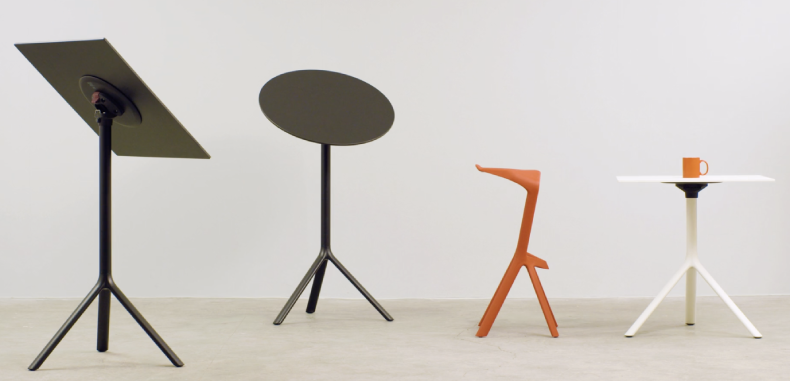 PLANK is an Italian designer furniture manufacturer. I have not heard about the brand at all and the minimal, eye-catchy designs reminded me of IKEA. But when I read up about the brand, I figured that they have been in business since 1953 and are pretty popular.
The brand recently roped Italian designer, animator, and director Lucas Zanotto (who has done work for brands like Barclays, Google, and Amazon, among others) to produce a branded film that looks hardly like one.
Now, just consider the fact that Lucas is not what you'd consider an 'influencer'. He's more of an artist (take a look at his Instagram feed for LOTS of utterly mesmerizing short videos!). He doesn't bring reach/audience, he brings craft.
PLANK sent him their furniture, as per Lucas (in his Instagram post). And PLANK gave him complete freedom to do what he wanted!
So what does Lucas do? He gets his nephew Manuel (this was before the lockdown in Italy) and locked themselves in the studio for 2 weeks and started throwing ping pong balls with one rule – no camera tricks, no fakes, only real!
The result is a riveting ad film that you may not think of as an 'ad film' at all. It is 'branded content' in the broad sense, but not about the brand.
You cannot take your eyes off during the film's runtime and may actually be rooting for the central narrative device (of balls falling perfectly into the cups). Lucas mentions that he had to use more than 2,000 throws to get the perfect ones you see in the final version!
Instead of focusing on PLANK's product functionality, Lucas aimed to create a piece of digital content that works like a trojan horse – it first entertains and engages, and while doing so, it showcases the products.
You may not even consciously notice how the products look, what they do… but they may register in the back of your mind, for you to dig into at a later point in time (when you may be considering wanting something appropriate/relevant). To be sure, Lucas showcases PLANK's products in a sparse background where there is nothing else to distract your attention (except the ping pong balls, of course).
Of course, that level of 'may eventually happen' tentativeness is the reason why marketers kill many interesting ideas when they are presented, but PLANK went into it, believing that it is worth doing.
For results like this, you may end up seeing them more than you may see a conventional ad. But how much would such views lead you to also notice the brand that is a question worth exploring.
If you see this as 'content for engagement's sake' it works perfectly. But it doesn't do anything for the brand beyond using them as props! So, does it fit another marketing tactic like in-film/in-show advertising, perhaps? It's a bit more pointed towards the brand though – the video is owned and shared by the brand, on their properties. And the brand is mentioned prominently too, though very unintrusively.
Overall, this is an interesting effort at brand building. Highly engaging (including that incredibly cure behind-the-scenes footage Lucas adds towards the end), highly shareable… and worth wondering if that would do, for the brand!
Comments
comments