"Do we have enough stock of flour for the coming week?"
"Does this tweet sound right, or am I missing something?"
"Oh God… no milk today! And the customer care is not responding!"
"I have already changed that headline thrice and boss still isn't happy!"
"The kid is seriously cranky today – need to play Jenga with her."
"Did I send the material for the print ad on Monday?"
The communications function is one of the few areas of work that could be done sitting at home. That's both a blessing and a curse, of course. Blessing…because you can continue to keep working wherever you are. And curse…because you may not be the best frame of mind to work!
But, let us consider this from a brand's point of view, and not the people working on it.
You could be ANY brand, in ANY industry segment. This global pandemic demands that you first PAUSE YOUR REGULAR PROGRAMMING.
There is no more 'REGULAR' at this point.
We are in an extraordinary situation, the world over.
Once you have paused, look at the situation in 3 ways.
Stage 1:
This is where you have just paused everything and are re-looking at what you can/need/want to do.
This is where you get your act together, to manage a new normal.
This is where you inform all your stakeholders about what you have decided towards handling this new normal.
Stakeholders may include,
Employees
Board
Customers
Vendors
Partners
…and more.
What is your plan for business continuity, at this time? How will X (a stakeholder) be affected (as per your estimation – you do not need to be 100% accurate here; the intent is more important) and what are you planning to do about it?
The tone you need to use in this communication is humane, empathetical and considerate.
There are several examples of what brands have done with Stage 1, since it arrived some time ago, though many brands are still figuring out when the time is right to put out that communication for this stage.
Here is Levi's outstandingly simple and straight communication (annotation by Marketing Examples):
But Stage 1 communication has also been ridiculed extensively because of the speed and timing at which thousands of brands—many not even remembered by people as having connected/signed up—went on an overdrive with long drawn messages/emails.
So, as much as possible, stick to short and to-the-point messages, driving straight into the heart of the crux of your communication. To do this, you need to define your audience and that audience's value proposition sharply.
Much of the emails I have seen/received are fairly long and all over the place.
I do like the focus in ICICI's email, about what their call centers would prioritize!
The Stage 1 communication is usually done through a direct communication channel, meant for a specific set of audiences. A wider broadcast channel (like Twitter/social media) may be seen by a lot more people and could spiral out of control in terms of cross-questions from other kinds of audiences.
Stage 2:
At this stage, you look at ways to inform and educate your audiences/customers about the kind of behaviour change that would keep all of them/us safe. You can choose to say that in a simple, straight way. Or you can use the time you have, stuck in your homes, to say it more creatively, in a way it connects with your brand.
The tone and objective about this stage's communication is behaviour change and subtle nudges.
This creativity could also backfire, remember, if it seems to people that this creativity-led public service message is at crossroads with your other steps towards the pandemic.
McDonald's used its logo to remind people about social distancing.
But it did not go well because people did not look at this logo change in isolation – they looked at it amidst background information of how they were treating their employees.
So, before you ask others to do something, take a close, deep look at your own house. If you are going to donate a lot of money to relevant charities and are planning to do PR around it, ensure that you are not also invoking the 'Force majeure' clause (Act of God) against your own suppliers/vendors/partners because both acts are clearly not in sync.
The best situation to be in is to be in an industry segment that could make use of your product or service, in context. So, all e-education/edu-tech brands. All digital entertainment brands. E-commerce brands, provided delivery is sorted and not disrupted. Even if you sell board games, do ensure that your delivery is not clogged up before marketing.
And remember – in case you have something relevant to offer, do market it but the tone should not be, 'Buy our product/service and enjoy'. It should instead be, 'Make better use of your time now using X'. Or, 'Here's something to keep you engaged during this time'.
Also – do not do what Taco Bell did here, asking people to drive in (for an offer) when every other brand is asking people to stay at home.
Stage 3:
This is when you ascertain a connecting point, linking your business with the situation. There are 3 possibilities:
1 – you draw a direct line between your line(s) of business(es) and the situation your audience/customers are in
2 – you do not find any line connecting your line(s) of business(es) and the situation your audience/customers are in
3 – you force-fit a line connecting your line(s) of business(es) and the situation your audience/customers are in
What space/industry segment does your brand operate in? Is there a reasonably meaningful way you can draw a line from your product, service, industry segment to something connected to the pandemic, and what your audience/customers are going through?
Examples of a linear line:
You are a pharma brand. You can help in finding a cure or a vaccine for the virus. You talk about it.
You are a clothing manufacturer. You can help produce personal protective equipment to augment the limited, increasingly demanded supplies across the world. You talk about it.
You are an alcohol manufacturer. You can augment the production and supply of hand sanitizers. You talk about it.
Not every brand can draw a straight line like this.
Consider the kind of needs that you can serve.
People under the lockdown need to stay healthy and sane.
What should they consume as regularly as possible, to do so?
What should they do as regularly as possible, to do so?
What should they read more of?
What should they avoid doing?
What can they watch, to get their minds off/spirits intact?
What should they think more of, to not let negativity overwhelm them?
How can they work more efficiently at home?
How can they avoid distractions at home while working?
What simple, house-hold equipment can they use to work better?
What if you are a brand that makes health drinks? Your product is not within the reach of your customers. But you can tell them what else to consume, if not your drink, to stay healthy.
What if you are a brand that makes chocolates? It'd seem silly to market your product—a luxurious indulgence—at this time. What can you do? Think of what your product does, if consumed? It releases endorphins to make people happy. How can the same people feel happiness without consuming your product? Humour does. Cat videos do! How can you gather content that can release endorphins and relax people?
What if your brand is a bank? Your offline branches are closed. People already use your online services. You think you cannot do or say anything now. But you can. How many cities do you have your branches in? People in those cities would be looking for reliable local information, on where they could procure essential supplies. Can you help be one of the best sources of such information? You could gather this information from your branch staff in those cities!
What if you are a bubblegum brand selling to children? What's the feeling among your target audience when they consume your product? Happiness and joy? What can you procure or produce as content to bring the same feeling in that audience?
What if you are a fitness brand? Easy! You start offering home-based fitness via the internet.
What if you are a brand that makes rice or atta? You are not finding any connection whatsoever. Then find a gap and fill that gap. People under extended lockdown could suffer from mental stress. Could you find mental health experts and get them to talk about how to stay sane and positive during a lockdown? What does it have to do with atta or rice? Nothing, and well, nobody cares. All that matters is you chose to make yourself useful.
What if you are a paint brand? People can't buy your paint now (deliveries stuck?) and may not be in a mood to paint either, given that they are more worried about how to get through every day. Here's Behr Paint Company working through this situation cleverly. What do they sell? Paints? No – they sell 'looks' for homes. How else can they sell the 'looks' now? By making virtual background 'looks' for Zoom calls! Behr can keep adding new 'looks' every week to keep the interest alive!
Furniture and home decor store West Elm is doing the same thing!
So, do not assume that you are pretty useless right now. Find a connecting point to engage productively and purposefully. Use your imagination when there is no connection.
Objective:
What are you working towards, in this stage? It's clearly not sales. Or new business (for services). So what can it be?
How about building an audience for X? X could be a new content series on your social channels. X could be a new content series on radio/audio content online. X can be a new meme series to let people unwind. X could be a new interactive show you drive at a specific time of the day, every day via Twitter, or Facebook. The audience you build now could remember you for a very long time because you chose to make yourself useful to them at a difficult time.
But, for building an audience, you need to think like a media publisher. And not like a brand marketer. A marketer thinks of sales and visibility as the goal and works towards it, and moves on to the next cycle. A media house thinks long term, to get people in and make them stay.
So think series, instead of one-off pieces of content.
Remember: you had already produced those one-off pieces in Stage 2 for a specific objective – behaviour change.
The tone:
No sales. No push. People are not in a consumption mindset when they are trying to stay alive. The only ones that would help you right now are:
Helpful
Useful
Compassionate
Empathetical
Caring
Informative
Knowledgeable
Do not plaster your brand name or logo in the beginning, middle, bottom right corner like you do in normal times. Reduce the brand name to a functional minimum because that is not the focus – the quality and nature of messages or content is.
The aim is not, "Remember who got you this useful content at this difficult time". It should instead be, "We genuinely hope you found our content useful at this difficult time".
The media/platforms:
Social media channels that you have gathered followers in, when the times were good, is the first and obvious choice. You do not necessarily need to promote or pay-boost your content at this point. You are not in a metrics-driven activity but a utility-driven activity. The more people who consume your content online the better, but that does need to come because you pushed it in front of people. This is perhaps the best time to find out if your followers care for your handles on social media at all.
If you have outstandingly original and useful content, then using some amount of media spends, either in social media channels or mainstream media (TV, OTT, digital advertising, print) could help with reach. Still, this is not about reach, but about effectiveness. Your brand needs to conserve money as much as your target audience, so be judicious X 100 during these times.
The Gucci series – completely unrelated to its business, but hugely purposeful in this situation!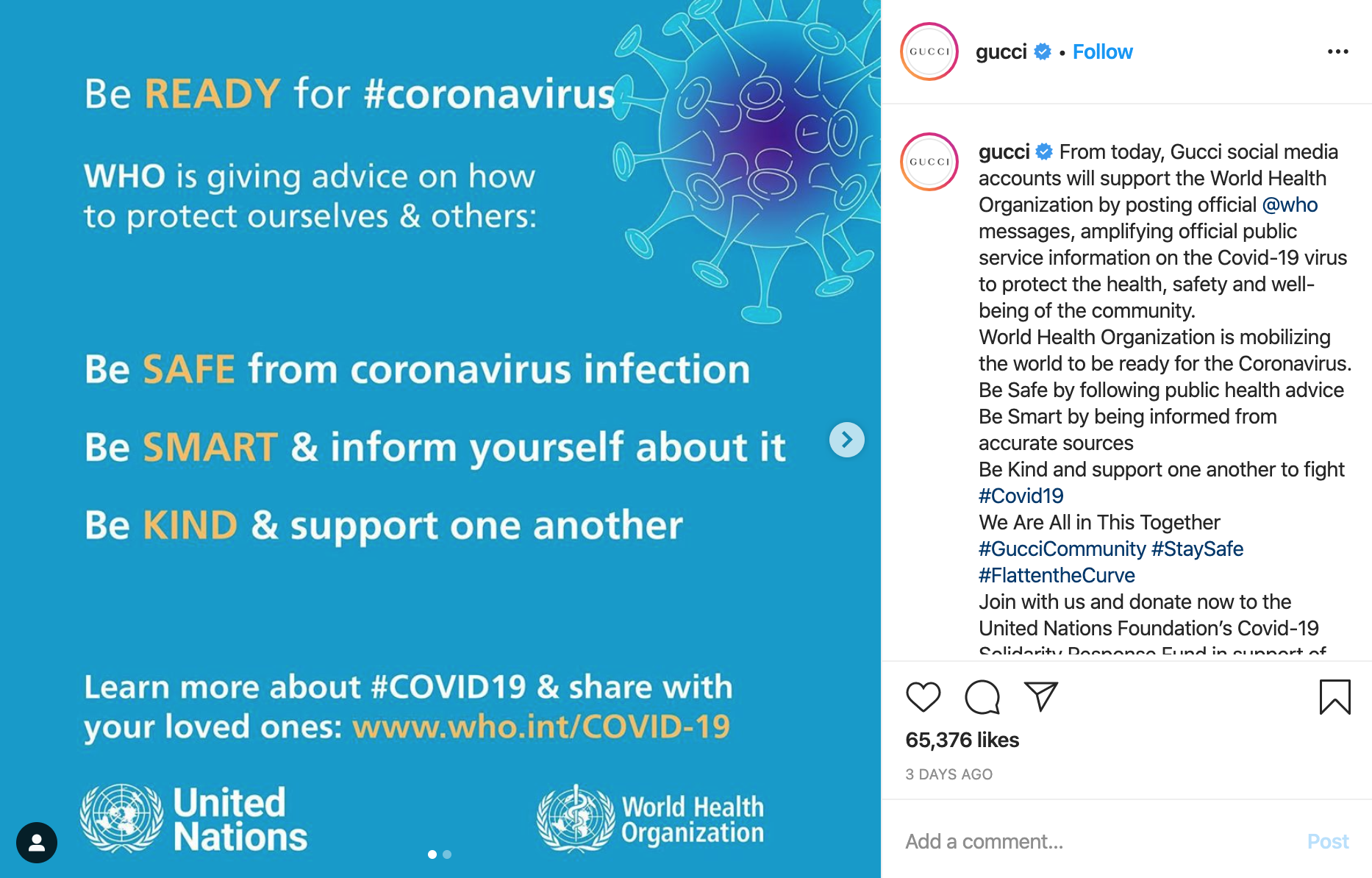 Gucci has since decided to take this series only for the weekend and has started resuming regular programming, though.
The Coca-Cola series: completely unrelated to their business, but they have clearly stated that they intend to pause regular programming and help spread useful messages from other, needy handles.
HappilyUnmarried's series that subtly also sells, though I presume they expect you to have stock of this product already.
Royal Enfield's series: This is a brand that is literally stuck and people cannot use its products at all. So it is using a combination of the past (nostalgia) and the future (looking forward to) as tones to engage people.
BookMyShow is in an utterly pitiable state, with zero bookings and zero revenue. But they use this downtime with 2 interesting content streams: live shows online and recommendations on what people could watch on OTT platforms!
---
There is a fourth stage too.
That is, optimistically and eventually, when we put the COVID-19/coronavirus behind us, and move on, back to normalcy. At that stage, a lot of things, in marketing and communications, would seem different or inappropriate. Let me look at that scenario on a later date, when there is more hope in the air than virus droplets.
Comments
comments