I first noticed the odd-looking KPMG ad in the Indian Express on January 28, 2019.
It was really odd for a B2B company to advertise in print like this, and that too with such odd imagery – employees with face-paint, a headline (which is also a hashtag) that riffs on a phrase from a recent Hindi film, made popular by the Indian Government.
A second ad appeared in the same newspaper yesterday. This one was slightly larger but had the same theme.
Is this a HR ad by KPMG, intended to showcase themselves as a great employer that potential candidates could apply to? Or a business ad considering they have mentioned a client work without naming the client, in each ad?
It's very easy to find the client names, though, with a simple search of some keywords mentioned in the ad. The first advertisement refers to Utkarsh Small Finance Bank, and the 2nd advertisement refers to Skoda India.
I'm assuming the team that sought permission from the clients to name them in the website did not include specific permission for a print ad. I've gone through such permission rigmaroles while handling B2B clients in my agency days, so I understand the complexity and why it may happen. But, that doesn't explain they haven't mentioned the clients elsewhere in their own website (which also hosts the client case studies) – on this campaign page, to be specific:
That page, incidentally, showcases 5 of these ads (including the 2 above). The ads are linked (that "click to view" call-to-action) to the high-resolution visuals, but not to the actual client case studies – and this IS odd.
There are some interesting nuances behind this hashtag.
[1] Fascinatingly, the first person to use the hashtag was a Jack Margolis from UK who used the #KPMGjosh hashtag in a reply to a Josh Davies to denote Josh being in KPMG (who, according to LinkedIn, was indeed in KPMG Manchester between October 2012 and July 2013!).
This had nothing to do with the current KPMG India campaign whatsoever!!
[2] KPMG started using it online (at least on Twitter) long before Uri and the Indian Government made it cool/popular. Pintu Singh, Director, Human Capital/HR Transformation Leader at KPMG India was the first to use the hashtag… on September 10, 2018! Even that usage seems almost incidental since he retweeted his own tweet (which had the #KPMGIndia25 hashtag only in it) with the #KPMGjosh hashtag.
[3] Since September 2018, seemingly around the launch of an internal campaign called Konvergence 2018 to celebrate KPMG's 25 years in India, KPMG India had been using the #KPMGjosh hashtag sporadically and in the background. None of its visuals/pictures shared on Twitter have the hashtag.
[4] Intriguingly, the first time KPMG India used the hashtag on the visual (and not just the tweet) signifying that the hashtag has been taken very seriously) is on the day of Uri's (the film) release – January 11, 2019.
[5] From then onwards (January 11, 2019), KPMG India seems to have gone ballistic (pun intended) in the use of the hashtag in every piece of communication material including every backdrop, balloons and so on. What seemed like an after-thought earlier became the center of focus after Uri made the phrase viral.
They even set up photo booths where employees can take a selfie with a #KPMGJosh hashtag and share it online. The employees have even been incentivised to share the photo, for gifts!
[6] The fact that someone inside KPMG noticed that they are sitting on a phrase that can be connected to the larger, more viral phrase outside can be seen by another incident. It was in January 2019 that KPMG India created a page called KPMG Josh, as part of HR/careers!
Looks like the focus on this hashtag took a very serious turn after Uri, and the whole organization came together around it.
[7] You can see that they took the phrase so very seriously by the fact that they even advertised on Google when someone searches for KPMG India!
[8] The use of the hashtag gets its logical high (pun intended, obviously) when KPMG felicitated Uri's producer Ronnie Screwala and KPMG India's Chairman and CEO tweeted that meeting!
[9] From a pure hashtag basis, KPMG seems to have done reasonably well, though its usage has been restricted to employees and KPMG handle itself.
That also seems like the objective since this is an internal campaign meant for employees to rally around and not something outsiders (clients, general public) can latch on to. The outsiders had latched on to 'How's the josh?', and may not bother about a branded version of the phrase. But KPMG would have definitely gained from the rub-off effect of all-things-josh in the aftermath of Uri and the Indian Government making it viral even offline.
—
So, what does KPMG gain from the public facing communication of #KPMGjosh, like the print ads? It's vastly unlike conventional B2B company ads. B2C brands usually tap into topical phrases in order to attach themselves to the topicality and perhaps gain some mindshare (and sales) in the process. This one is very different. But the intent seems to be similar – it started without the real josh-ful intent, almost like an HR add-on in the background. But after Uri made it cool, the phrase seems to have subsumed KPMG India's other messages and came to the forefront, including becoming the headline in a print ad.
Given how virally popular the 'josh' phrase is now, this is not a bad pivot at all. For people outside KPMG, they are more likely to see this as KPMG's slightly corny attempt to latch on to a popular phrase. Just that, KPMG India had it with them, even without the actual punch, long before Uri made it viral. The rallying cry is more likely to appeal to employees alone, however… not outside of KPMG India.
But even here, it sure has rubbed off on some outsiders, like clients and partners of KPMG India. For instance…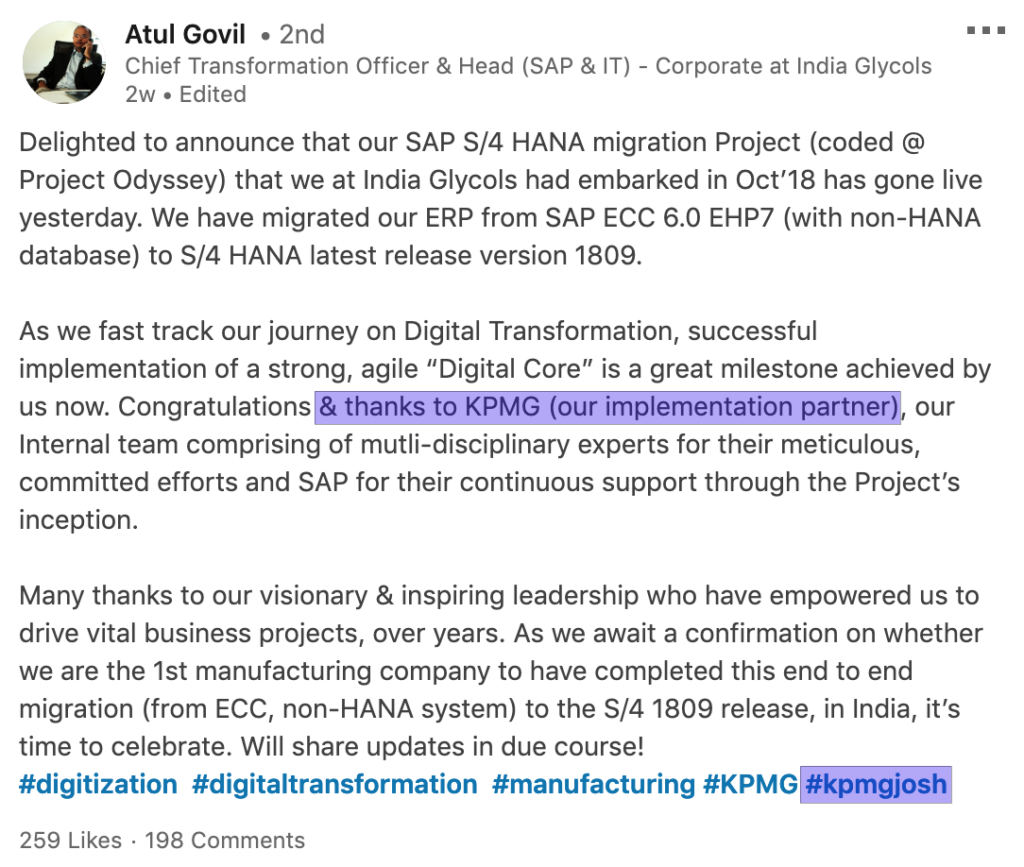 So overall, I think this campaign has worked in KPMG India's favor since they have a made active attempts to own and run it after Uri's release. Someone in KPMG deserves a raise and kudos for identifying the opportunity… that they are sitting on a phrase that was being used incidentally before Uri made it popular. And took active steps to bring that to the forefront in order to gain mindshare from it. And such steps included usually unconventional, expensive steps like print and Google advertisements! Good job!
Comments
comments