We humans use the timer for everything these days. To wake up. To remind us things to do during a day. To alert us that your silent prayer time is over. To remind us about meetings that are now through video conferencing. And so on.
Back in 2014, HUL released a new ad film for Lifebuoy (by Lowe Lintas) in which Bunty goes camping. As he washes his hands with an obviously non-Lifebuoy bar of soap, he says his mom has instructed him to wash his hands for one minute for it to be effective. And then a girl comes along and drops the now-famous line, 'Bunty, tera saabun slow hai kya?'.
Back then, Lifebuoy claimed that you could use its liquid hand-wash for just 10 seconds for the same efficacy.
The recent COVID-19 related communication insists that even with liquid soap, you need to wash your hands for 20 seconds to be effective.
There have been innovative ways to impart the 20-second mental timer in people. One of the more popular ways is to sing the Happy Birthday song twice while washing your hands!
Now, let's move away from the hands and to the teeth.
Do you know how long you are supposed to brush your teeth every morning? It's supposed to be 2 minutes!
Interestingly, oral care have been working on this from the product front and the communications front!
Colgate launched an interesting campaign called Colgate Two Minute Tales back in 2016. The idea was charming! Colgate roped in agencies, MEC and Red Fuse to create a series of 2-minute stories told by Claire Freedman, author of the best-selling series "Aliens Love Underpants".
The page is still available here, with a lot of stories in text format (for parents to read, themselves) or in audio format (that tired parents can simply play).
In this idea, the story's duration acted as a natural timer and lead to a permanent behavior change in the core audiences – children. Instead of simply ordering children to brush for a full 2 minutes (which is likely to produce more annoyance and heartburn for both children and their parents), the brush brand aimed to incentivize the behavior through a fun activity outside the product.
The next year (2017), Colgate upped the ante with less charm and more technology. They designed and manufactured a 'talking brush' that had 3 functions – it coaches the user (child) through 2 minutes of brushing and congratulates them when finished, the characters (like Minions or Teenage Mutant Ninja Turtles) tells the child to brush each quadrant of their mouth, and of course, informs the child when the 2 minutes of brushing is over!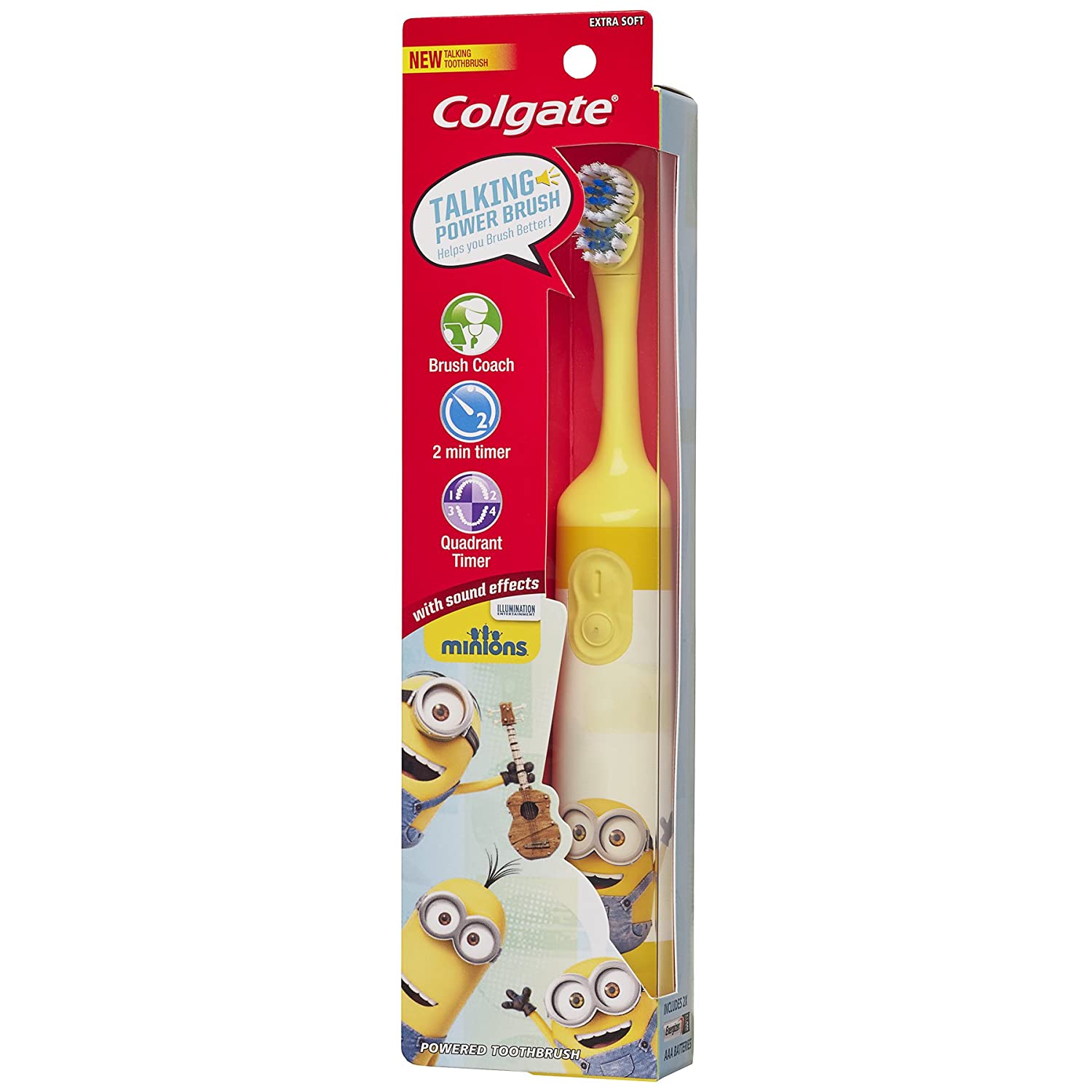 So, from an external 2-minute impetus to an in-product creative device – battery-operated voice as a 2-minute timer, with additional frills thrown in.
Last year, Colgate iterated another version of the same 2-minute idea – instead of a battery-operated brush, they added a sand-clock to a normal toothpaste! It was a 2-minute timer sand-clock!
This is as charming as the first, story-based idea since this is an external device to use alongside the brushing. That adds an extra layer of fun for the child. I hope a smart and inventive child doesn't set a competition between the sand clock's 2 minutes and the toothbrush's 2 minutes 🙂
You could argue why a parent cannot use their own phone's stop-watch for this purpose. Of course, we could use the stop-watch in our phones for everything, including this, but it lacks the innate excitement of using a fairly rare object like a sand-clock that literally showcases the movement of time, particularly from a child's point of view.
But Colgate has gone beyond children for this idea! They have added the 2-minute battery-operated brushes model for adults too!
I also figured that quite a few other brush brands have the same idea, including Oral-B (in their range of non-manual, electric brushes), AquaWhite and Firefly.
Comments
comments