Considering I imagine myself as an Indian instant-noodles connoisseur (!), how can I not be excited about a completely new noodles brand being launched in India?
I first Googled 'Saffola Oodles' and BigBasket was the first e-commerce link that stared at me. I ordered it and then headed to Saffola's own e-commerce store.
The brand name is definitely interesting – it's not actually noodles and yet is, in some way. That does evoke interest. And the 2 Os in the brand name seem to be referring also to the product's shape – that's a clever touch.
Oddly enough, on a day when the news of the new product launch was all over print media, the Oodles banner was No.3 on Saffola's own website.
And, Oodles was not listed under 'Products' directly either – it was adequately buried inside 'Soups & snacks'! I would have assumed Marico/Saffola would give the new product more prominence on their own website so that those that land up after reading about the launch would see it displayed in what would be the equivalent of a point-of-purchase standee at a departmental store and invite them to buy a trial pack.
Timing it with media coverage would be a good start, but that day has passed.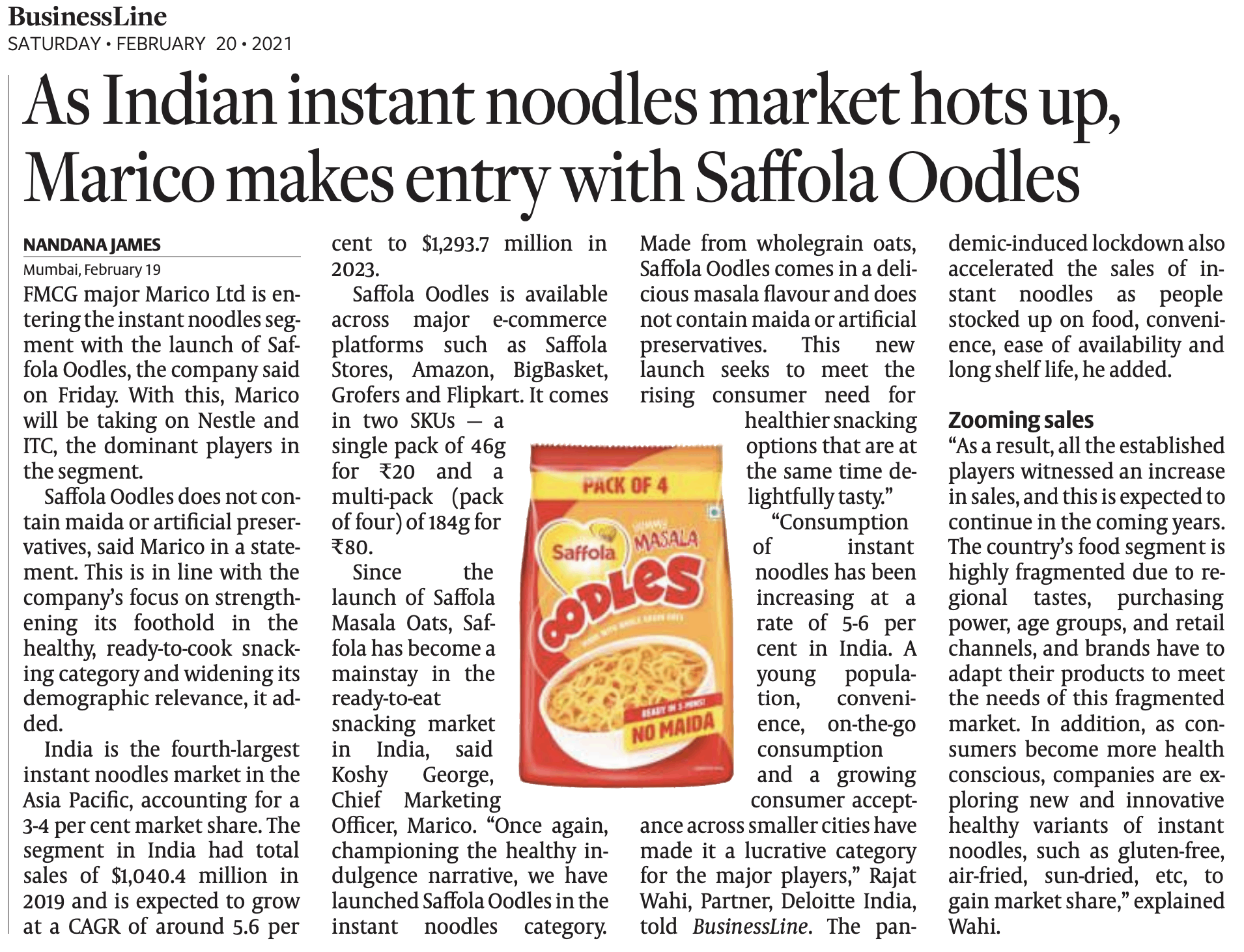 I could also argue that the news last Saturday was more from a business point of view than the brand per se. But even then, given that this is a new launch, it could be showcased a lot better on Marico's own website.
In any case, considering Marico has not launched an advertising campaign yet (at least I haven't seen one yet), there's still time to spruce up the website in support of the new product launch.
Why is this launch significant? Because, the instant noodles market in India, which was created and defined by Maggi in the 1980s, has seen very few competent rivals. ITC's Yippee was the last one that offered decent competition to Maggi, besides brands like WaiWai that continue to fight in the periphery. So, Marico throwing itself into the ring is great news.
In terms of the price and quantity, Marico seems to be in an interesting zone: a 46 grams pack is priced at Rs.20.
Compare this with Maggi – a 60 grams pack is priced at Rs.15 (that is the broad range – some variants are 70 grams, but the price remains Rs.15, mostly).
Compare this with Yippee – a 60 grams pack is Rs. 12, while some variants are also available at Rs.15 for a 65 grams pack.
So, even as Saffola Oodles is not explicitly and directly 'noodles', it still pitches above the 2 most popular instant noodles brands in India in terms of price, while offering a lesser amount of the product. Even if you compare it with Knorr's soupy noodles, that product retails for Rs. 15 for a 77 grams pack! In every way, Oodles seems like Marico is pitching itself in a premium zone, price-wise, within the category.
See this earlier Twitter thread, in context:
BigBasket promptly delivered my pack of Oodles on Sunday morning, so I was able to give it a breakfast spin!
I quite liked the pack design, particularly the large 'Oodles' brand name in the layout, though the color scheme looks too similar to the other Saffola product packs like Honey, mealmaker soya chunks or the idli mix. It doesn't stand out as their Fittify range's package design that breaks the clutter and identifies itself instantly.
But it does stand out when you see it alongside Maggi or a Yippee, so, from an offline stores' perspective, it should help, I presume.
Incidentally, there was another pack design that Saffola had used for its trademark registration – that looks even more striking than the current one! I wonder why they moved away from that design.
In terms of the form factor, I was pleasantly surprised to see that Marico had innovated quite dramatically – this is not noodles at all, but rings! Whereas Maggi, Yippee and the rest were harping (from time to time) on the length of their noodles, Marico completely exits that game and pitches a totally new shape. That makes this product quite interesting, exciting enough for a trial, purely from a novelty factor.
The pack also instructs us to make it soupy, competing with the likes of Knorr's soupy noodles.
When I opened the pack, what I saw was unlike any instant noodles – it reminded me more of a pack of raw fryums or Kellogg's froot loops/Cheerios breakfast cereal!
Making it was easy enough, as usual, since Maggi has taught us all this many years ago – 5 minutes, maximum.
As for the all-important factor, the taste, I have to say I quite liked it. The flavor was very nice – tomato'ish masala taste that is easy to appreciate. The soupiness makes it an enjoyable snack, and the rings are soft when cooked well. It would easily pass my 'Would I buy it again?' test – the answer would be an emphatic 'Yes!'.
If Marico gets the distribution and availability right, I foresee Saffola Oodles to be a decent-enough rival to carve out market share from Maggi. The fact that it shouts the 'healthy' credentials aloud ("No Maida", "Made with whole grain oats") should help in trial purchases significantly, while the combination of the unique form-factor (could be a great draw to kids, provided Saffola uses it as a narrative device in their advertising) and taste should help further endear the product among buyers.
But, as always, I'm acutely aware that these instant foods, no matter what they claim on the pack – No Maida, Healthy, Includes Oats, no artificial this and that – are inherently unhealthy in the long run. Plus, there is the question of the salt content. So, I usually indulge in such snacks very, very occasionally – I'm more interested and excited about the brand/branding and marketing aspect and considerably less about making it a habit. So, please consider consuming packaged/instant foods in moderation.
For now, I can't wait for Marico to start advertising this product. I wonder what narrative they'd take, and how it may relate to/attack Maggi, and how (if at all) Nestle would react. Considering the fact that packaged food is doing better than ever because of the pandemic-induced home-bound states, and the fact that a new brand is throwing its hat into the ring, I do hope Marico opts for a disruptive communication narrative and not the garden-variety 'anytime snack', 'kids love the rings', 'mom loves the healthy aspect' etc.
Related reading:
1. A legitimate rival to Maggi in India, finally – ITC Sunfeast's Yippee! (October 2010)
2. Yippee's 3rd flavor is out – but why Chinese Masala? (March 2013)
3. Post MSG controversy, Maggi initiates Mass Auto-Response protocol (May 2015)
4. A new Maggi flavor is always a cause for minor excitement (October 2018)
Comments
comments