Back in the mid-2000s, the Tamil Nadu-based Gingelly Oil brand Idhayam unleashed an extensive multimedia campaign for something relatively unknown till then – Oil Pulling.
Oil pulling, a procedure mentioned in the Ayurvedic text Charaka Samhita under names like Kavala or Gandusha, involves swishing oil in the mouth for oral and systemic health benefits. It is claimed to help in curing mouth ulcer (canker sores), prevent teeth decay, oral malodor, bleeding gums, dryness of throat, cracked lips, and strengthening teeth, gums and about 30 systemic diseases ranging from headache, migraine to diabetes and asthma since it uses the approach of mouth is the entrance to all kinds of food intake.
Idhayam's oil pulling related campaign's media bombardment was astoundingly relentless – TV ads, print ads, radio ads, outdoor billboards… every conceivable media vehicle was utilized to popularize a fairly unknown/lesser-known practice.
The TV ads from that period were very popular:
Tamil actor Jothika's face was on the special packaging launched by Idhayam specifically for oil pulling – called 'Idhayam Wealth'.
It would be apt to say that Idhayam brought a new practice/phrase into popular knowledge with an extremely well-planned and extensive advertising campaign, at least in Tamil Nadu, and possibly in the South of India given the brand's presence and availability in the 5 Southern states.
Idhayam still has an exclusive page dedicated to oil pulling and its product, besides a Facebook page.
In the North of India, oil pulling remained a lesser spoken-about (at least in terms of broad awareness) practice, and even within that, associated more with coconut oil instead of gingelly/sesame oil.
More importantly, no brand had tried to own oil pulling as a concept the way Idhayam did in the South. Patanjali (through its Coconut Oil brand/product) could have been an ideal candidate for this ownership, but they did not go that route.
So, it is fairly surprising to see a multinational like Colgate, and a brand like Dabur, throw their hat into the oil pulling concept co-ownership long after Idhayam asserted its brand in context!
Colgate has launched a new product specifically meant for oil pulling, under its Vedshakti sub-brand, while Dabur is launching an oil pulling product under the Dabur Red brand.
Colgate's approach:
Unlike Idhayam that created another use-case for its product to expand consideration, Colgate does not have a product meant for oil pulling at all. In fact, Colgate has never been known for any kind of oil. But Colgate approaches the theme not from the oil's side, but from the oral health side, a space the brand is extremely well known for.
Within this expansion, the sub-brand has been aggressively entering newer categories that one may not associate Colgate with. The mouth spray is one such recent launch.
I wrote about it in November 2020: The intriguing positioning of Colgate's new product.
Colgate's full-page advertisement about the new product was released on December 31, 2020, only in the South editions of The Hindu (Chennai, Bengaluru, Hyderabad, Kochi, and other Southern cities). On January 1, 2021, the campaign went national, releasing in almost all editions of The Times of India.
It is also positioned cleverly as a possible new, healthy ritual for the new year.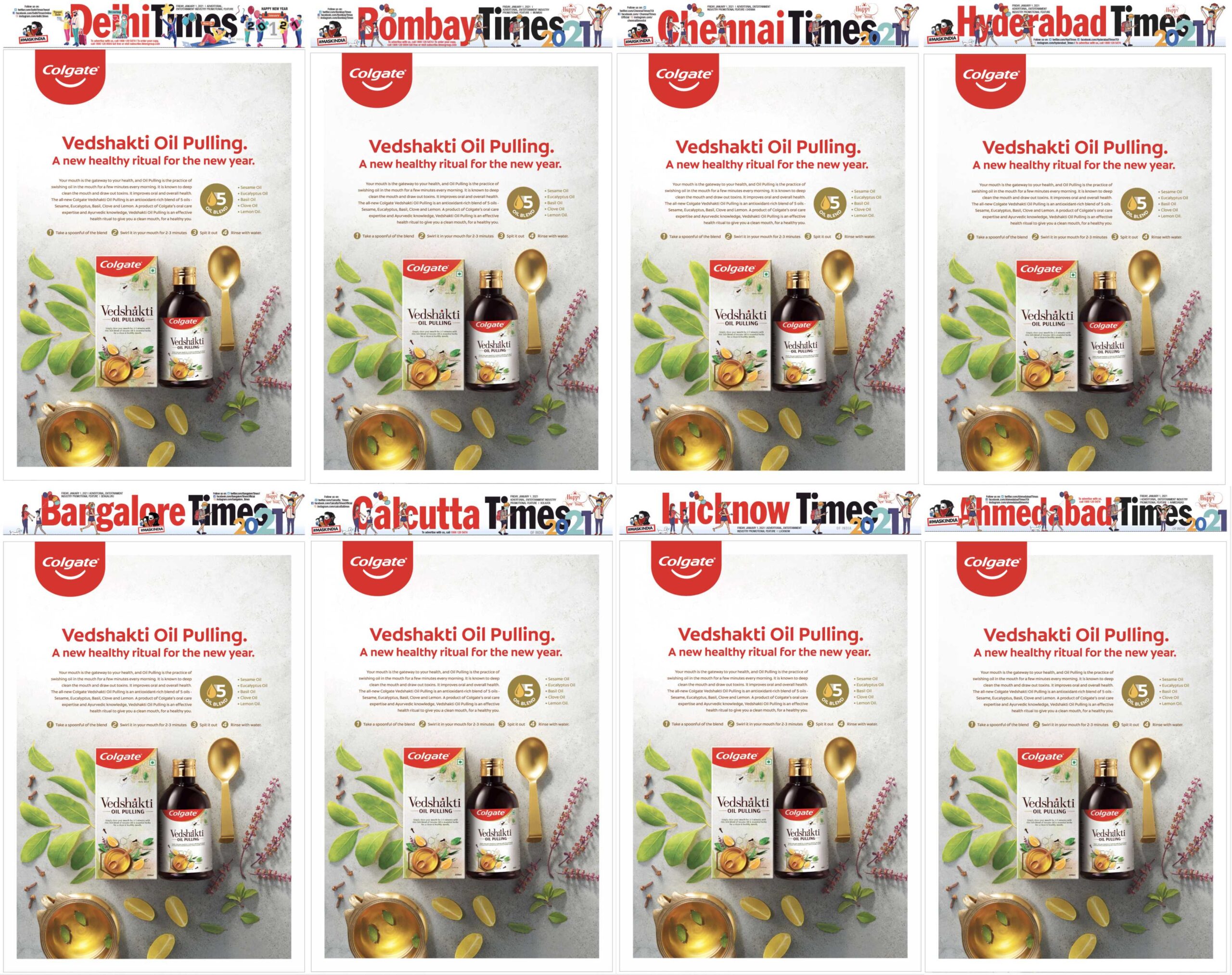 Since Colgate does not come to the oil pulling practice from an oil perspective like Idhayam, it can think of the ingredients from scratch. So it includes multiple oils (sesame, eucalyptus, basil, clove, and lemon) to make the product pitch more attractive. That the product does not include coconut oil is a surprise!
Interestingly, when you Google 'colgate vedshakti oil pulling' to know more about the product, not only does Colgate not have a dedicated product page yet (based on my search in multiple Colgate India websites – it may be in the pipeline), but there is also a page that has content on the oil pulling practice that leaves the reader rather confused! The tone taken towards oil pulling is very cautious, as if Colgate is not 100% sure about it. That goes completely against the assertive push for oil pulling in the new advertisement.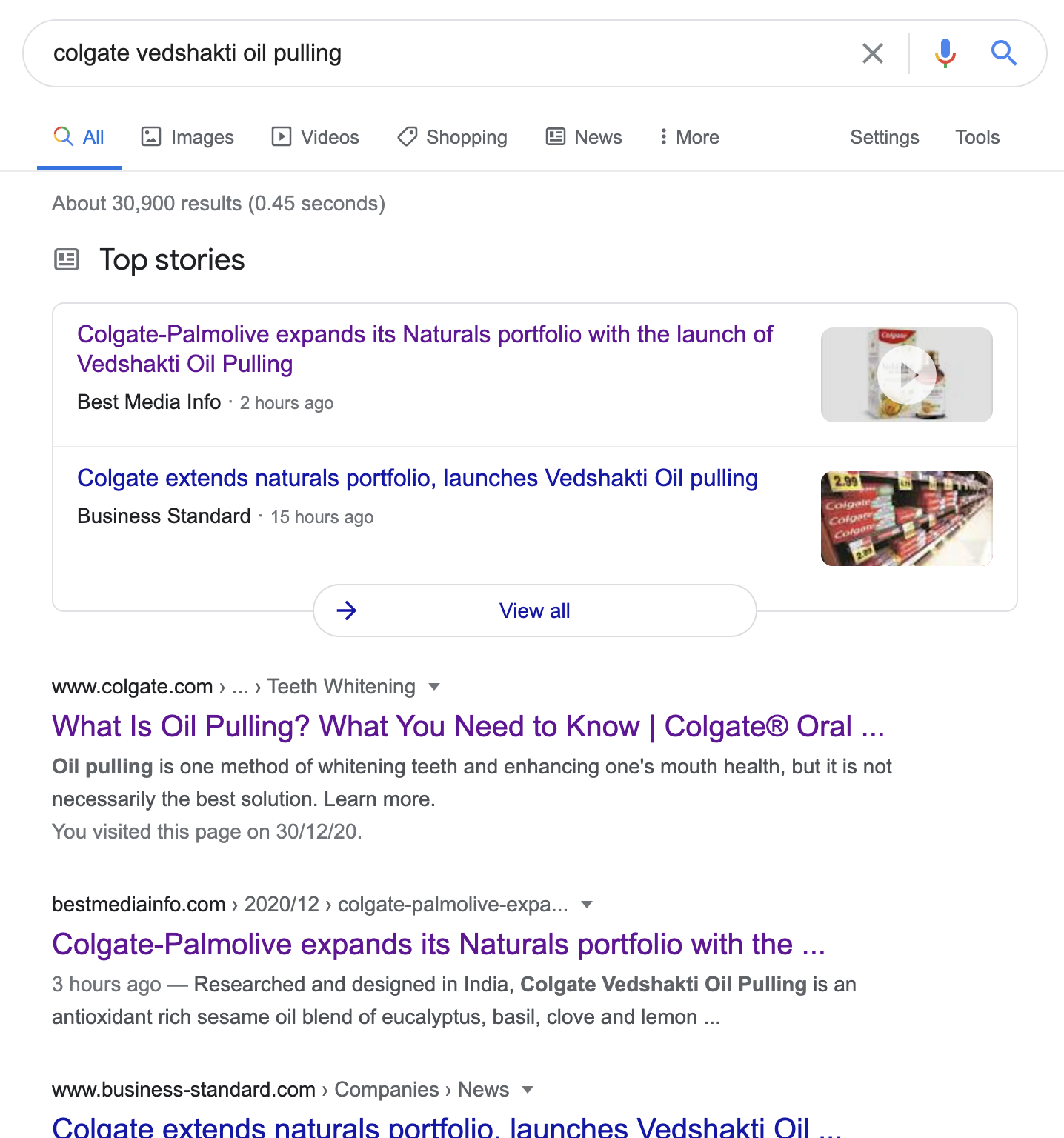 Colgate may eventually get to the hygiene factor of scouring through its own website, remove the doubtful pieces of oil pulling and finally add an actual page on the practice and the product in context.
Dabur's approach:
Unlike Colgate, Dabur has a range of oils in its portfolio, including the famous Dabur Lal Tail. But like Colgate, Dabur too is approaching Oil Pulling from an oral health perspective and not an oil perspective, like Idhayam, given the use of the Dabur Red brand for the product association.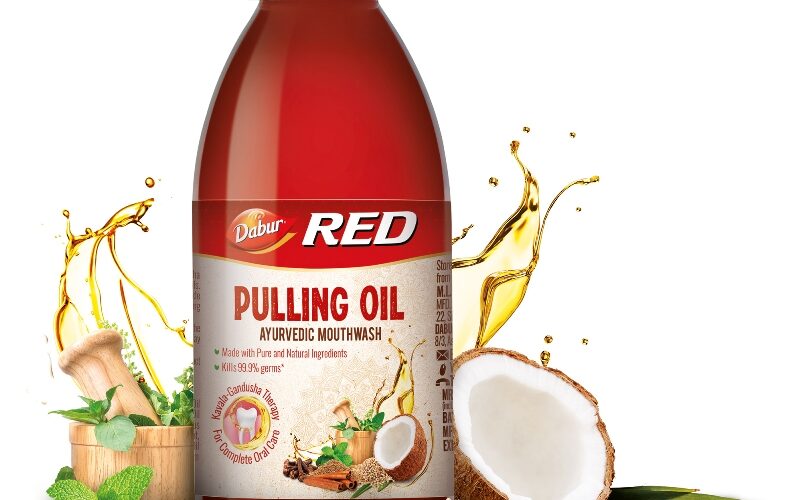 Dabur's ingredients include a lot more oils than Colgate's 5-oil mix or Idhayam's single oil composition (what is supposed to be the recommendation in the original Ayurvedic text, from what I know). And there is coconut oil too, unlike Colgate.
At least in the South, Colgate would be riding on the terrific awareness built about oil pulling by Idhayam (through only sesame oil) and present an alternative to the same set of people. In the rest of India, Colgate may be the first brand to officially associate itself with the oil pulling practice.
The other difference is starker: Dabur names its product as an 'ayurvedic mouthwash' even though mouthwash is not meant for usage for the 5-10 minute duration that is under the purview of oil pulling. Idhayam's oil pulling recommends swishing the oil in your mouth for 20 minutes, Colgate for 2-3 minutes and Dabur, for 5-10 minutes.
Colgate too has mouthwash products in its repertoire, including under the Vedshakti sub-brand, but even Colgate resisted from categorizing the oil pulling 'oil' under mouthwash. So, it is vastly interesting that the brand with more Ayurvedic street-cred among the three (Dabur; Idhayam and Colgate being the other two) chose to pitch the product as a 'mouthwash' and not as 'oil' meant for oil pulling.
Dabur is yet to advertise their product and I'd be keen to see how they utilize the mouthwash positioning to differentiate themselves from Colgate's advertising.
I also feel that Idhayam may renew its communication around oil pulling afresh, after a period of no major communication in recent times (barring regular Facebook updates). After all, they were the first brand to associate with oil pulling in a really big way, so they could feel the heat with two much larger, oral care brands throwing their might in the space.
Comments
comments