The 'Mouth Spray' category in India has traditionally been very small. The kind of brands that occupy the space seem small and lesser-known, or unknown. This is mostly because none of the brands that have a larger play in the oral care segment (involving toothpaste, toothbrush and mouthwash, primarily – brands like Colgate, Closeup, Himalaya, Vicco, Pepsodent, Dabur) have any product in the mouth spray category!
The product too is not given any special place in offline stores' shelves that contain other oral care products.
In pop culture, the mouth spray is very commonly associated with kissing and dating. The implication usually is around bad breath and if you needed to socialize, a spray should be faster than heading to a place where you can either brush your teeth or use mouthwash.
In terms of comparison, a mouth spray is the equivalent of a pocket-sized deo sprays that are so common nowadays. I had written about that segment last year: The Foggy meaning of 'perfume ka top-up'.
The most common rival to a mouth spray is usually mouth freshener – the white, minty variety; or Indian-style saunf or clove; or the mouth freshener strips. The mouth spray brands may argue that with the spray you do not need to do anything – just spray and get fresher mouth/breath instantly, unlike mouth fresheners that you need to keep in your mouth and chew, and so on.
In this scenario, Colgate has launched a mouth spray under the Vedshakti sub-brand!
There are several interesting aspects to this launch.
1. This is perhaps the very first time an oral care brand has extended itself into the mouth spray category. The other brands of mouth spray available in India (like Spraymintt, Freshme, Geofresh etc.) do not have a larger play in the oral care segment.
I do notice that Listerine (a fairly large oral care brand with a significant presence in the mouth wash category) also has a mouth spray but that doesn't seem to be made in, or meant for India. And the ones available online seems to be imported.
2. What is particularly interesting is the product's positioning. Before I come to Colgate Vedshakti Mouth Spray's positioning, let me first establish the common thread in the positioning of other mouth spray brands in India, at least the ones that seem commonly available on Amazon India.
Here is Spraymintt – the focus is on 'freshness' and socializing (using man-woman attraction). The back of the pack even says, 'long-lasting, fresh, sexy breath' and be 'kiss ready'!
This is Geofresh. The focus – freshness blast, mouth freshener.
And Breathe. Focus – herbal breath freshener, sugar-free.
Jawfresh. They frame their pitch away from fresh breath and focus on Halls' Gale Mein Kich Kich territory and relief from bad breath.
Now, here is Colgate Vedshakti Mouth Protect Spray. Notice anything different? The most prominent selling point is "Mouth protect spray" and 'Germ-kill'. The back of the pack focuses on 'fight germs in your mouth'!
The interesting point here is that this germ-kill in the mouth is usually at the service of an end user's problem.
Consider this imported Listerine mouth spray pack, for example: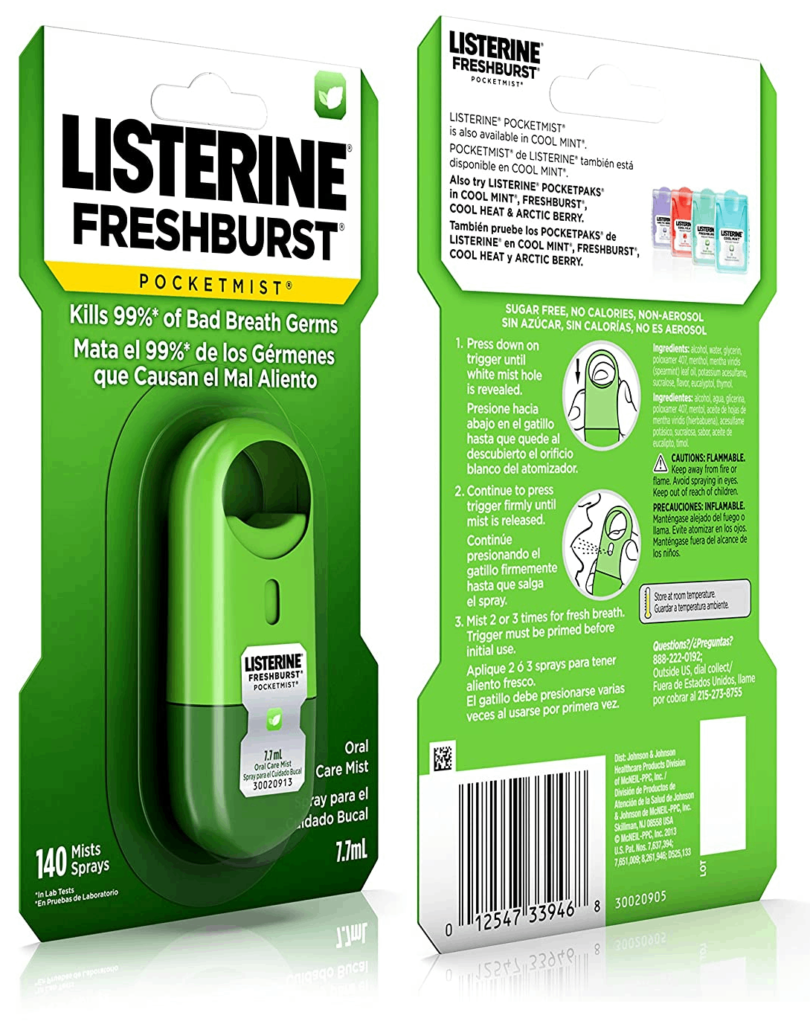 It says, 'kills 99% of bad breath germs'. You kill those germs and now have fresh breath.
The problem is bad breath that is caused by germs in the mouth – not the germs themselves. So mouth spray, mouth wash and toothpaste brands speak about germ-kill as a means to an end, which is bad breath. But Colgate Vedshakti's mouth 'protect' spray doesn't mention the endpoint at all – it stops at germ-kill!
Unlike any other mouth spray brand, there is no connection to socializing, dating, kissing etc. Is that because of the Vedshakti sub-brand? That is, Vedshakti = rishi/ayurveda = austere, pious living… so, no indulging in worldly pleasures?
The product itself is called 'mouth protect spray'! The focus is entirely on 'protection', on the product packaging.
It's only when you see the product listing in a place like Amazon, do you notice additional selling points that are more conventional to this category.
3. Is the 'instant germ kill' framing intended to appeal to buyers during the pandemic? In other words, is Colgate using our fear of the coronavirus as a lever to indirectly make us consider their product that has nothing whatsoever to do with the pandemic or the virus?
To come to that conclusion, merely looking at the package text is not enough. We need to consider more angles.
4. Let's take another angle – the TV ad for the product.
The ad frames the usage of the product as that of a man's (or person's) need before he goes out of the house! This is a common use-case that has been drilled into our heads in the past 6 odd months, but in the context of hand-wash and hand sanitizing! Colgate uses that behavior update for a body part (or orifice) that we have not yet considered washing, cleansing or sanitizing due to the pandemic.
Also note – there is no woman (or the point of attention from the opposite sex) in the script – only a little girl, the man's daughter, who reminds her father that he forgot the 'mouth protect spray'! Ironically, the warning in the ad says the product should be kept away from children, like the one who is reminding her father about it!
The daughter stopping him seems almost as if she is going to remind him to wear the mask or sanitize his hands… instead she reminds him to use a mouth spray! The man does not wear a mask as he is heading out and does not wear a mask till the end of the ad, by the way.
5. Or, let us take into consideration the other TV ads Colgate has been showing us during the IPL. Colgate seems to have tied up with many IPL teams to promote the new product. Every promo focuses exclusively on killing germs in your mouth, a pitch never been made by any mouth spray brand so far.
The cricketers are not shown to be using the product to be more confident in talking to people or socializing – the only reason for use is killing germs in the mouth! And this, despite Colgate's other oral care products like toothpaste and mouthwash hammering the point that using them twice a day helps kill germs and offer fresh breath!
6. Just for context, a Swedish company announced that they have created a mouth spray that could lead to deactivation of the Coronavirus by 98%, back in July 2020.
---
The timing of this new product's launch by Colgate seems to play into a space where people are looking at any and every surface in our body that we can disinfect to protect ourselves from the virus. The inside of our mouth is perhaps the one place/orifice that people did not consider.
But Colgate's new product, despite being in a category that is historically associated with bad breath and fresh breath, positions itself at a new, so far unexplored space, perfectly playing into our fear and doubt caused by the coronavirus.
Comments
comments