The comic strip format has long been associated with fun and entertainment.
If a serious topic is communicated via this format, the assumption generally is that it is meant for younger audiences, or it is toning down the seriousness of the content. Take, for instance, the video equivalent of comic books – animation. The Tom & Jerry animated series has always been full of graphic violence, but it passed our threshold for watching it because it was animated. Simpsons' Itchy & Scratchy Show lampooned this dichotomy spectacularly.
Closer home, in India, in the bilingual film AaLavandhaan/Abhay, Kamal Hassan, the film's director, chooses to depict brutal, graphic violence (of him killing Manisha Koirala) in an animated sequence, interspersed between real footage!
But the format, even using illustrated visuals, could be a fantastic tool to communicate any topic serious even for adults (and not just children, in an attempt to dumb down the content). Even if the animation/sketched imagery in the boxes exaggerate (unlike a photo that shows what, is, as-is) reality, the format could still be taken absolutely seriously, without thinking of it as a trivialized/toned-down version.
I had earlier written about my effort in using comic book format to convey a really topic – Infosys Prize, while at Edelman. With that effort, we tried conveying the very serious reasons behind why someone won the prestigious Infosys Prize – the stories and plots were dead serious. But we made it simple and interesting enough for any kind of audience.
See: Simply put (July 13, 2018)
I came across a few comic book narratives in mainstream print media, to communicate serious, non-fun messages.
The first is an advertisement, in the April 27th issue of India Today, by LIC! It's a 2-page spread that acts as a product communication for LIC's online services and some of their products. The entire message is conveyed in the form of a comic strip, and a conversation between family members. If the same messages were to be written in the form of paragraphs, I doubt if I would have even read it, leave alone noticing it.
What LIC seems to have done is to literally script it out in the form of a TV ad and instead of shooting it with actors, used the comic strip format to convey the same information.
What they are talking, in the family, is hardly fun or entertainment, but perfectly serious insurance-related content that is delivered in an easily accessible manner.
The second one is a series from the Economic Times.
I have seen this series around food on Saturdays by the Times' resident illustrator, Anirban Bora. This is not a full-fledged comic as we know it – more of a quasi-comic where the script is more important and the illustrations are minimal in comparison. Yet, in a full page of text, this panel draws attention instantly because of the illustration-led story-telling. And this too tells a really interesting news-like story.
The last one is the most surprising, and the most impressive! I found this in the September-October issue of MIT Technology Review.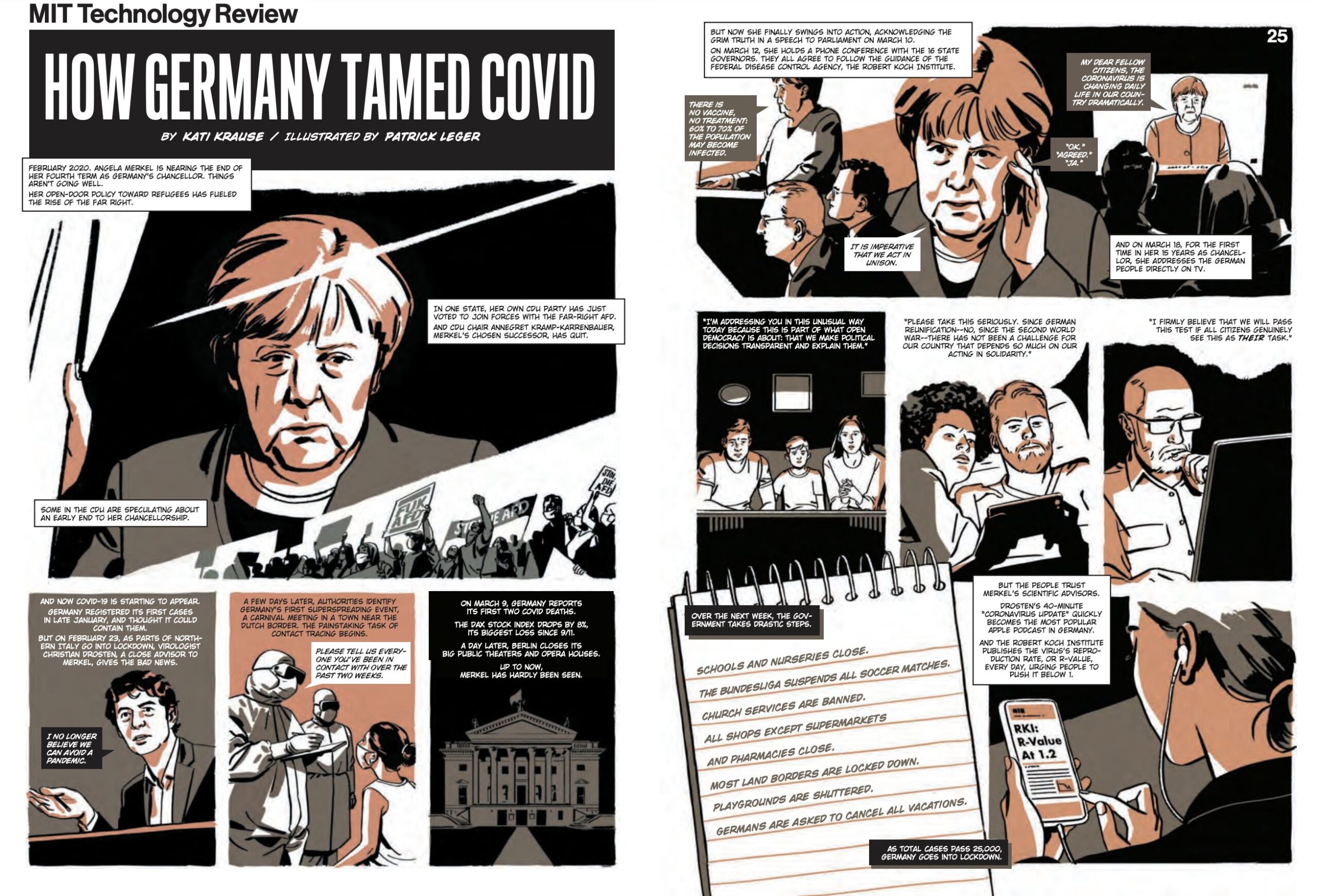 The format is full-fledged comic strip style. But what it conveys is a very newsy article that would have otherwise be conveyed through a combination of reporting and interviews! But look at how the same content has been transformed!
As I said, this format has immense potential, even beyond quality of sketching/illustration. The magic is in the script and how a story is broken down between the many boxes of a comic. And the format is no fun, laughing matter at all, but a legitimately engaging narrative style to tell interesting, absorbing stories.
Comments
comments