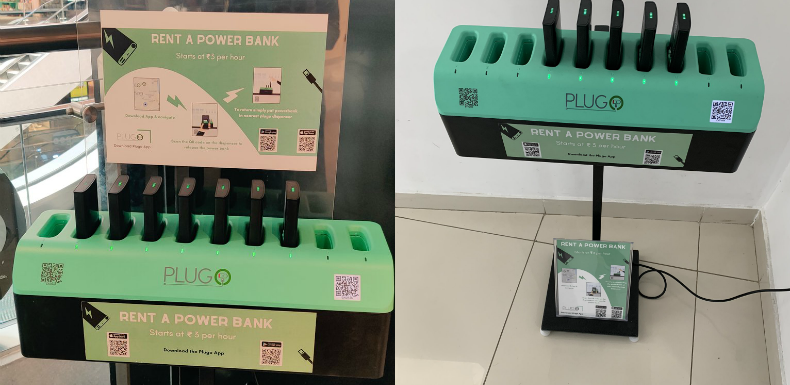 Four different products/services that you could buy to own for longer periods of time, now on a sharing or aggregated model! That these products/services are available on such a model tells a lot about the Indian start-up scene, though, to be fair, much of these models perhaps didn't emanate from India but were recreated after they were invented elsewhere.
The AirBnB of coworking spaces!
To set up an office, we have moved from buying a place… to renting a place… to renting a cubicle/table that comes equipped with the basics needed for a workspace, we have come a long way. Now, because there are a LOT of coworking spaces there are aggregators to find a seat across multiple coworking spaces. Startups like GoFloaters, MyHQ, Qdesk and CoPass (outside India) offer you a list of coworking spaces to choose from, and flexible models of engagement. GoFloaters' pitch is literally "Our cafe coworking price starts from ?35 per hour".
Since I work independently on my own, I usually work out of my home. When it comes to meetings, my chosen spots are Starbucks Indiranagar or Third Wave Coffee Roasters in Koramangala. So, to some extent, these start-ups are competing with the various coffee shops in our cities! Still, I understand the appeal, to offer more services of a conventional office – printers, meeting rooms with privacy etc. they could be useful.
The Uber of mini trucks!
I notice a lot of mini trucks in Bengaluru with the 'Porter' branding! When you need a small item to be delivered, we think of Dunzo. But when you need to transport more, Porter fills the space without you wondering where in the world could I hire a truck from? Porter makes the process as easy as installing the app, entering the destination and picking a mini truck. This is not a persistent use case for most of us (excluding small businesses and shops, of course), but when we do need one, it is good to know that there is such an easy option available in what was considered a business-to-business segment.
Water purifiers for hire!
Now, there are many products available for hire – house, cars, bikes, furniture etc. Water purifier is an interesting and specific niche. That a water purifier is a basic necessity (if not a subscription to a water delivery service for water cans!) tells a very poor story about how a necessity has been made into a must-buy commodity in India. Developed countries move towards making potable drinking water available on tap, but given our population and multiple other problems, potable water has become a product that needs to be purchased or produced at home.
A standard water purifier costs about Rs.10-20K on average, but in this age of avoiding ownership, they are not available on hire! Startups like DrinkPrime and ROonRent offer water purifiers for rent. All you need to do to is pay per litre, per month! It's almost like bandwidth – hire the device and pay per use!
Chargers-to-go!
This is a complete surprise! On one hand, smartphone brands are increasing the size of the batteries to make them last for a day+. On the other, there are many brands of mobile chargers. Most people I see on flights and travel carry chargers along with the phone all the time. But now, there are startups that treat the chargers like a 2-wheeler-on-hire! You find a power station, scan the code on a charger, pick it up and use it. You can drop it at any other power station anywhere else!
Startups like Zuink, Plugo and Speed Charge (Malaysia) offer this charger-as-a-service. Chargers seem like too small an item to hire, and the fact that you can even charge the phone through a plug point flies in the face of this business model. Yet, here they are!
Since so many new products and services are now available on a as-a-service model, how about an entire city? Finland's capital, Helsinki pitched itself to start-ups as City-As-A-Service – CaaS recently. This is an incredibly clever positioning to get your attention, though not to be taken literally. With a generous dash of humor and humility, they explain the hook!
—
Now, the larger question is: are these businesses sustainable? How long can a startup that offers water purifiers on hire stay in business? Or, offering mobile chargers? What is the scaling model?
Consider Porter and its minitrucks-as-a-service (MTaaS?) pitch.
Mahindra Group has invested in the startup! The brand literally advertises itself on the road. I see so many Porter-branded mini-trucks every day in Bengaluru! Recall seeing them in Chennai and Delhi too, in my recent trips. The brand positions itself as intra-city logistics provider and can scale to bigger and other sizes of vehicles on the roaster. They can even offer monthly rentals to shops that have a lot of transportation needs but don't want to own a truck. Porter could also brand a separate range for home shifting that could perhaps also come with helpers (on-demand!) in partnership with from another start-up like UrbanClap. I see good potential for this because the brand's visibility is clearly a given.
Plugo (Chargers-as-a-service; ChaaS?) is visible too, but the use-case seems like a stretch. Considering the price of a charger, that goes down a lot during Amazon/Flipkart sales, this doesn't seem like a sustainable business to me. And consider the fact that most people also carry charging cable or can easily borrow one, even as charging points are all over us these days.
However, Zuink seems to be pitching on a much larger plank! It has 2 services – one for smartphones (called Zuink Go) and another for electric vehicles (called Zuink EV). This is smart, given the impending explosion of electric 2-wheelers and 4-wheelers. However, larger automobile brands and others are likely to invest in several magnitudes larger for the battery-swap ecosystem.
In context, this brilliant advertising at an airport, by iball.
The water-purifiers-as-a-service (WPaaS?) is clearly based on a necessity too. And given the everyday usage of the product, it is a highly compelling need. There are extra expenses in maintenance, like a car, for filters, cleaning etc. If the service provider takes care of all that, this is perhaps an interesting concept after all.
But, the ownership costs of a water purifier is not prohibitive to a larger segment of Indians who may be the potential users of the service. It is as affordable as a mobile phone, incidentally! So, there's probably no pressing need to hire one, instead of simply buying it. But there is potential in selling the service to apartment associations, coliving spaces, hostels, serviced-apartments and even small hotels. In fact, if the founders are ambitious, they could even try an Intel-Inside like campaign theme, branding the external facades of small hotels and dhabas with 'DrinkPrime-enabled Pure Water available here' to get better visibility. But that's a B2B model and I don't know if startups in this space are looking beyond home-use buyers.
For the coworking-as-a-service (CWaaS?), there are already multiple startups trying their might. There is no dearth of coworking spaces in our large cities anyway. Plus, most corworking spaces have their own branding spread across the place. So, a coworking aggregator can't even think like an OYO, to brand some elements of the experience, beyond merely becoming a booking agent for seats. One interesting possibility could be the corporate subscription model. If an aggregator can convince large corporates that want to give their employees freedom to work from anywhere, they could offer a GoFloaters monthly pass, for instance. That could help the employee decide how and where she wants to work every single day (provided the HR policies are magnanimous enough). In fact, an employee could alleviate everyday boredom of driving to the same office space and try newer places often!
Comments
comments