When AviationAnalyst shared a photo of a Vistara crew member sleeping in the Bengaluru Airport lounge, the reaction by Vistara's Chief Commercial Officer, Sanjiv Kapoor was exemplary in multiple ways.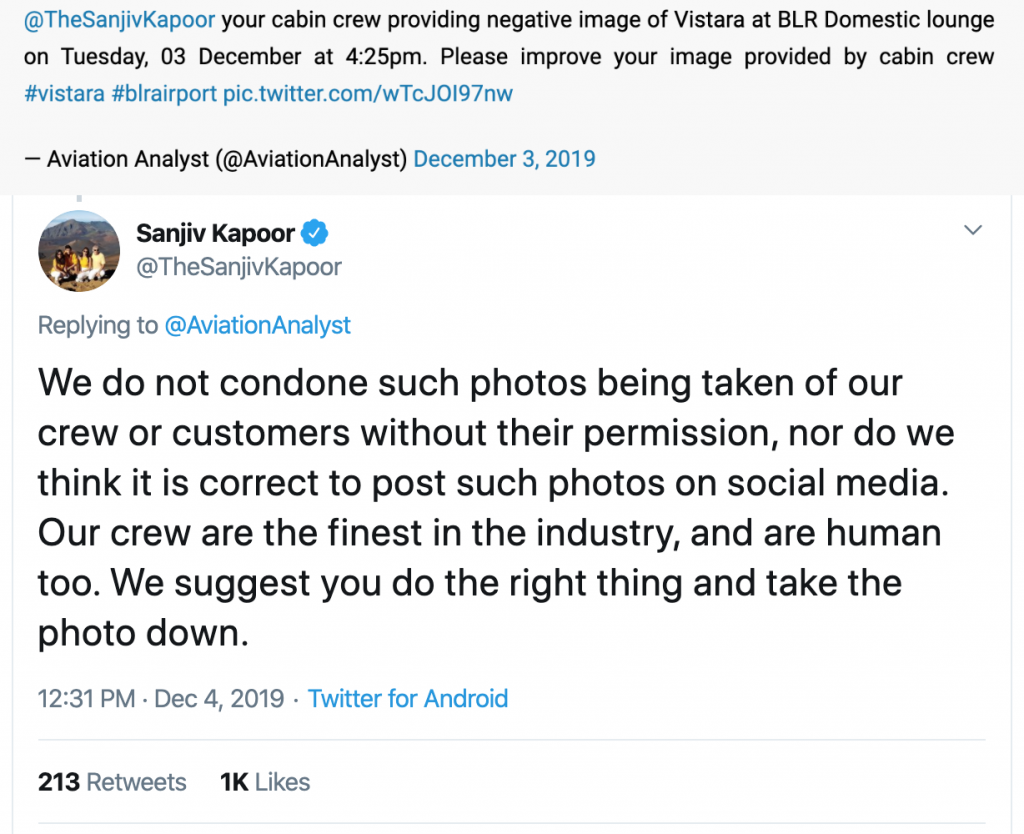 1/ AviationAnalyst has 19 followers (the handle has gone private now, understandably, after Sanjiv's response triggering a barrage of counterpoints to him/her).
Sanjiv could have ignored the tweet since it has been tagged only to him, and not to Vistara's official handle. Why give something that can hardly take off (pun intended) on social media unnecessary wings? But Sanjeev took it head-on because it helps him make a point that's worth showcasing the culture of the organization.
The usual instinct from PR professionals and communications teams is to avoid getting into such conversations where there's no scope of the original message gaining traction with the, 'why get into it unnecessarily?' logic. If the same tweet + photo was from a user with lakhs/millions of followers, the entire communications team would be at this task, to help frame a response.
2/ Sanjiv's first focus was on privacy. This is at a simple, human level, not at the level of employer-employee. Just because a person is in the public space, you cannot take a photo of them and share it in public – this is a basic right to privacy, even in public spaces. This is basic etiquette. If you still want to share something to make a point, either ask for explicit permission before clicking and sharing or mask the identifiable parts so that the intent comes across only as to the point you're making, which is beyond personal.
That Sanjiv chooses to focus on this says so much about his priorities. The original tweet uses the word 'image' twice ('negative image' and 'improve your image'), so Sanjiv could have gone to address the brand's image first. But he perhaps realizes that the brand's image is inextricably linked to how employees are treated there, more than on-the-job performance, particularly in a public platform showdown (which, in one way, is a performance) like on Twitter.
3/ The reiteration on 'our crew is human too' is the clincher. Was the crew member sleeping on-the-job? No. It was the lounge! Even a cabin crew member is just another person at the lounge and has the same rights as anyone else. This empathy flies in the face of cut-throat and unwritten rules of employment, like always on-the-job, round-the-clock work, stretching oneself for work and so on, and is a good reiteration.
Kudos to Sanjiv's response. This is an excellent lesson in leadership communication. Not just the intent, but also the articulation given the priorities in the response: 'don't take such photos' and 'don't post them on social media' come first, before anything about the brand or the people!
Comments
comments