Take a look at some of these classic (meaning: 1980s) ads.
Britannia Marie, 1981
Britannia Bourbon, 1985
Britannia Good Day, 1989
And then, take a look at some of these newer ads.
Britannia 50-50 Maska Chaska, 2014
Britannia Jim Jam, 2014
From 2022: Britannia 50-50 Maska Chaska
And the latest: Britannia Pure Magic Chocolush, January 21, 2023
What connects all of them besides the fact that they are all for the products of Britannia?
Yes, the audio signature that plays in the end. It was composed by Louis Banks in the 1980s and it has stayed, with tremendous staying power because of the way the brand (and its agencies) have adapted it over the years.
Observe this, for instance: besides using them in a particular way in the 80s ads above, the brand has evolved the audio signature's usage.
In the 2014 50-50 Maska Chaska ad, it's produced using a whistle (in what feels like it was produced by a person using his mouth).
In the 2014 Jim Jam ad above, it was produced by the 2 kids who literally spell it out verbally as 'Ting Ting Ti-ting'.
More recently, the brand has taken an even more vibrant approach – Ravi Shastri utters it with a drunken drawl in the new 50-50 Maska Chaska ad, while the Pure Magic Chocolush ad has the guru uttering 'Ting ting' first and his disciples close it with 'Ti-ting'!
But this is hardly new: more than a decade ago, Rahul Dravid and Saurav Ganguly together uttered 'Ting Ting Ti-Ting' for a Britannia ad:
Now, just pause and consider this – all these ads (above) are video/TV ads that you need to watch. So, because these are part of audio-visual communication, it makes sense to have an audio signature to denote the brand and use it consistently to build it as the audio version of the logo. So, if we hear that sound, we think of Britannia.
But then, Britannia has moved that audio signature to a whole new level. You don't even need to hear the musical sound anymore. Just tell (as in, talk… and not sing or produce a sound) someone else, 'Ting Ting Ti-ting' and they would go, 'Britannia?'.
That transition, from a musical signature/logo to a verbalized, spoken version, is perhaps a world first by any brand.
And Britannia has been associated with the phrase 'Ting Ting Ti-Ting' for a very long time. Here's a 2005 article in Afaqs that uses that phrase.
Or, here is a 2011 Fortune India article that refers to 'Ting Ting Ti-Ting'.
In fact, Britannia filed a trademark for 'Ting Ting Ti-Ting' in 2010!
I can't think of any other brand music logo or any sound associated with a brand having been verbalized (without written lyrics; just the sound written down as is).
Are you thinking of Intel's famous musical logo? It's just a sound. How would you write it down?
Are you thinking of 'Paytm Karo' jingle? That worded jingle came first and that was turned into a musical, non-lyrics version later.
Are thinking 'Oo La La Lala Le O' of Kingfisher? Think harder – it is hardly a sound-only jingle. It is a worded jingle that literally goes 'Oo La La Lala Le O'. The words are in the singing itself, unlike Ting Ting Ti-Ding which is just sound.
Are you thinking of McDonald's famous 5-note brand sound that plays at the end of almost all their ads? How would you write it down?
What Britannia has done is very, very unique – it has taken a musical sound that is associated with the brand into a verbal phrase that doesn't require music to recognize.
But the biggest evolution of this unique property happened in December 2022.
Britannia released a newspaper (print) ad on December 13, 2022 for NutriChoice that not only had the logo, but also had 'Ting Ting Ti-ding' written down in words.
Think about it. This is a print advertisement in two dimensions. Every other word in the ad, you simply read it flatly in your head like you always do with words and sentences. But when you stumble upon the phrase 'Ting Ting Ti-ding', do you read it?
You'd rather sing it in your head. This is quite the norm of musical lyrics like say, 'We didn't start the fire'. When you read those words, your brain would sing it in tune. Or 'We will, we will… rock you'.
But those are all worded lyrics. 'Ting Ting Ti-ding' had no written lyrics. The brand verbalized it and has been using it for over a decade in its ads, leading to this mighty unique update of writing it down in a print ad!
The only other branded-sound-turned-phrase is perhaps Netflix's Tudum.
Netflix's Ta-dum—that's how it was mentioned internally in 2015 when it was first launched—was created by Oscar-winning sound designer Lon Bender. He said the sound "comes from the sound of his wedding ring knocking on a wood cabinet. To add depth, Bender added a slowed-down anvil, muted hits, and an electric guitar sound reversed to complete what they coined "the blossoming" sound that transitions into the movie or TV show viewers are about to watch."
Netflix has since taken the 'Tudum' phrase to offline versions, like a fan event and even an official website that tells behind-the-screen stories of its shows.
But the most inventive way Netflix has used 'Tudum' without the actual sound is in an Italian ad by Publicis. The ad makes a brilliant connection between the sound and the notion that 'a good story is about to start'! But instead of playing the actual sound in the ad, they have people uttering the sound much like how Rahul Dravid or Ravi Shastri uttered 'Ting Ting Ti-Ding' in the Britannia ads.
---
What's the next stage in the evolution of Ting Ting Ti-Ding?
For starters, someone at Britannia has cleverly extended the 'Ting's into a corporate philosophy 🙂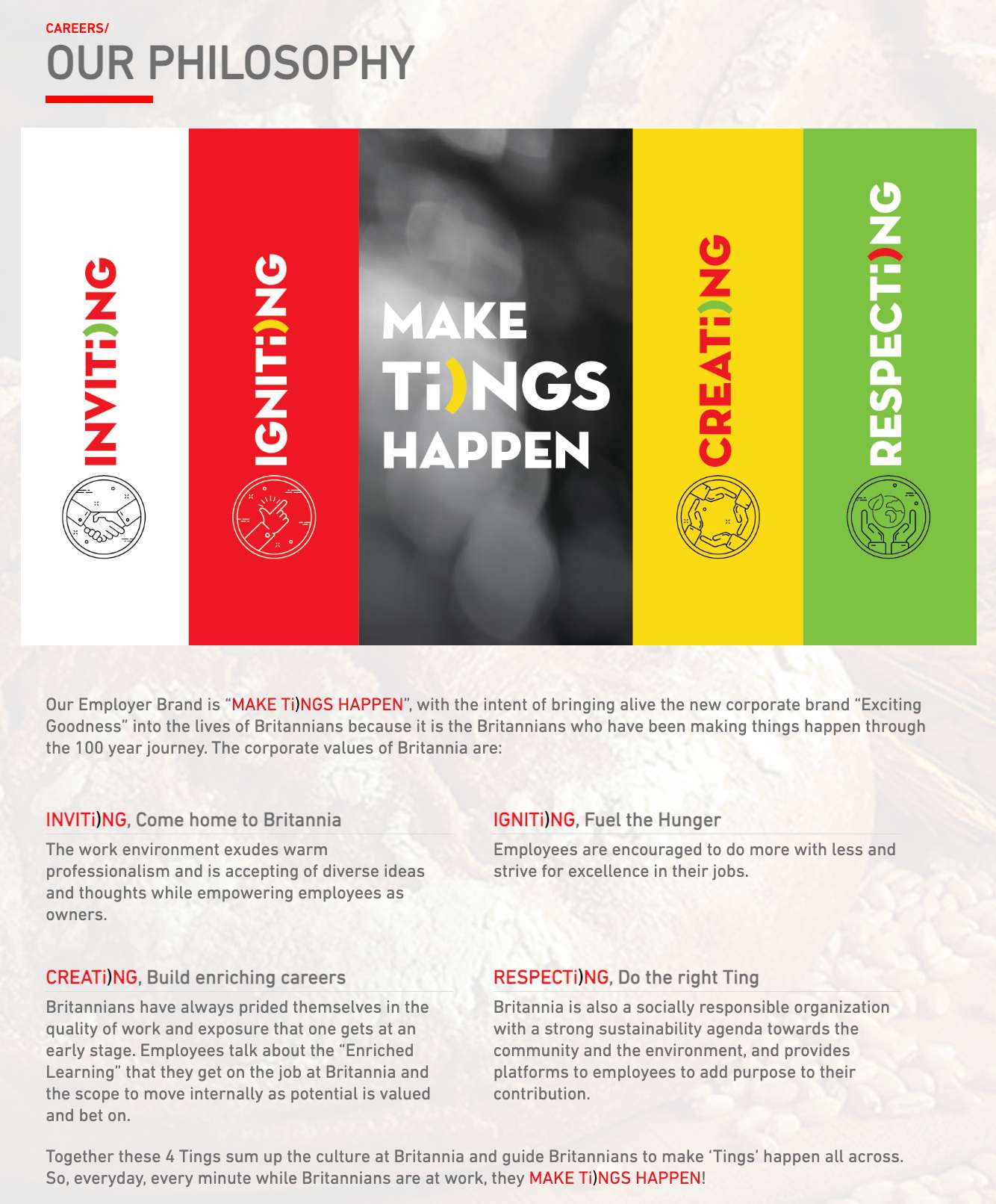 But, from a marketing perspective, I think it's a good time to disassociate it from the Britannia logo and let it out as a standalone phrase! To really push the limits of the power of the phrase in terms of brand recall. How?
Think of a billboard that has only Ting Ting Ti-Ding! No brand name, no logo, nothing!
Or a print ad that has only the picture of a Britannia Marie biscuit (not even a pack) and Ting Ting Ti-Ding written below it (without a Britannia logo!).
Or, if the brand is really adventurous, how about a TV ad where characters utter only 'Ting Ting Ti-Ding' in various tones (and not necessarily the conventional musical tone we are familiar with) and each tone means something specific that they all understand but we do not? This is a bit like 'I am Groot' running gag in MCU where every utterance of 'I am Groot' means something specific and people around Groot respond appropriately without thinking that it is just 'I am Groot'. In other words, each utterance of 'I am Groot' means something different. Take that idea to 'Ting Ting Ti-Ding'!
For instance, person A points to an Idly and says, 'Ting Ting Ti-Ding' with a question sound at the end (meaning 'Idly for breakfast today?). Person B says, 'Ting Ting Ti-Ding' in reply, meaning 'Yeah, that's what you see, right?'. And so on. But the idea is to use 'Ting Ting Ti-Ding' as a full-fledged language that only people in the ad understand – perhaps they can use subtitles to make it comprehensible for us, the viewers, just like how 'I am Groot' is used in MCU 🙂
---
Can you think of any other audio sound associated with a brand that has been turned into a written phrase that, even when written down with words (not lyrics), can be recognized with the brand?
Comments
comments