Can mocking cliches end up being cliched? It did, this Diwali!
Let me start in reverse.
On November 1st, DIZO, the sub-brand of Realme launched its Diwali 2021 ad film. Created by the agency White Rivers Media, the ad's idea was to create a cliched Diwali ad film that mocks other cliched Diwali ad films.
With a droll voice-over (by Vishesh Milind), the ad goes on to make fun of multiple Diwali ad cliches very effectively while also calling out the 'product integration' explicitly as a spot to showcase DIZO's products! Clever, and quite funny 🙂
Just remember the face of the model who plays 'old uncle' in the film, ok?
Next, we go to October 4, 2021.
On that day, OnePlus (both Realme and OnePlus belong to the same Chinese multinational, BBK Electronics) released a full-page, 2-page ad in The Times of India with the headline, "Would you rather have an ad with a bunch of random people pretending to be a family and doing cliche festive things? Or just turn the page over?"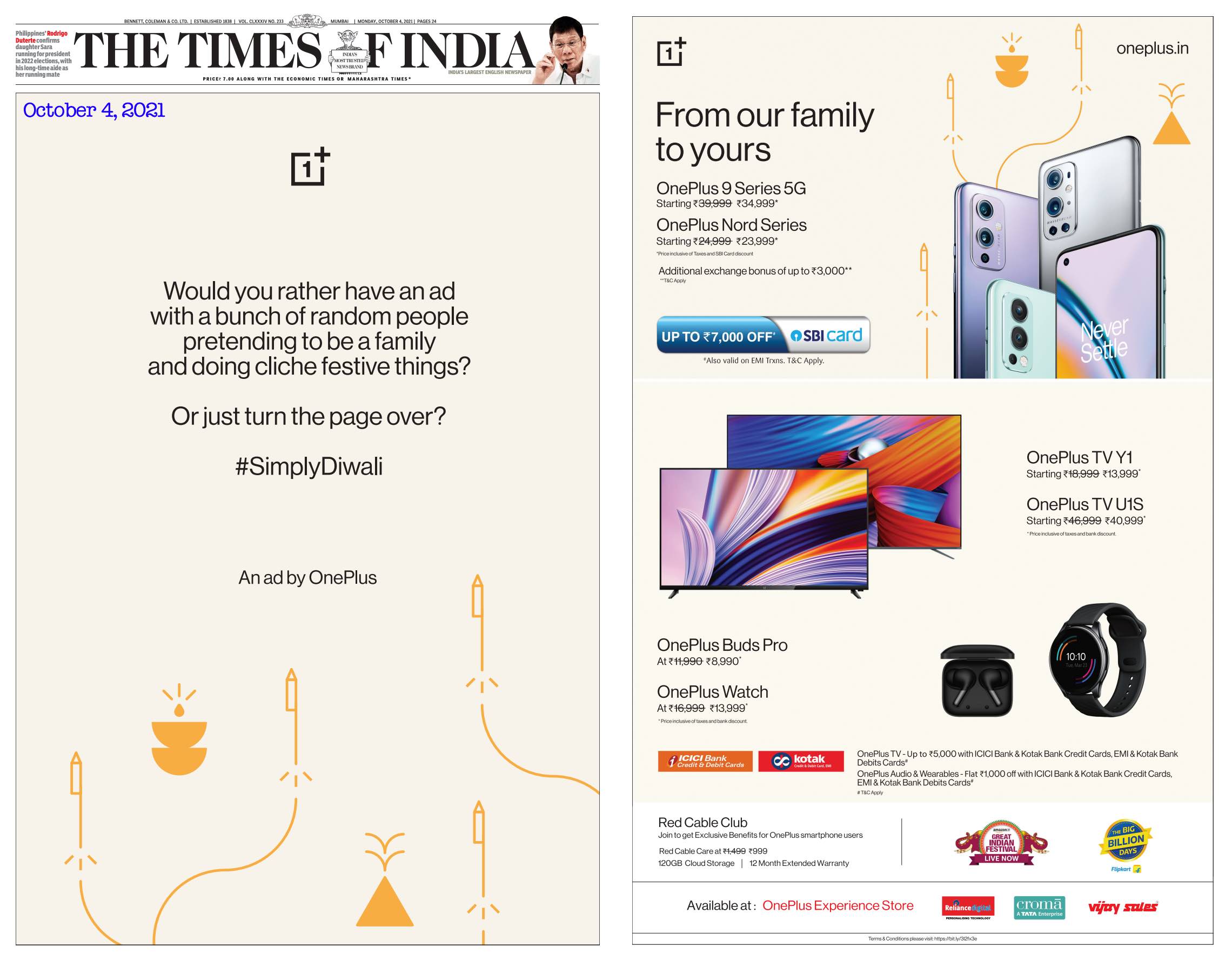 OnePlus followed this up with a video on October 5th.
The idea is the same – mock Diwali cliches shown in advertising and present the brand's Diwali offers as a more exciting thing to notice. Compared with DIZO's ad film, OnePlus's efforts, both in print and in video, seem rather middling – the overall production seems plain and low-budget (I believe this was done in-house by OnePlus internal team).
OnePlus released another variant of the ad on October 25th too.
But yes, OnePlus did the 'let us mock Diwali cliche ads for Diwali 2021' first, before Realme roped in an agency to do it.
That's not where this cliched story ends.
Let's go all the way back to 2016 Diwali; October 27, 2016, to be specific!
That day, Netflix launched its Diwali 2016 ad film, made by the agency The Glitch! For context, Netflix had launched in India just that year, in January 2016!
And what was this Diwali film about? Mock cliched Diwali ad films!
The ad stars director Anurag Kashyap playing one of the cliched characters in a cliched Diwali ad! He ends the ad with, 'Why are you still watching this ad?' as a pivot to get you to watch Netflix's shows. This is the exact script repeated by DIZO in 2021! But yes, I would say that DIZO film's execution was better and funnier even though the idea is an exact replica.
And who plays the old man in the ad when the voice-over goes, "Look at this guy! How many ads do you think he's acted in?". Yup, the same 'old uncle' from the DIZO cliched Diwali ad!
He even responds to that mock question in the Netflix film with, '137'. Including the DIZO ad, that would be 138, I presume 🙂
So yes, even mocking cliches can be cliched!
Comments
comments