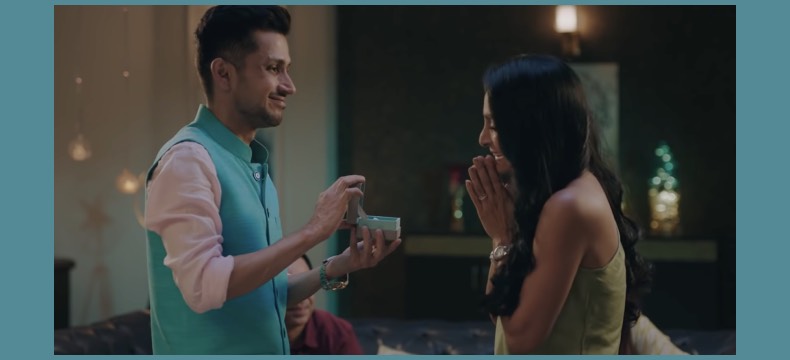 Related reading:
1. The bindi factor in Indian advertising
2. Indian advertising: Submit to my world-view, or else…
---
There are advertising narratives that are called 'obtuse', in response to a question that goes "How has marketing during the festive times evolved over time?"
(by Sandeep Goyal, in Economic Times: "In an attempt to portray a point-of-difference, narratives have most times teetered on the obtuse… LGBTQ, same-sex marriages, transgenders … narratives that steer away from the mainstream and the festive occasion").
But even within 'obtuse' narratives, there are some that may not 'offend' powerful sets of people into a frenzy and call for the brand's 'economic' destruction as a dog-whistle on social media. The new Candere Diwali film is one such narrative!
Candere is a sub-brand from Kalyan Jewelers, and I was reminded of Bhima Jeweler's April 2021 attempt (agency: Animal) at a so-called 'obtuse' narrative featuring a trans woman that was lauded everywhere.
Candere's ad film is by the agency Circus Elephant, and the 'obtuse' narrative used is the 'older woman'. To be sure, it is obtuse by conventional standards, but it may also be a so-called 'safely obtuse' narrative that is not likely to 'offend' (to put it mildly) the usual guardians of Indian/Hindu culture into seeking a ban.
The larger point though is about inclusivity and the idea about 'live and let live' without judging or intruding on people who 'don't think like us' and this is ok – if everyone thinks the same way, our species would be a hive mind 🙂
Casting Suchitra Pillai and Amol Parashar as the older woman-younger man couple really sells the idea and that too within the context of a jewelry brand! If it was a 'normal' couple (normal, here, to imply: within the confines of conventional expectations of the society), there is no narrative, no story… because the story is anchored on people gossiping about the 'difference'.
To bring that difference, worthy of gossip, one way is to have the woman looking visibly older than the (visibly younger) man. The reverse of this is mired in multiple negative societal/pop culture depictions that are heavily scorned and looked down upon.
But, just for argument's sake, consider another possibility that could also be heavily 'gossiped' about because of the 'difference', taking a leaf from last year's Tanishq Ekatvam campaign – imagine if the couple belonged to different religions (and that was shown using visible/vocal cues in the film to make it obvious – like the name being called, or other markers that can possibly reveal their religion).
The question is, even if it is a perfectly valid depiction, and most definitely not 'obtuse' because there are millions of real couples like that in India, would any brand even venture to try that narrative?
After the outrage and mayhem caused on the back of the Tanishq Ekatvam campaign last year, and the categorical pronouncements of some lawmakers/Ministers in India this year over ads for Fabindia or Ceat, two specific ads that were criticized and threatened with 'economic boycott' and claiming that it 'created unrest among Hindus', I'm fairly sure no brand in India would use the Hindu-Muslim angle in its advertising even if such a depiction is perfectly normal and even if the company was adequately lawyered up. The irony is that Tanishq Ekatvam spoke about inter-religious harmony, not about strife, while Fabindia merely used an Urdu phrase to depict their Diwali collection, and CEAT didn't have a religious angle to it at all!!
The Candere ad too is on the back of the brand's Diwali/festive collection, in terms of timing and mentions Diwali as the occasion for an act of gifting. But, while age doesn't cause consternation for the guardians of the Indian/Hindu culture, religion does, even if it shows a couple accepting each others' background and living harmoniously.
---
If you remove all the complexities and layers, marketing is simply the business of creating and implanting memories.
The reason for choosing the exception ('obtuse') is not always something altruistic but simply to make something worth remembering (and adding the product/service in context) and 'implanting that memory'.
Can an 'obtuse' narrative co-exist with a so-called 'mainstream' narrative? Of course. Tanishq is a great example of this where they have multiple narratives for the various product ranges at the same time – some conform to mainstream sentiments, while others do not and try newer stories to tell.
The persistent need to deride different/so-called obtuse narratives, as if they are a crime, is very similar to societal attitudes towards those realities.
When it comes to marketing effectiveness, if they aren't working, those brands would anyway understand and do something mainstream. But the real fear for the outragers is not whether a marketing campaign can reach target audiences at all. It is simply to take on the mantle of the Guardians of the Indian Culture and force someone into submitting to one worldview. For example, here is 'bindi imposition' in the form of relentless trolling.
And when you listen to industry veterans opining about this topic, like how Bharat Dhabolkar does in an NDTV discussion (see below), they are steadfast in their approach to never, ever mention that lawmakers and Ministers threaten dire consequences for merely thinking differently.
But they go happily into how these narratives are not useful, these 'different' narratives not being about advertising (which is commercial art), how to stay away from trouble by sticking to conventional narratives, and so on.
How does that sound when industry stalwarts refuse to address the elephant in the room (lawmakers/ Ministers threatening dire consequences) and berate the advertising industry for not getting their act together? It sounds exactly like, "She should have dressed better. Why invite trouble?", turning the responsibility on the victim instead of the oppressor.
Comments
comments