Last month, an elephant that smashed through a kitchen wall at a home in Thailand made news globally. While it was funny to see countless memes around it (including one that made me laugh out loud; it had the elephant's pic along with, "I'd like to add you to my professional network on LinkedIn"), it is also symbolic of the many elephant-human conflicts and the destruction of elephant habitats by humans that have become all too common.
Even in India, such conflicts are common because we, as a species, are encroaching on lands that traditionally belonged to the elephants. As we take over elephant corridors, they have no other place to go to and that leads to frequent conflicts that peg the casualty to about one person (mostly a farmer) being killed almost every single day in India!
Given how grave this issue is, it requires relentless communication to keep it prominent so that it affects decisions made at the highest levels of various Governments (at a country-level, around the world, and at the state level, within India).
This is the kind of issue that advertising and PR firms thoroughly relish because it gives them a phenomenal scope to produce attention-worthy work and also win awards in the process.
And there has been a LOT of activity on this front! Here are two of my favorites.
The Lantana Elephants
This idea is hugely ingenious and inventive across multiple levels.
An invasive wild weed called Lantana camara, which was first introduced by British tea planters in the 1800s, is now choking the forests of Asia (reminds me of Parthenium hysterophorus, a noxious weed that came to India via wheat imported from the US). The Real Elephant Collective, a social enterprise set up by Shubhra Nayar, is using the Lantana weed to create sculptures of Elephants with the help of a research institution called the Ashoka Trust for Research in Ecology and the Environment (ATREE) that has expertise in working with lantana! To use a weed to sculpt elephants is a brilliant stroke of creativity, in itself.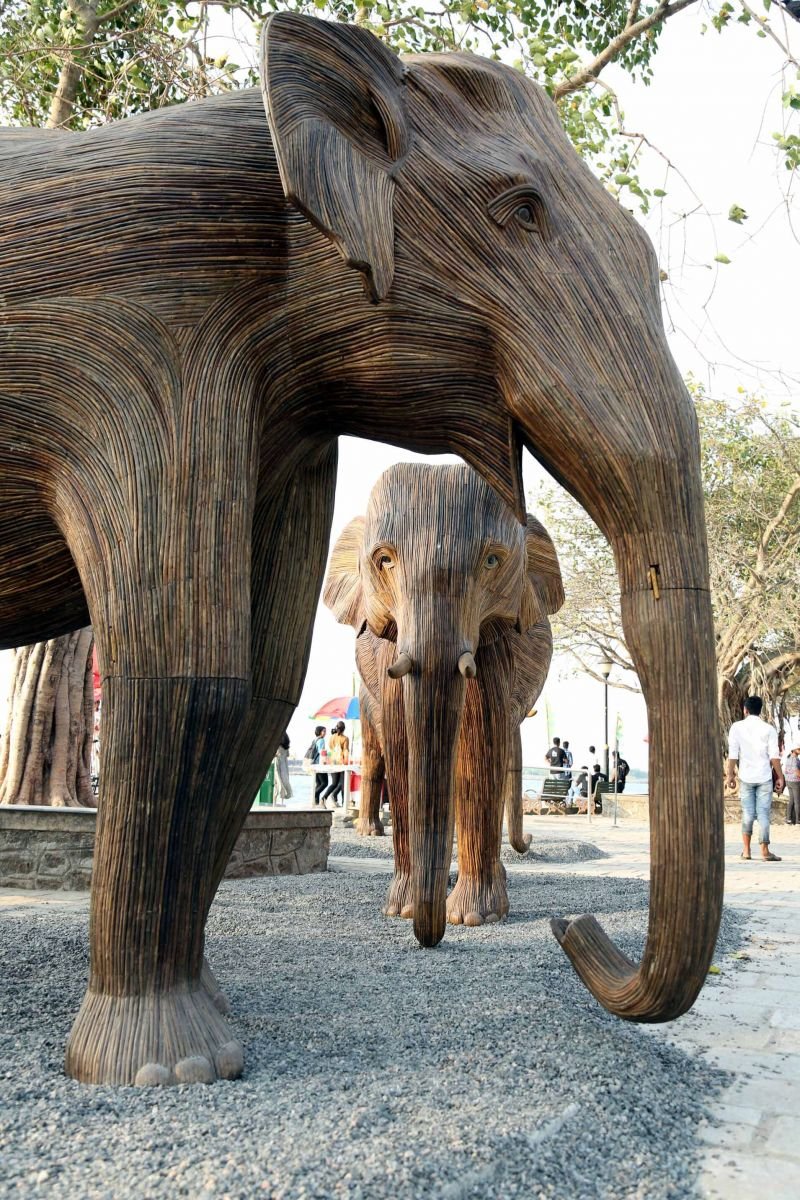 But it doesn't stop there. They have roped in 70 tribal artisans in Tamil Nadu's Gudalur and the MM Hills of Karnataka to create these sculptures. This is hugely purposeful and lends credibility to the exercise.
The third is the PR element. If these Lantana elephants are sculpted and kept in Gudalur in Tamil Nadu, they won't make adequate news. So, the UK-based Elephant Family, along with The Real Elephant Collective created CoExistence, an environmental art campaign that places these elephant sculptures in places where they are most likely to make news.
They have so far been to places like Fort Kochi in India (and other cities) since 2019, and assorted places in London, now, in 2021!
When these imposing and intricately sculpted elephants are placed as art objects in places where people least expect them, it creates a tremendous buzz.
For instance, here are these elephants stomping as a herd outside Buckingham Palace! While there is a lot of work involved in transporting these majestic sculptures from Tamil Nadu to London, the result, in the backdrop of a well-known public attraction like Buckingham Palace is a phenomenal photo opportunity. Understandably, these photos were lapped up by the global media.
So how does this work? When anyone sees these impressive pictures in any media (online, print or on TV), it evokes a lot of questions. What are these? How are they made? Why are they in London? And so on! These natural questions shine the light on the larger story where people are naturally drawn to it using nothing but their natural curiosity! That's how good PR works, by drawing people in with an undeniable hook and illuminating a topic in detail.
The sculptures are also sold and the proceeds from the art exhibition and sales go in supporting the livelihood of the tribal artisans who make them!
Related websites: The Real Elephant | Elephant Family | CoExistence
Elephant Trail, by WWF.
If the Lantana Elephants project is like the Lord Muruga/Karthikeya traveling the entire world to win the divine fruit from his parents (Shiva and Parvathy), this WWF idea is like Lord Ganesh circling just his parents 🙂 And yes, I do realize that we are talking about elephants and I am making a Lord Ganesh reference.
For Christmas 2020, WWF worked with the ad agency Uncommon to raise awareness on the same cause of elephant habitats being destroyed.
The creative device is very simple: "We'd all be lost without our homes". So, elephants losing their habitat is them losing their 'homes'. And if they are lost, they would invade human territory in search of food and water. How would that look?
WWF uses computer graphics to emulate an elephant rampaging through a city because it is lost. The rampaging elements are shown through snippets of the destruction as a little girl follows them. She finally stumbles on the elephant (produced beautifully through CGI) in a basketball court, an entirely unusual place for an elephant!
This is the advertising variant of the Lantana Elephant project that used a PR tactic. In PR, they hook your attention with an arresting visual narrative and let your natural curiosity convey the message through questions and research. In advertising, the story is conveyed through a more immersive narrative that usually interrupts your normal content consumption, leaving you with a sense of discomfort about the issue.
In case it is of interest, here's the behind-the-scenes for the film.
---
A couple of other efforts that are variants include bronze and fiberglass statues of elephants used in the same way as the Lantana elephants. While the tactic is very similar from a PR perspective, they seem, in comparison, to be plainer and straightforward, without the chutzpah and ingenuity of the ones built with Lantana.
Comments
comments