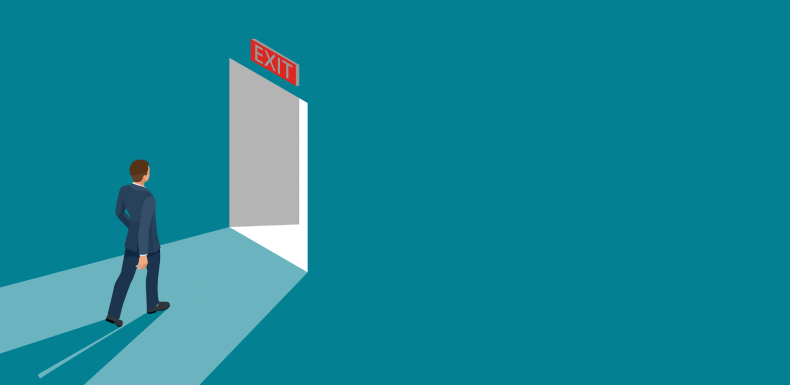 Companies lavish attention on onboarding and entry formalities. It starts right from the head-hunting period to the time when the employee finally joins. The life-equivalent of this would be akin to a marriage. So, should offboarding, when the employee quits, be akin to a divorce?
Generally, companies see ex-employees as 'alumni', though they do not anything beyond calling them that. Many companies these days have online forums and email newsletters for alumni members, in the hope that the continued touch could help attract them again to the company.
But, beyond such sporadic efforts, how else could companies handle offboarding as a process aimed towards employer brand marketing?
Some thoughts:
1. People come and people go
This is true for life and relationships too, but this is particularly true for companies and employees. No employee is permanent. So, how can it be if companies kept this on the back of their mind at all times? Does that mean HR should be open to a divorce right from the day the employee joins?
Not really. It could be a lot more evolved and mature. Generally, HR may think it is taboo to speak of offboarding on the day someone's being onboarded, but keeping that as an honest and frank discussion point on Day One (beyond the perfunctory and legal mention of the notice period in the offer letter) could be a refreshing display of 'people come and people go'. It is what it is, and it need not be seen with the heavy emotional baggage it is associated with.
This could simply be a note on how offboarding is handled. If the details of this process are explained on day one of someone joining, the perception created about the organization is that of a mature and evolved organization that sees the larger picture beyond the bickering around attrition.
2. Focus on what people remember
It's a different thing that BJP thinks of elections 24X7 and all through the year, and this is a reason why much of their election heavy-lifting is done before any elections are actually announced. But political parties before the BJP's winning streak used to focus all their energies during the campaign period, for their electoral success.
The simple reason is recency. People remember the campaign just before the election and make impulsive, emotional decisions. This is also the reason why organizations send a summary email before an organizational survey – that recalls the high-points of the organization's work and that helps the survey skew towards the positive (unless the employee remembers specific negative lows).
The way an organization handles offboarding in a smooth and helpful manner, extending some of the benefits offered during the employment to a quarter after the employee has quit (among others) could help the employee recall the organization fondly regardless of the reason why they quit. In some industries, this has huge benefits. For instance, in management consulting, public relations, and advertising, many employees quit to join client-side firms and could become instrumental in deciding which consulting, PR, or advertising agency to work with!
3. The public nature of feedback
Exit interviews are usually hush-hush affairs. But now, an exit interview directly reveals itself (with or without names) on online platforms like Glassdoor!
So, more than an offboarding process being made smooth and pleasant for the employee who is quitting, the way they frame it for others (public) to read has a material impact on employer branding.
And recency matters here too – most ex-employees update online forums like Glassdoor close to their exit from an organization when the memory of the association is fresh.
4. Alumni connect
Most alumni programs in organizations include an online portal, either hosted by the company, or on social platforms like LinkedIn or Facebook. The standard content includes updates about the company and new positions that the alumni could either be interested in (to rejoin) or refer (and earn alumni-special referral bonus).
For companies that don't even have this level of alumni connect, there is something worth remembering: most people join an informal alumni group that has no connection with the company on WhatsApp! While such Groups tend to overdo the 'Good morning' messages, it is also seen as a place to vent about the former company.
If there is a formal alumnus connect program, let it be truly purposeful to the members. At one point in my career, I used to handle the LinkedIn India account (for PR). I came to know then that LinkedIn has a policy where all employees, even after they have quit, get to retain their premium membership for life! What kind of exclusive benefits could your organization offer to alumni (for what period) and at what cost? Answering this question could help in considerably better word-of-mouth for a significant period of time.
5. Referral – formal and informal
The formal referral process is obvious and labored. But the informal referral process too is very, very true! These days it is very easy to find alumni/former employees and seek out informal feedback about an organization that you are about to join. A search on LinkedIn and a few InMails here and there would do this trick (better for mid-to-senior roles).
Considering that former employees are free to say what they want, planning the offboarding in a way that beneficial to both the leaving employee and the organization becomes not only imperative but also mutually useful. To some extent, this is almost like the relationship between a seller-consumer relationship – this is the loyalty phase after the purchase is over.
I recall vividly an ex-colleague telling me how he was let go from Cisco in 2001, in the US. He said many of his colleagues (Indians) literally parked their car in public parking spots and left for home because they didn't have the money to pay EMI from the next month onwards. But he also told me that Cisco had arranged for a massive place equipped with computers and high-speed internet to help the laid-off employees search for jobs or just do some necessary reading for career development for the next 2 quarters! He recalls this fondly as an incredibly helpful gesture and coloring the image of Cisco as a caring employer brand!
Last year, when many companies were forced to fire people owing to the slowdown caused by the pandemic, a lot of such measures were announced and undertaken. I had written about Zomato and Airbnb, last year.
6. The changing tenure of employment
The pandemic has opened Pandora's box with regard to permanent employees vs. temporary/contract staff.
If organizations find it hard to manage the process or communication with the so-called permanent employees quitting, then things should be easier with managing ongoing communications with contract staff! After all, they join with a specific end-date and they move on not because they found a reason to, but because the tenure of the contract ends.
It is all the more important to manage a robust process to make contract staff remember the organization on a positive note because the organization may simply need the services of that person again soon. Clients may ask for that person by name (based on their prior experience) or existing employees may seek that person out by choice (based on their work together). So, instead of treating the contract employees as mere expendable labor, it may be better to create processes to extend the touch-points in a way that they recall the organization from time to time.
---
Offboarding may not seem naturally intuitive as a need or as important as onboarding at the outset. But it could have a lasting impact if handled thoughtfully and in a planned manner beyond treating it as a mere legal/compliance requirement. Offboarding could be a great tool for employer branding and marketing if it is planned from that perspective.
Cover image courtesy: ECmag.
Comments
comments