Two healthcare professional services marketing communications that pack an emotional wallop! Both MacMillan (UK) and HeartKids (Australia) are in the space of support services – MacMillan offers support for people with cancer, and HeartKids offers support for people impacted by childhood heart disease.
The reason for both the communication effort, hence, is to create awareness and help it to lead to donations. But both organizations take different routes to inform audiences about what they do – the perspectives are markedly different.
The MacMillan ad film is by the agency BBDO, United Kingdom.
The script uses the eyes of a caregiver to explain what they go through even as patients and their loved ones go through hell because of cancer. The emotional toll of cancer is not just on the patient and their families, but also on the caregivers who spend so much time amidst the ravages caused by cancer. That narrative is so beautifully and heartbreakingly, brought out in BBDO's script.
I have watched the film multiple times and every single time, I have a tough time watching the little girl hesitantly and fearfully touch her father's stitches in the head!
The specific scenes they have chosen to highlight the caregivers' perspective is phenomenal – the nurse shedding a tear by looking away as a patient looks at their families via video, the caregiver dancing suddenly, amidst their work, as a patient peeks out of their blanket and giving them a tiny amount of joy, a breast cancer patient coming to show her new state to her caregiver, a family member losing someone close and finding no one else to cry to, hugging the caregiver nearby and letting it all out… this is a really well-scripted film!
The balance of race and gender too was very thoughtful, incidentally.
The HeartKids film is by DDB, Australia.
Their film's perspective is from the eyes of the parents. The narrative focuses on how quickly things change and uses the heartbeat as a marker for before and after. The creativity is depicted in choosing the situations as they turn from good to terrible.
So, "It's a girl", becomes "It's an emergency.
"Choosing a name" becomes "Choosing a cardiologist".
"I hope she makes good friends" becomes a more immediate, "I hope she makes it"!
And then the most affecting: "Tears of joy", to just "Tears".
HeartKids also did a 3-ad print series on the same theme, depicting the before-and-after more starkly.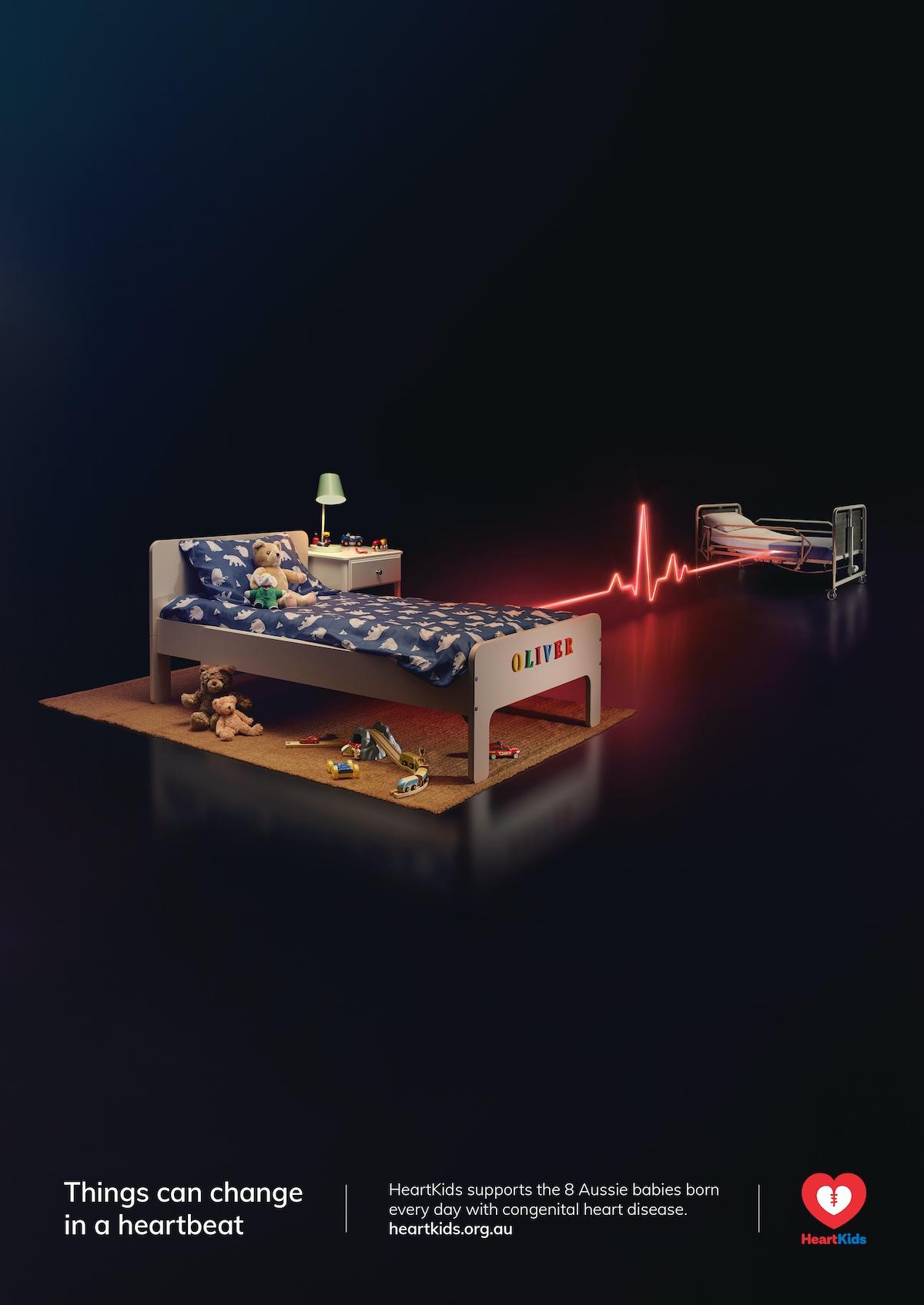 Both films are wonderfully crafted, with a lot to affect you, despite taking divergent routes and perspectives.
Comments
comments