This is Part 2 of the 'Creativity in Public Relations' series.
Yesterday's post: Creativity in Public Relations: Part 1
---
If you are a computer security company, there are a few ways you can get yourself written about in the media, via your public relations team's efforts.
This may include new corporate clients, acquisitions, new product launches, newer, more efficient product upgrades and so on. And yet, these would put you in the business pages of most publications, away from the consumer/common readers' mind-space.
So, how do you get the attention of the media to take a much broader interest in your brand and products/services?
Back in 2007, McAfee came up with a brilliant, gimmicky idea that they have been indulging in ever since, year after year!
In 2007, they came up with the first report on 'the internet's most dangerous celebrities"! I have not been able to find the 2007 news release from McAfee, though it has been mentioned in many news reports for the subsequent year.
Paris Hilton topped the 2007 list and Britney Spears was at No. 4.
In 2008, Brad Pitt topped the list.
What exactly is "internet's most dangerous celebrities"? According to McAfee, "Internet users are lured to fake Web sites that look legitimate, but contain malware embedded in screen savers and ringtones". To be sure, it did not make much sense to me right from Day 1.
The idea looked dubious, at best, to me. Plus, they always mentioned it as being relevant for PC users (Microsoft Windows) and not Apple Mac.
Sophos's CTO in 2008, Paul Ducklin, even called McAfee out in so many words: "This sort of hyperbole about the dangers of cyberspace may fill column centimeters and attract casual readers, but it doesn't actually help anyone. For a start, it simply isn't true. If you go online and search for 'Pitt', you do NOT have a one-in-five chance of getting infected. The story seems to imply that if you steer clear of celebrities and stick to 'safer' subjects, you will greatly improve your online health. But SophosLabs finds an average of about 16,000 newly-infected web pages per day, liberally distributed throughout cyberspace."
Yet, this internet's "most dangerous celebrities" branded series has endured! Every year since 2007, McAfee has been releasing this report and list and media laps it up given the sprinkling of celebrity names and the word 'danger' attached to them. This is the paparazzi equivalent of technology PR and it has worked phenomenally well for the brand, the questions surrounding the meaning and efficacy around it notwithstanding.
2008:
2009:
2010:
2011:
2012:
2013:
2014:
2015:
2016:
2017:
2018:
2019:
2020:
McAfee has also launched country-specific versions of this list. In India, I see that they launched the first list in 2008, though, like the global missing list from 2007, the first Indian report is missing. The 2009 report makes a reference to the 2008 report as, "For the second time in a row…".
2009:
2011:
2012:
2013:
2019:
2020: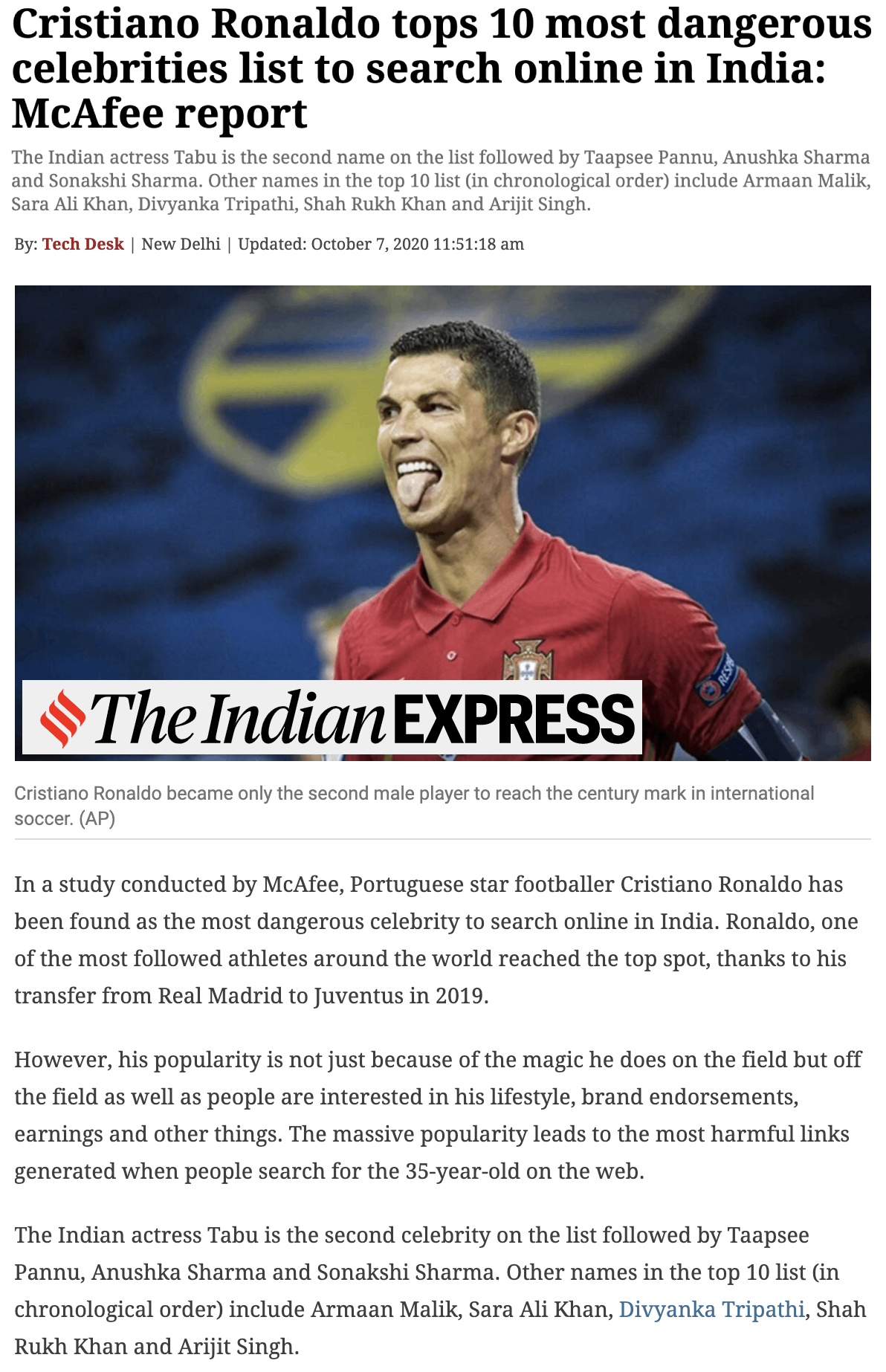 This is a highly creative and elastic idea to be in the news, and it has worked wonders for McAfee as a brand to be remembered every year around September-October period when these country-specific reports are released.
Comments
comments