I'm a fairly big fan of asafoetida (hing) even though I occasionally forget the spelling. Now, I cannot cook to save my life, but I'm a fan because of the flavor it brings to food. It is mighty distinct. We use it everyday in cooking, and mainly in the evening/night, post dinner, where we mix it with salted buttermilk. That's the last thing we consume every night, at around 8:30pm – this is supposed to help in digestion, though I do not have enough proof to validate that claim. But, it tastes great, so… why not?
We have been buying L.G (Laljee Godhoo & Co) asafoetida for decades. I recall seeing the very same small white-colored plastic containers ever since I was a kid and my mom has told me that this is what she used to buy too, for many years.
The story of Laljee Godhoo & Co is fascinating given that they started this business in 1890!! Here is a fantastic long-read from The Economic Times about the brand and the history of asafoetida in India.
Nothing seems to have changed, except for a recent addition – a shiny sticker that holds a QR code!
What is a QR code doing on a humble pack of asafoetida? I put my hyper-curious, question-everything mind to work.
To begin with, the text above the sticker says, "Scan to verify genuinity". So I scanned.
The result of the scan took me to a page hosted on a site called 'Uniqolabel', and asked me to enter my name and mobile number!
This seemed suspicious, particularly because my relationship, as a buyer, was with L.G (Laljee Godhoo & Co) and not with Uniqolabel.
I searched for Uniqolabel and came across their press material on YourStory, besides their own website. They seem to be bent on explaining what they do in the most complex way possible, almost as if they were promised $1 million for every single tech. jargon. Sample this:
I checked the privacy policy and in the first paragraph it mentioned that entering my details meant that I consent to receive stuff from them. And that I need to send them an email or a letter to withdraw such consent!
Having come so far, I wasn't going to back off, so I entered the details and hey presto, the next screen thanked me for buying a genuine LG product.
Just for a cross-verification, I scanned the QR code using my wife's phone and her details. The result? This:
As a normal consumer/user, I have no clue what just happened. I mean, I scanned a QR code, gave my details and I was told the product I purchased was authentic? What went behind the scene to enable this seal of authenticity?
Digging in further I figured this: the US Patent US20060165260A1, filed as 'Product authenticity validation system' explains the process in the simplest possible way.
I figured that besides Uniqolabel, based out of Bengaluru, there are quite a few companies that offer this service. A Google search pointed me to companies like UniSecure, Seal and TagOver that offer very similar services to other brands, and also have end-user level verification through smartphones.
UniSecure even had an easy-to-understand process explained in a visual that extends the use-case beyond a linear genuine-fake result for users since it lets users check more details!
Almost all services offer the possibility of traceability of a product through the supply chain and UniSecure's page explains this well.
This is really interesting because I, as an end-user could verify the genuineness of a product right from the source! So, if for instance, I order cinnamon from Sri Lanka, I can literally trace the origin of the cinnamon from the source of where it is procured in Sri Lanka, to the many places it passes through, till I get it in my home!
When it comes to traceability, here's an application from FarmTrace, in today's Hindu Business Line!
---
This process does not certify the purity of the product – that is a larger promise sold by the brand and we simply have to trust the brand that they stand by what they promise. This process simply helps us prove that the product we purchased is indeed from the company mentioned on the pack, and that it is not from a middle-man who is impersonating the brand by selling spurious fake.
In a way, an identical fake could be called a deepfake, continuing from my post from yesterday… just that this is a deepfake in the real world, not in the digital world.
I'm yet to see this being used in another product, but in principle, this sounds like an interesting idea to verify authenticity at the end-user level.
---
In connection to this, there is another product that seems to be using something along these lines.
I got these photos from Jose Thomas and I found them interesting for multiple reasons.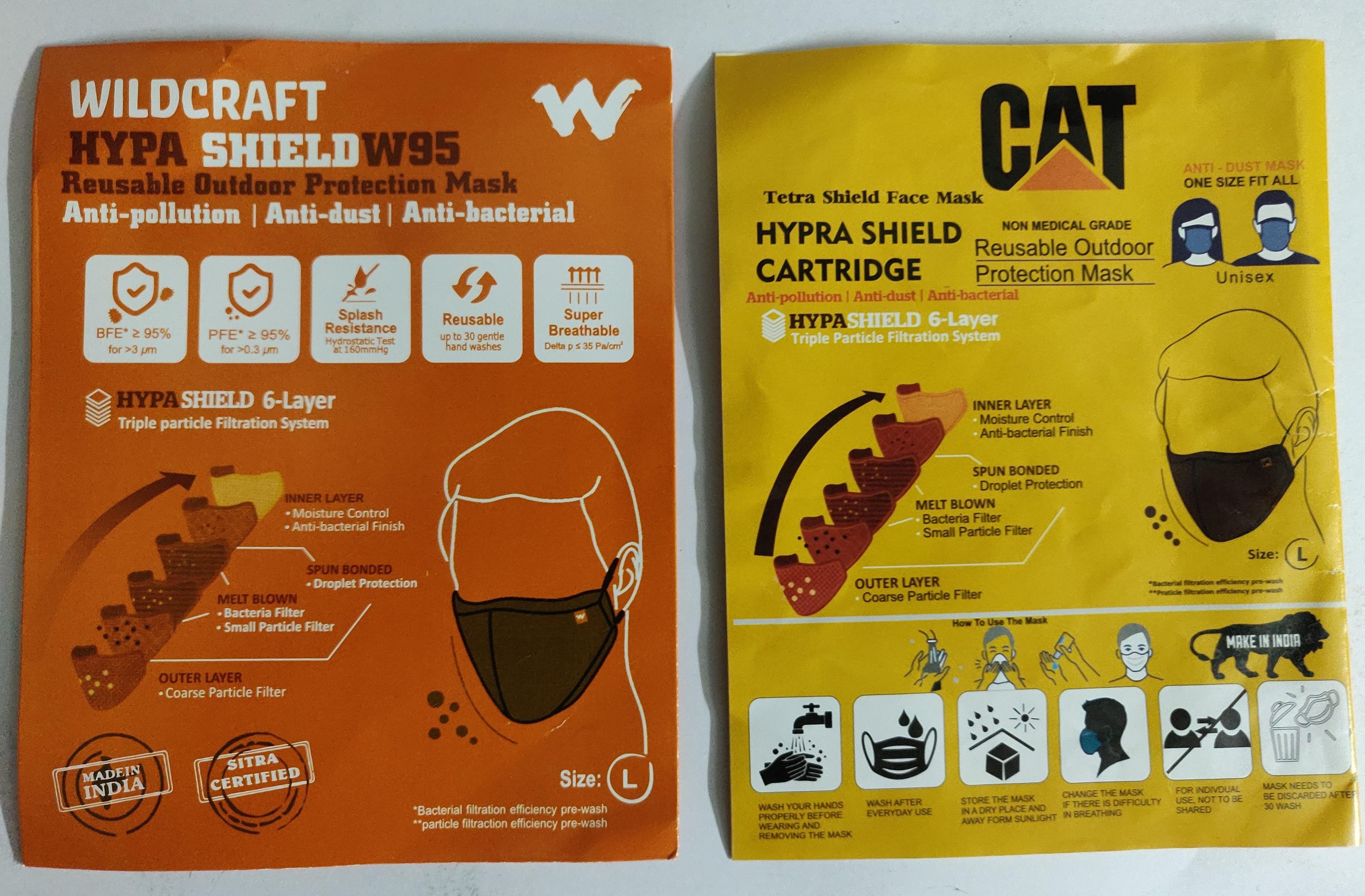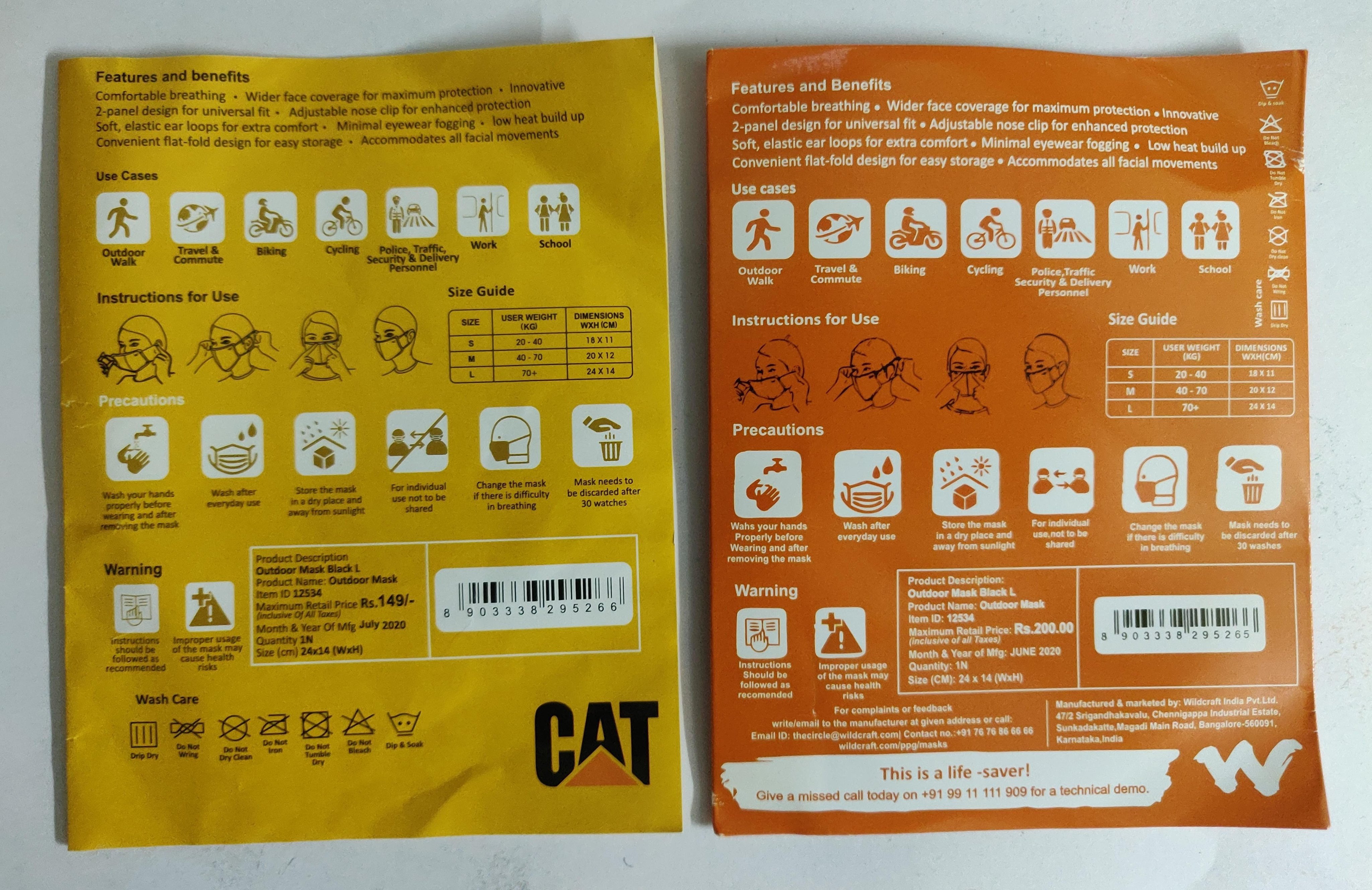 1. The sheer similarity between the packages – SO MANY elements are identical, not just similar. Yet, there is a price difference (at least the MRP mentioned).
2. I couldn't find CAT (Caterpillar) selling masks in India, online. Wildcraft, of course, is well known as one of the first branded mask manufacturers in India. Does CAT officially sell masks in India at all?
3. I scanned both barcodes and figured that even the barcode on Wildcraft's packing ends with a '6', and not a '5' as depicted. That is, the barcode is identical in both packs, but, for some reason, the numerical value ends in '5' in Wildcraft alone. To be specific, 8903338295266 is the numerical value of the bars on both packs. But Wildcraft's pack misrepresents the bars as 8903338295265!
Also, if you scan both barcodes and search the scanned result, they take you to Wildcraft's entries online.
4. Even the Item ID is ditto.
5. How does one explain this scenario? Did a common 3rd party manufacture for both? Did Wildcraft manufacture these and someone bought it on wholesale, put CAT branding on the packs and sold it cheaper?
When I posed these questions on LinkedIn, Yuvraj Gogia, marketing manager at Wildcraft was quick to respond. He explained that both the products are fake! That someone is misusing the brand name of both CAT and Wildcraft (because people trust those brand names – the point I made above with regard to what the authenticity seal/verification helps clarify) to sell cheaper masks, presumably of poor quality (and not the kind of quality promised by Wildcraft, for instance). That explains why the barcode's numerical value diverged was wrong.
Yuvraj also added that Wildcraft has an authenticity checking mechanism similar to LG asafoetida, using a company called Sproxil!
But, unlike LG, where an unconnected 3rd party unfamiliar to the end-user holds the page, Wildcraft itself owns the verification page, complete with official branding and color scheme to evoke trust. This is a significantly better way to close the loop in this process.
I bought my Wildcraft masks in April and do not have the packaging to check the QR code, or it's possible that Wildcraft introduced this later (after the initial batch) once they figured the presence of fakes in the market. But it looks like the process is similar to the one used by LG.
---
Another related point, from an end-user point of view.
At what point is an end-user expected to verify the authenticity of a product? Is it at the store level, while considering buying it? Or after having purchased it? If buying online, the former is not possible – we can only check after it arrives home.
This is an opportunity for intermediaries like e-commerce platforms and offline retailers to intervene. My trust in an offline retail departmental store would go up if I find, at its entrance, a proclamation that they store only verified genuine products. That they do the verification before making it available for sale. If an Amazon adds a verified-genuine mark in its product listing, that would help me trust both the platform and the product. Plus, I can always verify it at my end too.
---
PS: A good question about the QR-code based verification (posted in the comments section, by Sidharth Nathani): If I scan the code while at the shop, confirm authenticity and then not buy the product, wouldn't the eventual buyer be shown that it is not a genuine product? Could Uniqolabel or Sproxil help answer this, please?
Comments
comments