Yesterday's Times of India has a pan-India front-page advertising campaign by Hero. The Delhi, Kolkata and Mumbai editions of the ad has the headline "Bold ka naya andaaz" on the front-page, and "The icon reimagined" as the headline in page 2.
The headline of the same ad in Times of India's editions in Bengaluru, Chennai, Hyderabad and Kochi is oh-so-slightly different. Before I show you those, let me first imagine the conversation that may have manifested between the agency and the client.
Agency: Should we really shove that Hindi-written-in-English headline in 'regional' markets in the South?
Client: Yeah, why not? Hindi is our national language, have you forgotten? There are so many Quora posts about this! And Kolkata is a 'regional' market too, and we have the Hindi headline there, after all.
Agency: Still, is there something we can do? Like a translated version written in English text?
Client: Nope, no budget for all that. Let's do one thing – put the Hindi headline on the inside page and the English one on the front-page! Problem solved!
Agency: Genius! We're going to share our Cannes Award that we will get via the Zoom call next year with you!
And here are those 4 'regional' editions of the ad!
Related context: How brands are hurting themselves with pan-India "Hinglish" ads. (Quartz India)
---
Given this background, here is another dimension, of a national brand making attempts to go 'regional'. This is not print advertising, of course. This is about Amul starting a new Twitter handle meant for Tamil Nadu alone – it's called '@amul_tamilnadu', for a reason!
The language used is very colloquial and not the forced-Tamil-translation Mumbai/Delhi advertising agency circles are infamous for.
The language used remains very rooted, and is not the classical Tamil. The use of English words either as-is (in Roman script), or in Tamil script is the natural way it is usually used in the state too.
They have even looked at the intersection of people who speak Tamil and who also watch Dark on Netflix, speaking directly at this possibly tiny segment!
Some of the tweets also riff very well on local nuances and filmy dialogs.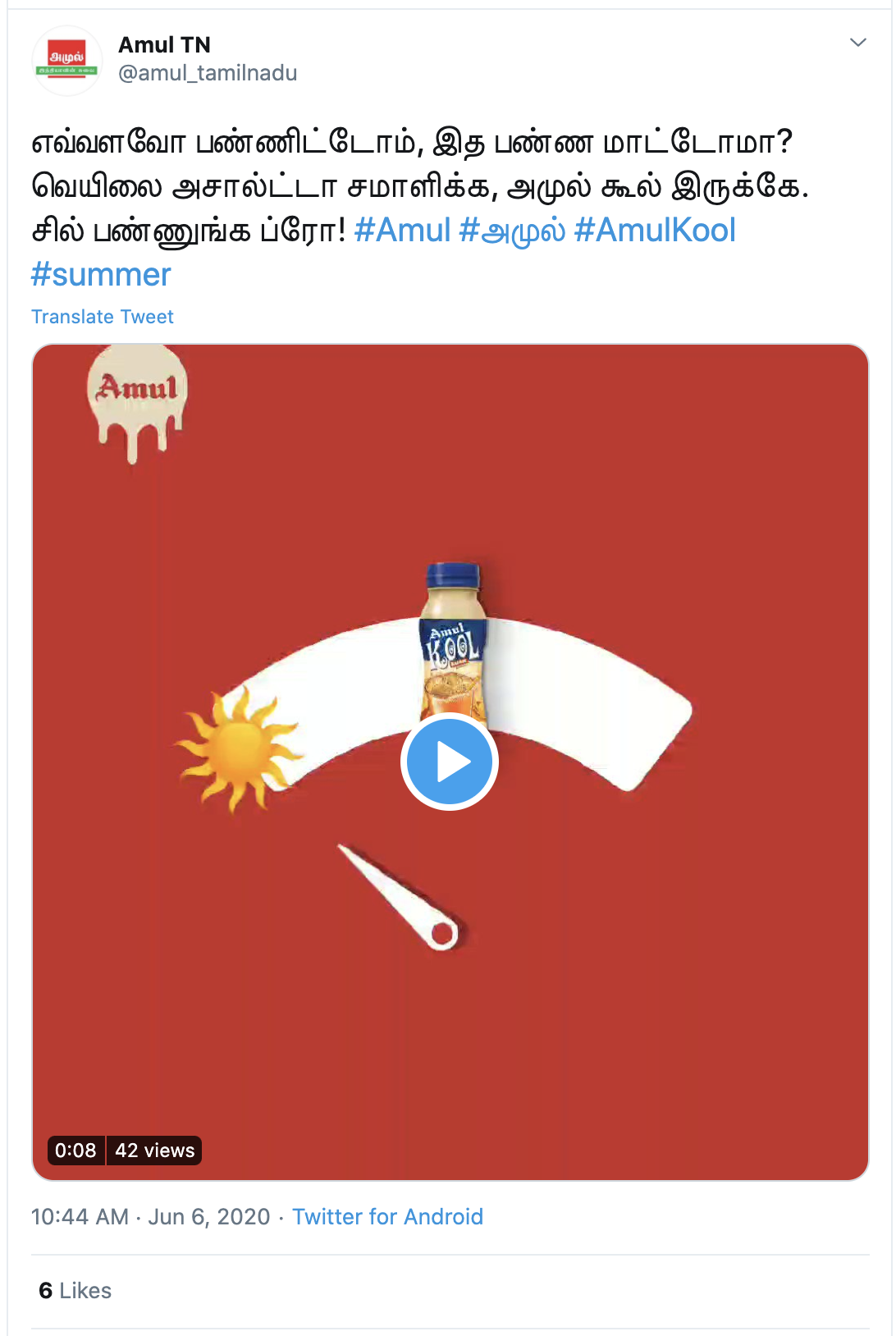 To be sure, this is not highly smart in terms of wit or intelligence. If you listen to Tamil FM stations, such usage is the default. But this is definitely not baseline either – it demonstrates that they are aware of the local trends.
It's clear they are working with someone/some agency that knows Tamil well and understands local trends and nuances.
Except for very rare misses—the Amul Kool Badam tweet has, in the pic, 'Kuzhu Kuzhu', instead of 'kuLu kuLu' (meaning 'cool cool')—almost all Tamil is perfect in terms of spelling and usage!
Yes, there's a mild tonal shift when you see them using their national, Hindi-first topical toons that have Hindi/Hinglish in them along with Tamil commentary in the tweet.
That series is reminiscent of the standard-issue Mumbai/Delhi agency-led messy regionalization. But by and large, the overall effort is very welcome and largely very well done!
(PS: I believe Amul also does local language versions, in Marathi/Gujarati, of these topical series and puts them up as billboards in those states. That shows they have the intent to regionalize even this series)
This is the long-pending need in marketing in India that I have written many, many times in the past.
---
You may argue, though: "But Hero's was a multi-edition, front-page print ad. It costs real money, a LOT of it. Amul's is just a Twitter handle that doesn't even have promoted tweets. How can you even compare both?".
Fair enough. Here's what I think: If a national brand like Amul, for its 'free' Twitter handle could put so much effort to get local nuances right and have an agency (or at least a dedicated person, since they have been at it since April this year!) on call to get the local lingo right, shouldn't another national brand like Hero, that is spending a bomb on a front-page, multi-edition ad campaign do a LOT more in terms of attracting regional audiences in a way they speak, instead of coining one Hinglish slogan and merely playing around with that and an English slogan in 2 pages?
The English slogan, by itself, is perfectly harmless, but that's also the problem – it is harmless. In advertising, the worst outcome is your audience being indifferent to you. Even when they hate you, they hold an emotion about you (this is not a recommended strategy, of course), but indifference is a killer because there is no emotion involved!
Comments
comments