With regard to brands trying various kinds of content in Stage 3 of this pandemic (the 3 Stages, explained), my favorite right now is Steak-umm, a brand of thin-sliced frozen steaks. As a content format for social media, this is a brilliant subversion of the convention in every possible way.
Like every other brand, Steak-umm seems to have been struck by what's happening in the world and how to navigate this situation as a brand. It helps that the brand is being managed pretty independently and seemingly with a lot of freedom by an agency – Allebach Communications. The tone they have chosen for themselves is mighty irreverent and goofy. This really helps – after all, how else can you differentiate yourself as a brand of… well, frozen meat?
So, given all the uncertainty, the brand has been sending feelers about their feelings on and off since mid-March.
Like all responsible brands, they interjected their regular programming with some sane, factual help for their audience in a thread, back on March 17th… after wondering aloud what any brand could even do in such times!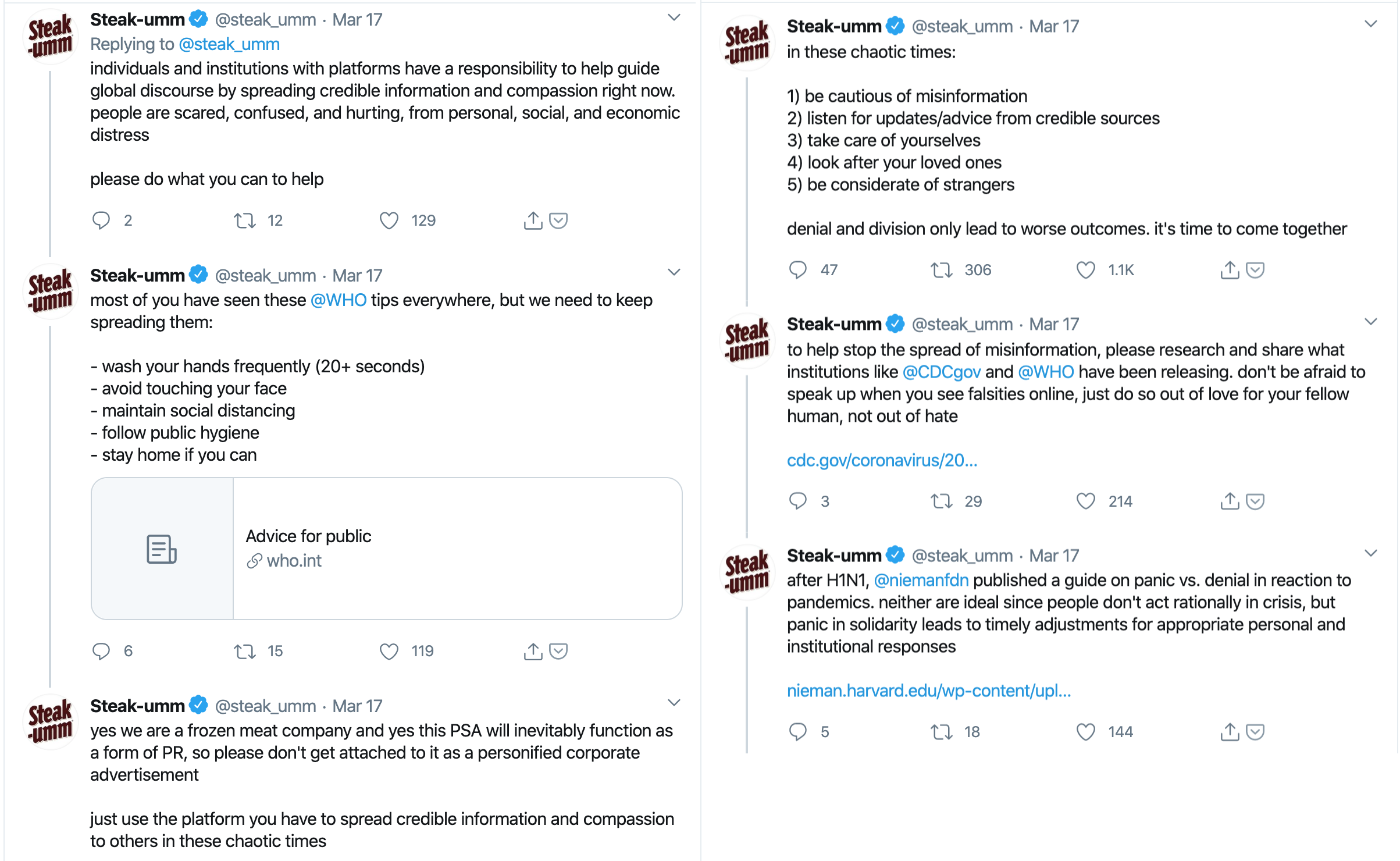 Then the occasional concerned tweets… small nuggets with some feeling and viewpoint.
And on March 23rd, a rather poignant introspection!
On March 27th, a single tweet that was a precursor to what was about to come!
And then finally, the floodgates opened on April 3rd, expanding on their March 27th tweet into a massive thread. This had nothing to do with steaks or meat but about dealing with the pandemic through polarization, misinformation and the media landscape!
What does frozen meat have to do with these topics? Nothing.
Should people listen to a frozen meat brand comment about these topics? Well, they can, if they want to.
Would it even fly if a frozen meat brand ranted on these completely unrelated (to its brand) themes? How would you know, unless you try? Also, even though this theme is unrelated to the brand, it is closely related to the times we're in… together. So, who says what is almost immaterial in a situation like this. We're all in a heightened sense of consumption (information) and are receptive to a lot of things, in fear and anticipation and hope. So, anyone or any brand could take a position regardless of it being appropriate enough to say something.
And Steak-umm takes on that position beautifully.
Not just that – they seem to be listening to how people are reacting and doubling down on this kind of content!
Since that April 3rd thread, they have gone on to post 2 more mega-threads on Twitter on similar topics. Nothing about steaks and everything about the situation and ways to deal with it, with the crux being misinformation!
The 2nd one has particularly touched a nerve given the 60k+ Likes (for an account of 90K followers, and no paid push I presume).
Observe how the content has evolved – from factual and helpful tweets citing WHO, Harvard and CDC… to a strong point of view on a topical theme that is not functionally helpful in terms of knowledge but helps frame your opinion in a way to deal with the situation we are in.
There is an early indication that this sort of content works for the brand, from 2018. Back in September 2018, the brand did a thread on social isolation and that went hugely viral.
Back then, there was no collective and specific context for that thread, but it resonated strongly because a lot of people in the US connected with that sentiment. It didn't matter who was offering that point of view, or that it was a brand of steak!
It looks like Steak-umm has upped the ante several notches with its latest stream of threads. This is Stage 3 done really well by breaking the mental barriers and notions of what a brand should or shouldn't on social media!
Comments
comments