Before I get into the new campaign, Tata Steel advertising deserves (and demands) some historical context. Tata Steel has a rich history of advertising. Take a look at some of them, courtesy Tata Central Archives.
Growing up in Doordarshan era, one advertising campaign that I recall vividly in the early 90s was Tata Steel's We Also Make Steel. Made by HTA, now called J.Walter Thompson (JWT), it is still revered as one of the most memorable advertising campaigns from India.
The jingle for the TVC is still fresh in my memory, though, these days, you just need to Google it to refresh your memory 🙂 There are 3 ads in this playlist.
In 2011, Tata Steel launched a new campaign titled, 'Values Stronger Than Steel'. The lore goes that it was Tata Steel's then CMD, Russy Modi who coined both 'We Also Make Steel' and 'Values Stronger Than Steel' (source: Financial Express). From HTA/JWT, Tata Steel had chosen Ogilvy for this campaign.
The 2011 campaign was a "360-degree" approach, as the press release mentions.
I recall being fairly impressed by the website created by Rediffusion Y&R Digital. The microsite was called 'Valueabled' (now redirected to Tata Steel's Campus Connect) and had a Pinterest-like design approach.
That campaign had a series of print ads and TVC. The TVCs had 2 versions – the longer 3 minute+ narratives (honestly, quite boring and long in the current context!) and shorter 30 seconders.
There are 5 TVCs in this playlist.
The big news is that the Tata Steel campaign is back in JWT's fold. The new campaign that launched today with a front-page advertisement in The Economic Times and The Times of India is by JWT all over again, after the early 90s' We Also Make Steel. It's fitting that they were chosen to extend their own earlier campaign.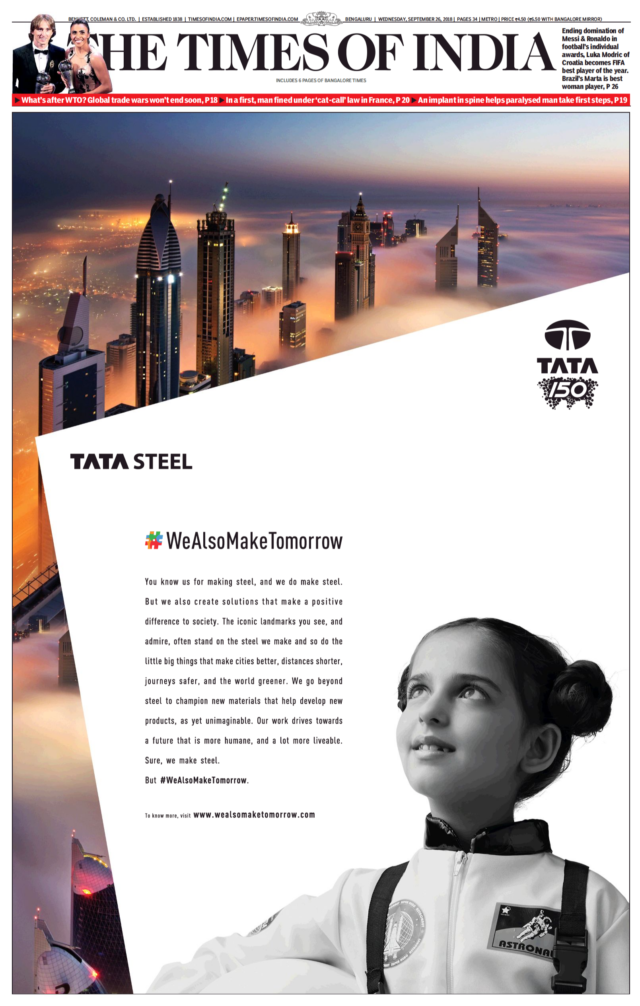 The TVCs are nice enough, exploring the theme of imagination as the resource to power 'tomorrow'.
There is perhaps a deliberate attempt to make the faces/nationalities in the TVC international, to go beyond India. This makes sense when you see the campaign microsite, WeAlsoMakeTomorrow.com. The showcase in the microsite has both Indian and non-Indian landmarks built using Tata Steel (like Burj Khalifa, that's also showcased in the TVC).
Awkwardly enough, the 4 supporting videos featuring senior leadership from Tata Steel – on the manifesto, innovation, technology and sustainability – is like watching paint dry. They are 4 minutes+, have talking heads with very poor, room-like echoing audio and don't seem to be scripted in a way to make them interesting and absorbing. I'm fairly sure what those people (senior leadership) are saying is perfectly valid and important, but I'm also sure Tata Steel could have thought of so many other ways to communicate those points, than a plain talking-heads style video that just goes on and on.
However, there's something minor I noticed that had me really, really impressed. If you see Tata Steel's YouTube page, you would see that some of the playlists are very new – created yesterday. You'd assume that they had made playlists of the new campaign (We Also Make Tomorrow).
Of the 6 new playlists created yesterday, 2 are 'We Also Make Steel' (from the 90s) and 'Values Stronger Than Steel' (2011)! Someone at the agency/internal communications team had the presence of mind to think that when this new campaign, with a name very similar to one of the most iconic campaigns of Indian advertising, launches the next day, there'd be a renewed interest in searching for the new campaign's predecessor! And, to help fill that need, they made 2 playlists just the day before!
Good thinking – kudos!
Comments
comments