Indian chess grandmaster and former world chess champion Viswanathan Anand was slated to play chess with well-known celebrities to raise funds for The Akshayapatra Foundations' COVID-19 relief feeding efforts, on June 13, 2021.
The format of the game is a simul (simultaneous display/exhibition game), where Anand plays multiple players at the same time, and this happens on Chess.com India's YouTube channel. The five players who competed against Anand were Sajid Nadiadwala, Yuzvendra Chahal, actor Riteish Deshmukh, Kannada actor Sudeep, and Zerodha's co-founder and CIO, Nikhil Kamath. (In another Anand played against Manu Kumar Jain, Aamir Khan, Arijit Singh and Anaya Birla).
Incidentally, Nikhil has spoken about his love for chess very recently.
And, Nikhil Kamath won against Vishwanathan Anand!
Nikhil was banned by Chess.com shortly thereafter.
The next day morning, Nikhil tweeted this: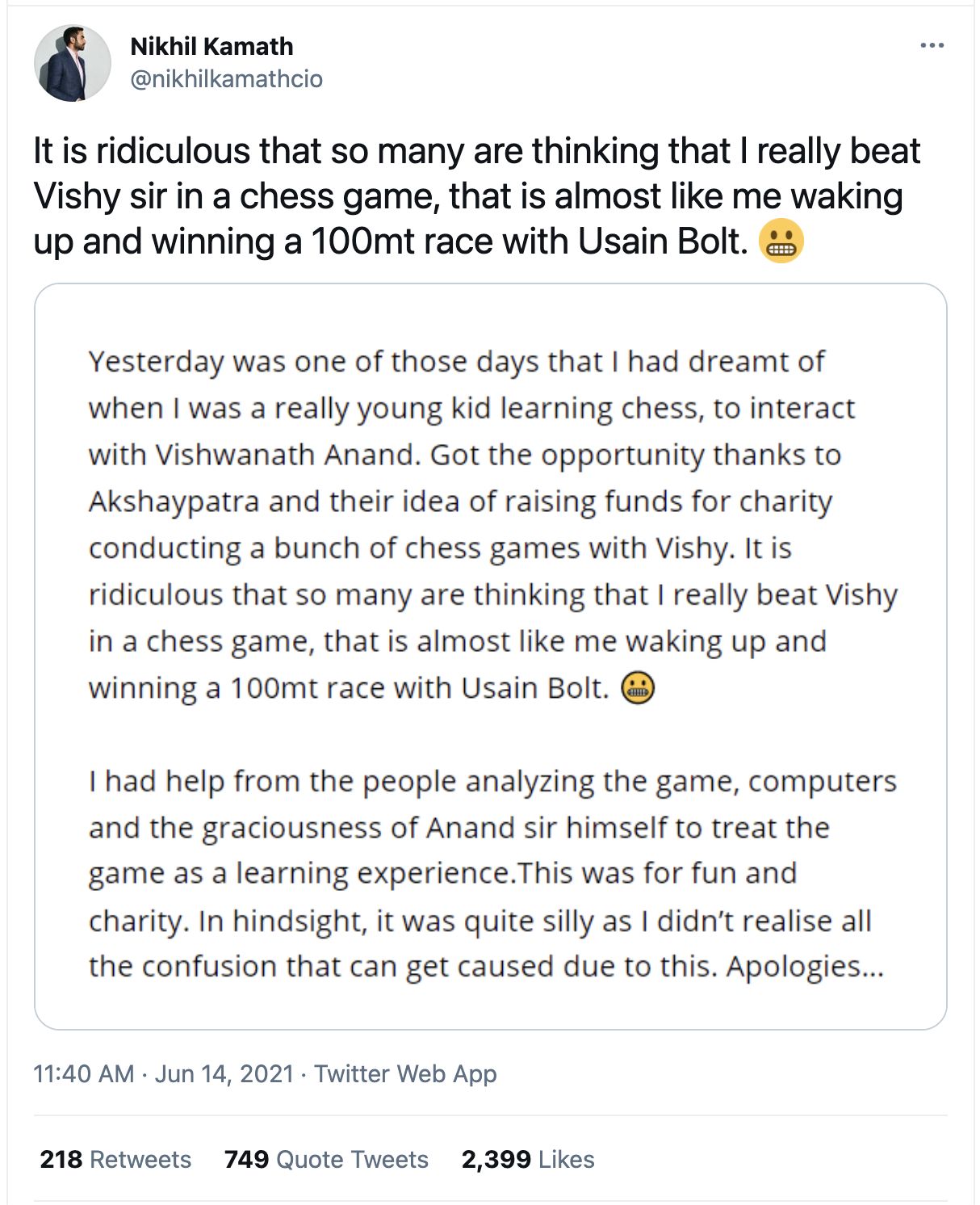 Vishwanathan Anand added a graceful quote-tweet on top of that to indicate that he took the game seriously, like any other game, and that he had no idea that Nikhil had cheated/was cheating.
After his morning bluster, Nikhil found the good sense to offer a slightly better apology in response to Anand's tweet, later in the evening.
Chess.com made this announcement, about the ban, during the day.
So, it's clear that Nikhil cheated, and won. And assumed that people would naturally know that he cheated/took help because he won. But that is not what he said when Samay asked him after he had won!
After he won, Nikhil told the host, Samay Raina, "I think I got really lucky on that knight and bishop exchange. I think I didn't even see that the mate was covered on the other end and that thing changed it for me."
So, the vague apology in the morning doesn't quite add up. The tone of the apology too seemed less serious and more playful, as if cheating in a game, a charity game at that, is justified somehow.
The problem is that even if Nikhil had treated the charity game casually, as a PR opportunity, the people who were watching the game or reading about it eventually may not think on those lines. For the audience, and the world, the summary is simply this: "Zerodha CIO Nikhil Kamath defeated Vishwanathan Anand in a game of chess". Nikhil basked in this veneration till he was forced to react, tell the truth and apologize.
For the (co)founder of a platform where people decide how to invest their money, that is really poor judgement, first to decide to cheat in a chess match against THE Vishwanathan Anand, then not reveal the cheat after the game, and then apologizing flippantly when caught.
So the question then is about the impact of Nikhil's poor judgement on Zerodha the brand. In other words, would people draw a link that goes, "If he can do *that* in a charity game of chess where the stakes are already so very low, what would he do when the stakes are high in a real business?"
That's the direct connection many people made when they saw Nikhil's flippant apology.
Zerodha is a platform that operates in the financial services space and requires people to trust it with their money. For such a category, to have someone in the role of a co-founder and cheat so visibly and publicly, there is bound to be some rub-off effect on the brand. But in this case, Nikhil's rendezvous was beyond the platform and brand – it was on a game of chess that has nothing to do with the platform or its business.
Incidentally, Zerodha was in the news for a different reason: that the 2 co-founders and a director were each drawing a salary of Rs. 100 crores. But I recall seeing quite a few people who came up to support Zerodha since they are a bootstrapped company (India's first bootstrapped unicorn), with the logic that because they haven't taken money from the market, they deserve to do what they want with their platform's success.
Nikhil's latest act is bound to somewhat affect the goodwill the brand had generated/has currently for their well-deserved success in the Indian market. But, I do not think Nikhil's personal misdemeanor is likely to affect the brand he represents, as long as the platform does the right thing by its users, which it seems to have been doing admirably so far. Most normal users of the platform would have been drawn to it through word-of-mouth or knowing about the platform's features, and not necessarily due to the charm, the personality of the founder(s). They are also less likely to know Nikhil (who is the CIO) by name, or as the founder and connect his personal ethics to the platform. Nikhil is of course the co-founder of the platform, but he is not the only one.
But yes – Nikhil is likely to be reminded of his poor choice for the rest of his life. That is his personal cross to bear. This may also affect Nikhil's other pursuits that he may need to lead on his own given that his personality and attitude, as depicted by this episode, would foreshadow his presence or words.
Interestingly, an offshoot of this episode could extend to online gaming industry too. The Indian online gaming industry is already fighting multiple battles, from the Government, from assorted State Governments bent on banning them (or having already banned them) and from very poor public perception. That Nikhil cheated in an online game and won against Anand is a good-enough advertisement for the possibility of cheating in online games.
PS: Two more players (of the 8 that played the simul against Vishwanathan Anand on June 13th) have been banned by Chess-com: Kannada star Sudeep and producer Sajid Nadiadwala.
A final update and closure on this imbroglio:
Comments
comments