We (the public) witnessed Hitesha Chandranee's video on Instagram on March 9th. That was one perspective for us to observe and form an opinion.
We read about it in the news on March 10th.
Then, on March 12th, we read the Zomato delivery partner's version through news reports. That was another perspective for us to observe and form an/another opinion.
So, how is Zomato, the service in the midst of this imbroglio supposed to respond?
How they did is a text-book lesson in corporate communications, in my opinion.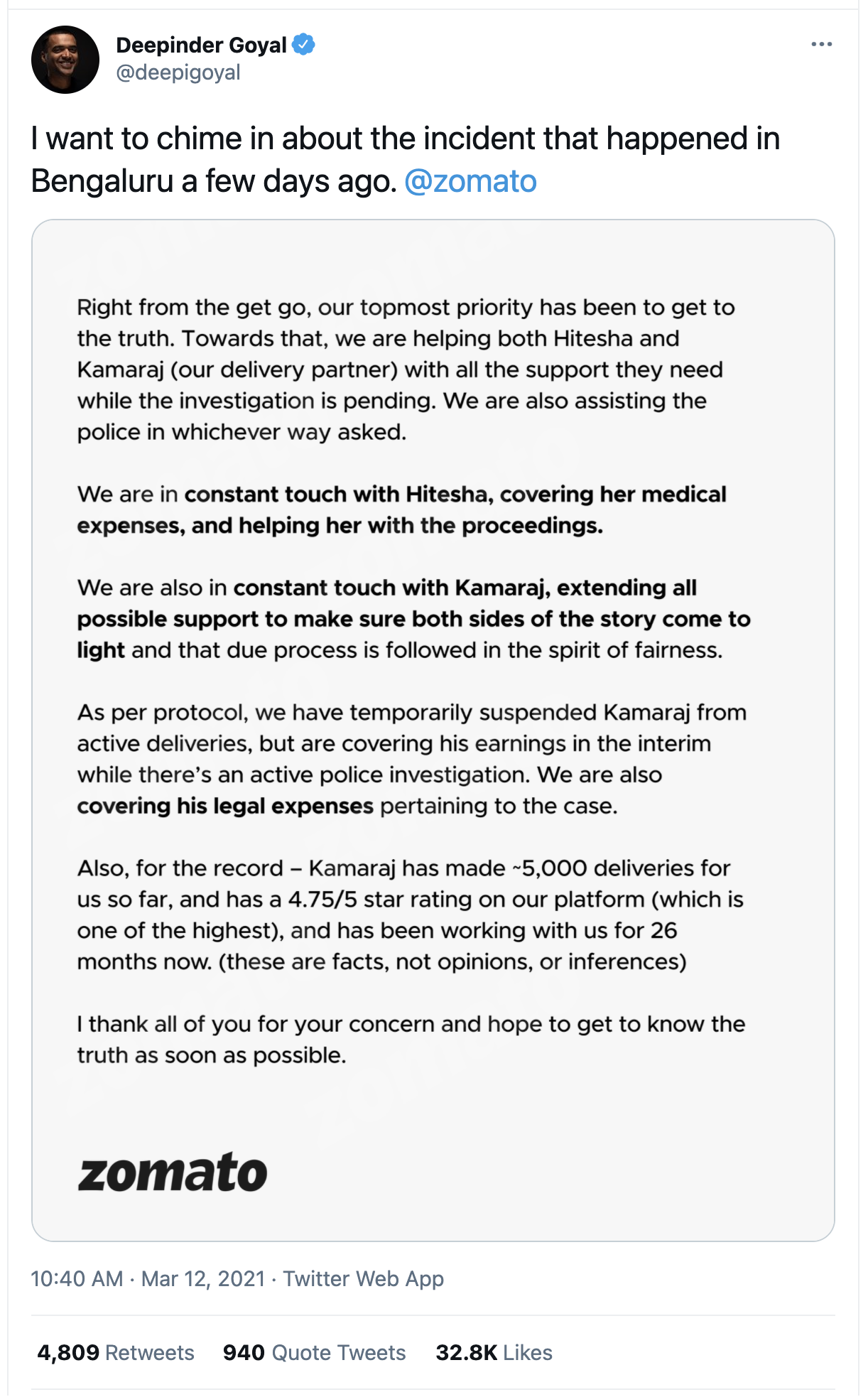 Here's why.
1. The response was not from the corporate handle, but from Zomato CEO's personal handle on Twitter. That makes it a lot more believable than a mere corporate handle sharing it. (This mandates that the CEO should have a decent-enough presence on social media, btw).
2. It's a text block shared an image, and not as a Twitter thread. This enabled Deepinder to highlight the most important parts for people to quickly get a takeaway – all 3 highlighted blocks indicate what Zomato's specific actions are after the narrative took twists and turns since March 10th.
3. The highlighted parts indicate a balance of perspectives that convey that Zomato, like us, is also at the same position – there is no side to take, yet. That is the job of the Police. All we are presented is just versions.
4. The money part is taken care of by Zomato, for BOTH the parties involved. That's another level of fairness exhibited without prejudice to either mainly because it is too early to jump to a conclusion.
5. The penultimate paragraph is the most interesting. It makes it seem like Zomato is taking the side of their delivery partner, and as if anticipating our reaction on those lines and to reiterate that this is not the case, there is the line, "these are facts, not opinions, or inferences". So, why add this line? Because that is the only factual detail (the delivery partner's tenure at Zomato, the number of orders he has delivered, and his rating within the system) they have from one of the 2 parties that is directly involved with Zomato.
6. To be sure, this is a tight-rope walk for Zomato as a brand. They cannot afford to alienate either side – customers' trust in the platform is at stake, and employees' trust in the company is at stake on the other hand.
The statement may/could have been a lot more generic and shorter, amounting to, "We are assisting the Police in every way possible".
For context, consider a statement from Swiggy when it was facing a slightly similar situation involving its delivery personnel and Bengaluru's Empire Restaurant:
But it is longer than usual, and more detailed than expected from typical corporate communications.
It was also made directly to people, bypassing mainstream media as a conduit (like the Swiggy statement, for instance, which was made to the media, in response, and not online, directly to people). Why? Because the allegation was first shared on social media directly to people, by Hitesha. She did not go to the cops first and we did not read about the incident first in the media.
---
The extra level of thought that has gone into framing the statement makes a huge difference in corporate communications because it aids the reader in perceiving the brand as being as fair as they could be, under the circumstances.
We, as audiences, and users, are also getting more signals and information about Zomato from other sources – online opinions, news reports etc. About stiff targets for delivery personnel, the way rising fuel prices affect the delivery businesses like Zomato, among others.
So, Zomato's statement should exist in the same frame of reference as those broader cues and still make a case for the company seeming as fair as it could be. I believe the statement, the way it was framed and delivered, works well in such a situation.
Comments
comments