Have you noticed something interesting from Amazon lately?
The most customer-friendly company in the world (they call themselves that and largely live up to that too, I must admit) has quietly changed the way they email you updates about your orders.
Right across 'order confirmation', 'dispatched', 'out for delivery'/'arriving today', and 'delivered', their emails are very different from the way they looked last year.
If you have not observed the difference, let me present to you 2 sets of emails, from October 2019 and October 2020. Take a look at the 4-email set and figure out the differences!
The first set of emails is for a brand of wireless earphones I bought last year.
Order confirmation:
Dispatched:
Arriving today:
Delivered:
The second set of emails is for the Fitbit Versa 2 I bought this year.
Order confirmation:
Dispatched:
Arriving today:
Delivered:
The most obvious and glaring difference is the lack of details of the order in the email! The email subject and body clearly mentioned what the product is, earlier. Now, there's just an order number and a generic 'Amazon package'. Only in the 'delivered' email, do they show the product and mention it, even though the subject does not have the product name like last year.
So, now, when I get an email alert from Amazon, I have no clue what it is for! I have to go to the Amazon app and figure it out. Personally, I don't have an issue with that since the Amazon app is extremely user friendly and is a click away anyway.
But I was wondering why Amazon suddenly became so guarded in the way they alert users via email.
While there is no official word from Amazon on it, a lot of people have observed this change and are wondering aloud too.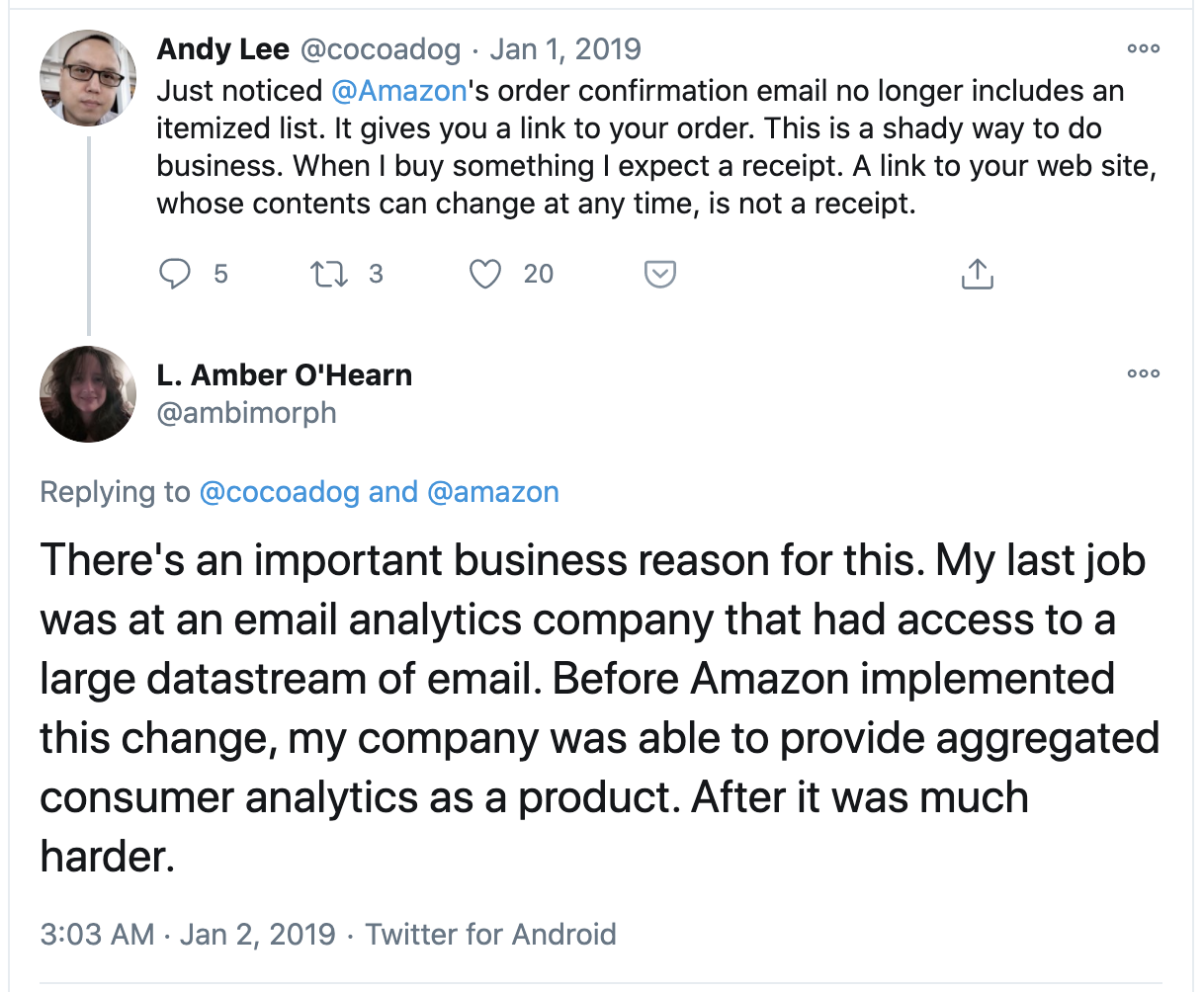 Two theories are floating online, with regard to the reason.
Theory 1 is that this is Amazon's way of making you (forcing you to) go their website/app once again and when you do, you may be tempted to order more. While that seems plausible from a psychological point of view, I don't think that would be the reason for these dark emails because it puts business over customer service, and Amazon is not that kind of a company when it comes to dealing with customers (no matter how they deal with vendors, partners, employees etc.).
Theory 2 seems more plausible to me. That theory goes that this change has been enabled because a lot of 3rd party services are scraping emails to figure out data from Amazon's orders and deliveries!
This email scraping business is pretty large and we willingly consent to a lot of apps on our phones to scrape all kinds of personal details, including email!
Scrapers could accumulate a phenomenal amount of data in terms of user interest in certain kinds of products, the kinds of products that are most often returned, sales of products overall among others. Given that Amazon is the largest e-commerce store in the world (by a mile), such data could be extremely valuable for rivals of all kinds, including those like Shopify that are helping businesses go online and start their own e-commerce stores.
I find this logic highly plausible. For Amazon, data is the most important asset and for them to protect it at the cost of shaving off a bit of their customer-centricity is a hard bargain, but understandable. It's a tough call, but one that makes sound business sense on the larger scale of things.
Comments
comments