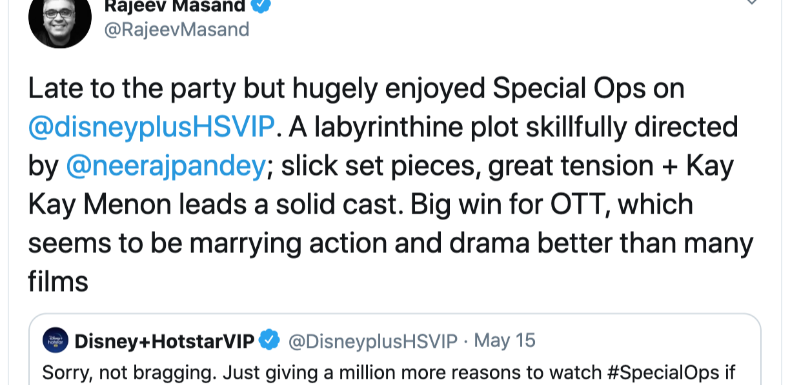 The news of 7 new, relatively-big upcoming Indian films going directly to OTT (Amazon Prime Video) was first spoken about on May 14th (Saturday). This was online news, primarily. The next day, the same news made it to most print publications and newspapers.
On May 15th (Sunday), I first noticed Rajeev Masand, one of my favorite movie reviewers in India, gush unusually about a show on Hotstar – Special Ops, by Neeraj Pandey.
Why unusually? Because of 2 reasons.
One, the show went on air on March 17th, full 2 months before Rajeev's Twitter-review. And all the episodes went live at the same time – it wasn't even a weekly, staggered release. So I found it unusual that Rajeev is 'reviewing' (sort of) a TV show so late. I'd have expected him to do it much closer to the release date, all the more so since there are no movie releases for 2+ months since the pandemic-induced lockdown hit the country (on March 22nd). So, to keep the reviewing content alive, I'd have assumed that Rajeev may start reviewing TV series too.
Two, the last sentence in his tweet: "Big win for OTT, which seems to be marrying action and drama better than many films". Why is Rajeev comparing a TV series to movies, his mainstay? That seemed unusual to me.
Also, it seemed almost like Hotstar was feeling the heat with so much buzz around Amazon Prime Video cornering 7 upcoming brand new films. And wanted some buzz on it too, and chose Special Ops as the lever to engineer the buzz.
And then, almost by chance, I noticed a reply to Rajeev, by Ajay Agarwal.
That's when a lightbulb switched itself on in my head.
Oh, this is a coordinated campaign? Who else is praising this show now?
And then, almost as if on cue, a few other people I follow in my Milliblog Twitter handle started quote-tweeting the same Hotstar tweet and praising the show seemingly out of turn, 2 months after it premiered!
Most of these tweets were by really big-ticket Twitter influencers. Between 2:30pm to about 9+pm that day, there was a steady stream of praise for the show! Here's a snapshot featuring some of the big influencers.
Now, as I had explained in my post last week on the Gold Winner Mother's Day fiasco, there's nothing new about coordinated promotions on social media anymore. How each promotion is worded makes all the difference and the Gold Winner campaign was a good example of how to get it wrong.
This campaign, by Hotstar gets the verbiage right. Every influencer has a personal point of view about the show (whether they have actually seen it or not is a different topic, beyond the scope of this post).
But, when someone has the opportunity to notice more than one, two or three praises for the show in a span of say, 2-3 hours, how would that change that person's perception (a) about the show (b) about the influencer?
About the show: I cannot generalize the perception, but one possible way to think could be, 'Do they really need to push this show so hard? And that too, after 2 months of it going on air?'. It's also entirely possible that I may see only one tweet praise, say by Rajeev or Taran and not have the opportunity to form any other opinion, without even realizing that this is a full-fledged campaign.
About the influencer: Considering there is no disclaimer about this opinion being paid-for or 'influenced' if you happen to notice more than one, in a smaller span of time, would it influence the way you think about the influencer or his/her views (perhaps with a pinch of salt)?
A larger question is around how influencer marketing is handled by brands and agencies.
Should they also think about the timing, as much as the content and the purpose? The individual influencers would not be able to think of the timing since they are getting a task directly by an agency or a brand (and not as a CC email). So, they'd post their content when they find the time, or when they find it appropriate to do so. But the brand and agency would be looking at it from a larger view and may be able to orchestrate the timing too better by giving a time/date band for individual influencers. This way, they could perhaps stagger the coordinated and engineered praise to a period of say 15 days, across 15 influencers, at different points during the day, instead of dropping all of them at the same time band.
On the other hand, they perhaps intended it precisely that way. To bombard the social media space with a lot of top influencers saying great things about their show in a very narrow band of time, so that such relentless praise may compel people to take note of the show seriously with the reasoning, "Wow, so many people love this show? Let me also take a look at it!". This sentiment doesn't take into account most people's healthy cynicism around paid influencers/promotions, particularly for pushes/promotions on non-real-time events and things. If the same praise came for a live event unraveling at that time, most people would assume that it is not paid/promotional and is happening naturally. But, for a piece of content that is 2 months old, simultaneous praise on one Sunday afternoon, out of the blue, would evoke healthy cynicism.
Comments
comments