When YesBank went down the drain late last week, a couple of other large brands were affected too.
The first and obviously visible one was The Economic Times that has the Global Business Summit. The title sponsor for this event has been YesBank for the last few years. This year too, Economic Times went to town (understandably) with the promotions since India's Prime Minister and 7 more ministers were to speak in this event.
But on Friday, the newspaper was forced to have a front page that has both side-by-side: the news of YesBank going down the drain and the GBS highlight of 7 Ministers speaking in it.
Another page had a large advertisement for GBS with YesBank mentioned as the title sponsor.
And this, just for some historical context.
By evening, the ET GBS team launched a different version of the event's title, without the title sponsor!
The other brand that was affected in a far more damaging manner was PhonePe.
YesBank was PhonePe's sole/lone partner. When the bank went down, PhonePe's entire network collapsed!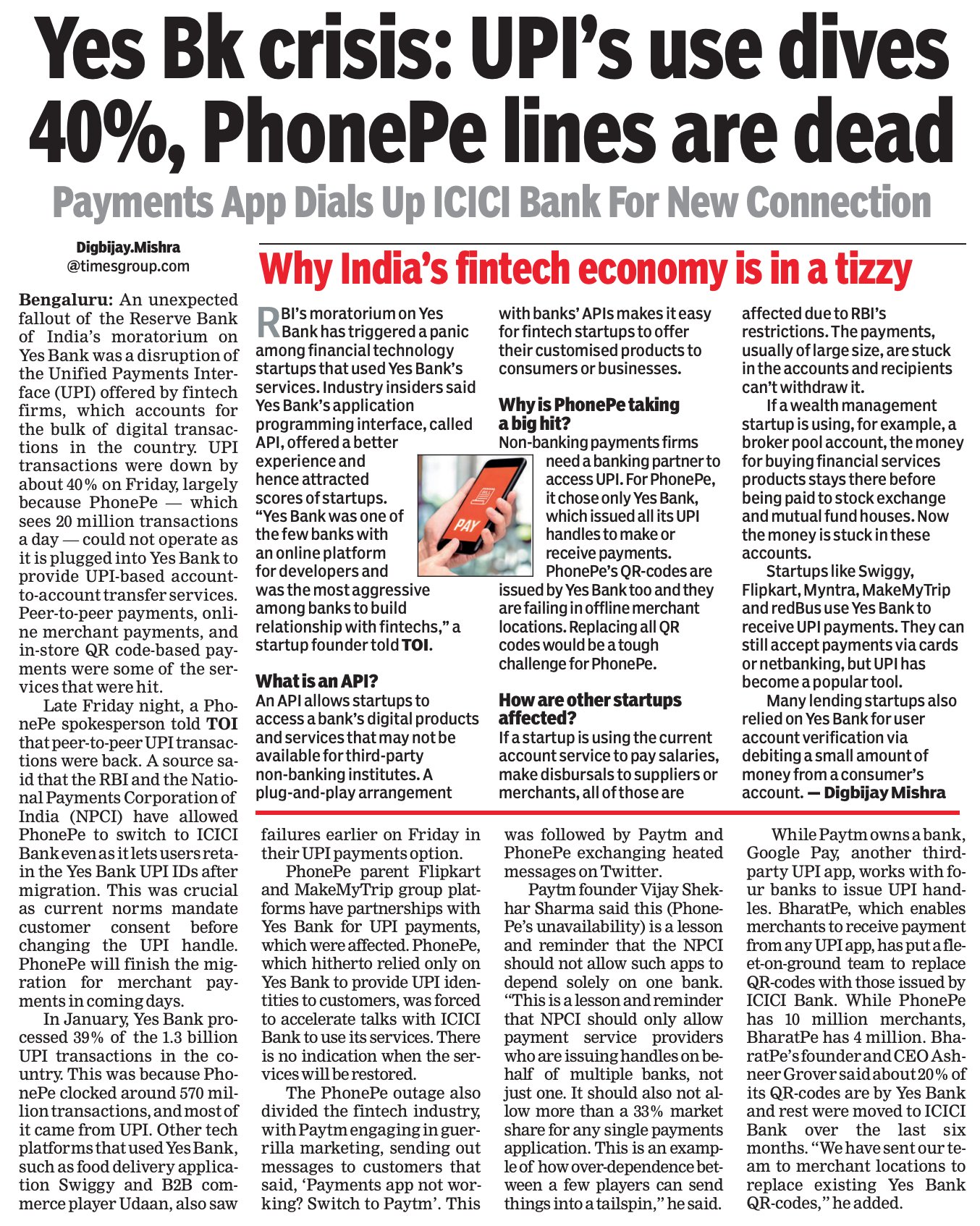 This is a terribly awkward situation for a billion-dollar Unicorn to not have a fail-safe mechanism and that too when they were working with a bank that had a long history of issues with assorted rating agencies and RBI.
So, PhonePe was burning the midnight oil trying to find ways to get their network up.
Even as they were doing that, Paytm thought this was an appropriate time to sell their network to PhonePe and gain some social media brownie points for moment marketing.
The way they articulated their tweet, it came across as crass and not helpful. Paytm Bank self-declared itself as 'India's most sincere bank' right day one making it really confounding whether it is a statement of intent ("We intend to be India's most sincere bank. Here's how you can decide if we were, or not…") or a proclamation ("We *ARE* India's most sincere bank. Trust us when we say that ourselves").
Paytm's other arm competes with PhonePe, so asking a rival to use their banking arm seems more like a branding bravado than any well-intentioned and concerned offer.
Is there a way for a rival offer help without sounding crass? Of course, there is! It's all about how they frame their help. Here's MobiKwik's offer to help.
The difference?
Paytm's offer includes chest-beating about themselves and that stares at us more than the concern in the last sentence. MobiKwik's offer, in comparison, puts the offer to help as the most important criteria and showcases empathy. It does not sell MobiKwik at all.
But what Paytm did after their sorry attempt at moment-marketing makes for an interesting case study.
First, observe the word 'class' in PhonePe's reply. That, to some extent, makes most readers think in the direction that this reply was indeed 'classy' (that it surely was, when you parse it in front of Paytm's tweet). This is a perception-building effort and it may have come automatically (without conscious thought) in PhonePe's tweet.
Paytm, when confronted with PhonePe's response and the overwhelmingly negative reaction to its original offer (that, inside its head, seemed so benign and helpful), wanted to shift people's perception in another direction.
What did they do? They 'employed' the services of some fairly well-followed online influencers. These have batted for Paytm (may be for a fee) in the past too. And they started offering mild nudges for people to think differently. These influencers' point of view ('well-intentioned', 'showed character', 'brotherhood', 'extending help', 'achaai') may have people shifting their perception gradually to see another way to consider Paytm's offer.
Exhibit 1:
Exhibit 2:
Exhibit 3:
Exhibit 4:
Exhibit 5:
There may be more.
This is PR 3.0. To use influencers to not just sell a product or a service, but to try and guide people to think in certain directions. And using influencers to seed that perspective. It doesn't matter whether they themselves believe in that perspective or not.
What matters is that the brands have a relationship with key influencers over a period of time so that they can be launched at an appropriate time to spread alternate points for people to consider and perhaps be swayed by.
Airtel has this ongoing relationship with quite a few influencers, as I have written about it earlier: Har ek social media influencer zaroori hota hai.
This is no different from paid advertising in say, print media or TV. The big difference, though is that while in print and TV this viewpoint by Paytm is directly attributed to the brand, in the case of influencers, the view is coming from individuals who share their lives on the same platform. So, their fawning support for a brand exists alongside their personal and real feelings about many other things in life.
Also, such influencers need not be mere social media influencers alone. They could be offline influencers with real-world clout.
For instance, during the height of IndiGo's crisis in 2017 (See: IndiGo's apology 2.0), ex-cricketer Sanjay Manjrekar (on Twitter) and media mogul Anurag Batra (on LinkedIn) came to the beleaguered brand's support almost out of nowhere.
Another example: after the Tuticorin/Thoothukudi Sterlite Plant shootout and shut-down, Vedanta put its PR machinery into action. It was a bit too obvious to connect the dots in the 2nd half of July 2018. Besides PR (an article in The Economic Times), and advertising (released by Winding Wires Manufacturers Association of India), 2 very big influencers also batted for Vedanta-owned Sterlite, to shift perceptions.
Comments
comments