Note: I wrote this last night fully hoping for a reveal today/Friday. And the reveal happened today. If you are in Mumbai (and read either Hindustan Times or Mumbai Mirror), you may know the secret already, but if you are not in Mumbai, read on. The reveal is at the end of this post. Also, some lessons from how this campaign was handled, digitally.
I first stumbled on 'Donald Joshi' totally by chance! I follow NDTV's Managing Editor Chetan Bhattacharji for his persistent campaign around air pollution. Earlier this week, he tweeted an update in Mumbai on the topic and I couldn't take my eyes off the ad under the Hindustan Times masthead!
It said 'Donald Joshi bought a swanky new car'. The call-to-action was to know 'how', by heading to donaldjoshi.com.
Ok, a new teaser campaign with a unique name? Like Frooti's famous Digen Verma that was hijacked by The Times of India/Indiatimes?
I looked up for more ads – many, on Mumbai Mirror and Hindustan Times, Mumbai!
I took a look at the website – it was barebones, with a simple form, and more antics of Donald Joshi.
I then decided to put on my Sherlock Holmes hat to figure out the brand behind this 🙂
First stop: URL details.
Nope, they have hidden it well!
Next stop: social media footprint.
Yes, there is a Facebook page and a Twitter handle.
And very sadly, Donald Joshi is an incredibly lonely guy! He has print ads, but his social media posts have zero Likes, Comments or Shares!
The only comment so far, among 7 posts is by someone from RVCJ Media, an agency that helps brands with 'viral' campaigns.
Pooja from RVCJ media, out of business interest, or out of pity, suggested that the people behind Donald Joshi could get in touch to get some traction for their campaign.
Ok, any clues? Oh yes. There is just one follower of Donald Joshi on Twitter – Deepak Nair. Nothing in terms of a bio.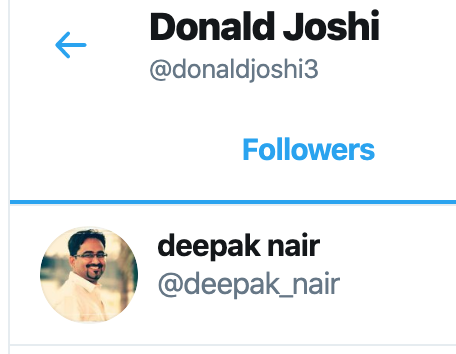 The last tweet by Deepak was in December 2018 – about real estate in Mira Road in Mumbai!
Next stop – name search on LinkedIn!
Bingo! Head Of Marketing at JP Infra (Mumbai). Photo match – check.
Headed to JP Infra's website.
The first banner: 1, 2, 3BHK in Mira Road!
Ok, time to cross-verify: checked the website's source code. And what do I find there under 'keywords'?
Aha!
So, Donald Joshi is the guy who saves money by buying an affordable home in JP Infra's Mira Road project called 'North Garden City' and uses the saving to buy a swanky new car, send his parents on a cruise, fly to London, throw a big party in a private island, bought a diamond-studded watch, got his child admitted to an international school and bought a solitaire for his wife? All while bobbing his head wildly?
We'll know soon enough when the brand behind Donald Joshi reveals the details 🙂
—
The big reveal, today: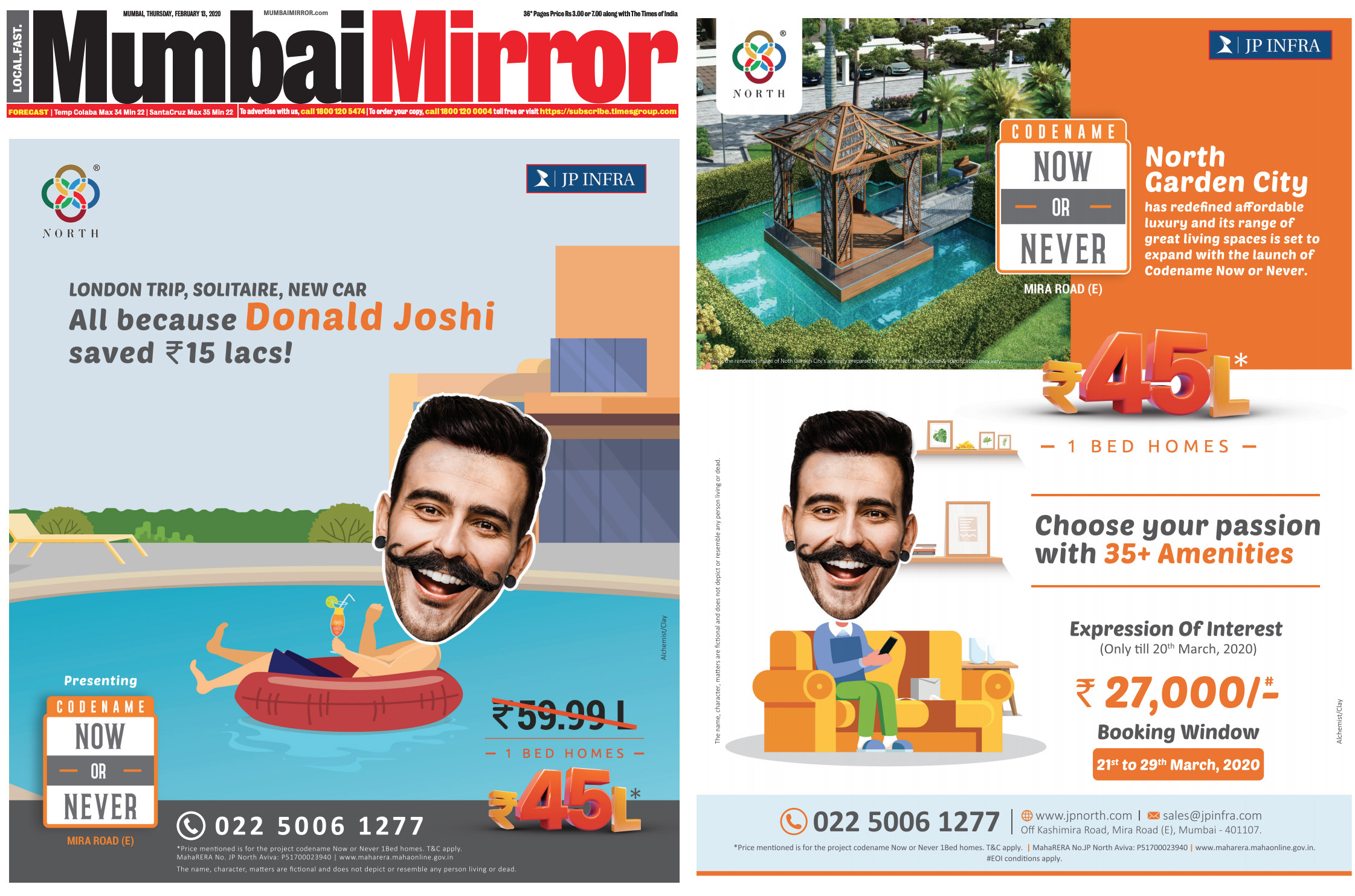 But there are lessons to pick up from this campaign.
1/ The media spend in print is very good – it gives a much broader reach and credibility to the campaign. I don't know if they are using radio (FM), but if they do, that is a god value-add too, for local projects within a city.
2/ On social media, the total lack of any kind of engagement is very, very sad. It's not a crime to engineer some social engagement by planning for it. In this case, even the agency or brand people are not following their own campaign handles on Twitter! Just like how they are spending money in print media, they can rope in a couple of relevant influencers to give some online push to the posts.
3/ There is very little organic chatter already. I found 3 tweets, of which one was curious and 2 were annoyed. Even these are opportunities to engage but missed by the brand.
4/ The entire point of a teaser before a reveal is to let people actively wonder what the reveal will be. In this case, given the fact that there are print ads as part of the teaser, I'm sure people in Mumbai would be wondering who Donald Joshi is, but they are not vocalizing it on social media. They only have it in their minds, if at all. The teaser's role is to get people to actively talk about it. Earlier, before social media, this was literally in the road, parks, office water cooler, during lunch etc. Now, it is on Facebook, Twitter and WhatsApp. Brands need to plan an active digital push to enable social chatter. Particularly when people are not talking about it on their own. Assume they won't and plan a way to muster some chatter.
Comments
comments