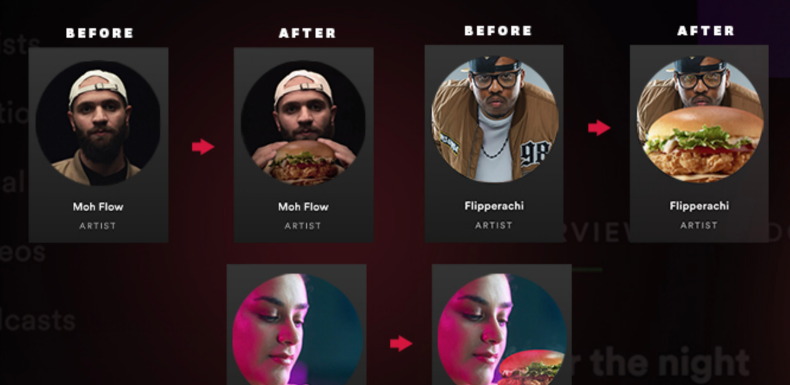 KFC wanted to launch its new Kentucky Burger in the Middle East. So their agency in that region, Memac Ogilvy & Mather recommended an intriguing idea: partner with 3 famous music artists in the region – Flipperachi, Moh Flow, and Shébani.
Sounds normal enough? Yeah, so far.
But, where did this partnering happen? It happened on Spotify Premium, an ad-free zone in Spotify where members have paid a premium to not see ads.
So, how did the advertising partnership between KFC and the artists work?
That's where Memac Ogilvy thought they were being very clever.
They had asked the 3 artists to change their cover photos, bios, profile pictures and playlist titles with KFC-related photos and names! So, the profile pictures showcased the Kentucky burger, bios were rewritten to make explicitly and completely unrelated mentions of the burger and playlists were titled 'Discover', 'New', 'Kentucky', 'Burger', 'Come & Visit', 'KFC', 'Get It', and 'Before It's Too Late', so that, seen together, it works like an ad caption.
Memac Ogilvy claimed, "Through the first-ever ad on Spotify Premium we are proving that ads can coexist with the user experience without interrupting them. The idea is a bit polarizing, but that's what gives it traction".
Related read: KFC 'hacking' Spotify Premium is an arrogant middle finger to all of us.
Why are brands and agencies hell-bent on fooling people in order to advertise? Spotify Premium has members paying for not seeing ads, and inserting advertising surreptitiously even inside that space is nothing but making a mockery of both the platform and the users who have asked for a certain kind of service from that platform.
This is not the first time something like this is happening, though. You already know how all this is done in print advertising – something called advertorial greyed the lines between editorial and advertising.
But, on digital and TV, things take a far, far greyer turn.
Uber Eats has been running a series for the last 2-3 years riding on the Australian Open – an ambush on the audience!
What they do: hire models to be seated in a packed Australian Open stadium, recreate the actual set-up of a real game and create their ad. They play it during a break immediately after the game's actual break so that we, the audience, are lulled into thinking it is the real game and somehow the lead players have said something about Uber Eats on their own.
And then we figure out that the joke is on us. And that is supposed to make us go, "Aaaww, that was so clever Uber Eats. You fooled me there, didn't you, with that extensive recreation? Let me help you make money for fooling me so convincingly!".
Tide did something similar with NFL, in the US.
In one ad, you get a peek into the Eagles huddle where Malcolm Jenkins offers an inspirational speech to his teammates. He says, "They think they're on their home turf, but this ain't New York. It's New Jersey. And nobody's got better jerseys than us. They're green. They're white. They're so clean they might as well be a Tide ad."
In the other spot, a referee on the field calls "intentional cleanliness" on two spotless players and did not throw a flag on the play or penalize anyone but, rather, complimented them for "looking good"!
All these are made to look like actual, live footage of the game. Tide goes to great lengths trying to muddle the line between live broadcast and advertising, just like Uber Eats.
The North Face, and its agency Leo Burnett did something equally ridiculous last year through Wikipedia.
They literally hacked Wikipedia (much like how KFC and Ogilvy hacked Spotify Premium) and actually crowed about it as an achievement, till Wikipedia came down upon both of them heavily.
Why can't all these brilliant agencies and brands use all this intelligence in doing really smart advertising that boldly is demarcated as advertising and still engages us, and makes us talk about it? There are enough and more examples for that, but the black sheep of the advertising world are doing a disservice to all those legitimate ads.
Comments
comments