Note: IndiGo HAS NOT launched any subscription package. That is a hypothetical point, made in the context of Uber's new monthly pass subscription package in the US. Read on!
Uber's new subscription model, but only in some cities in US, as a test run.
Would you pay Rs.1500/1000/500/250 (for example) per month to Uber for these benefits, India? I guess in India they can only club price protection (or call it no-surge guarantee for X number of rides per month!) and free Uber Eats delivery. Interesting idea, and would depend entirely on what the monthly subscription is, besides the value that is loaded into that fee.
Netflix is discovering rather late that even the lowest tier of Rs.500 is significantly higher for a lot of people to pay month after month, particularly when Prime Video's Rs.129 per month (or Rs.999 per year) seems like a better deal for Prime delivery advantage, price benefit on Amazon, Amazon Music and Prime Video, as a combination!
I don't use Uber that very frequently these days – say 3-5 rides a month at best. But, for frequent users, this could be a good model to subscribe to.
For context, both Uber and Ola have the equivalent of a monthly pass, in India. Take a look.
Uber Pass
Ola Pass
Uber Pass is pre-paid – you pay for the pass amount in advance and then utilize those many benefits (of lower-cost rides). To avail the benefit for another month, you need to remember to buy the pass again.
But Ola's Pass has an auto-renew option, which is opted for, gives Ola the right to charge you again using the same payment method, month after month, till you consciously decide to not renew it. That is a subscription model right there, but with very limited 'benefits' that are usually tied to subscriptions (like Uber Pass US's multiple benefits that also include free delivery on Uber Eats among others).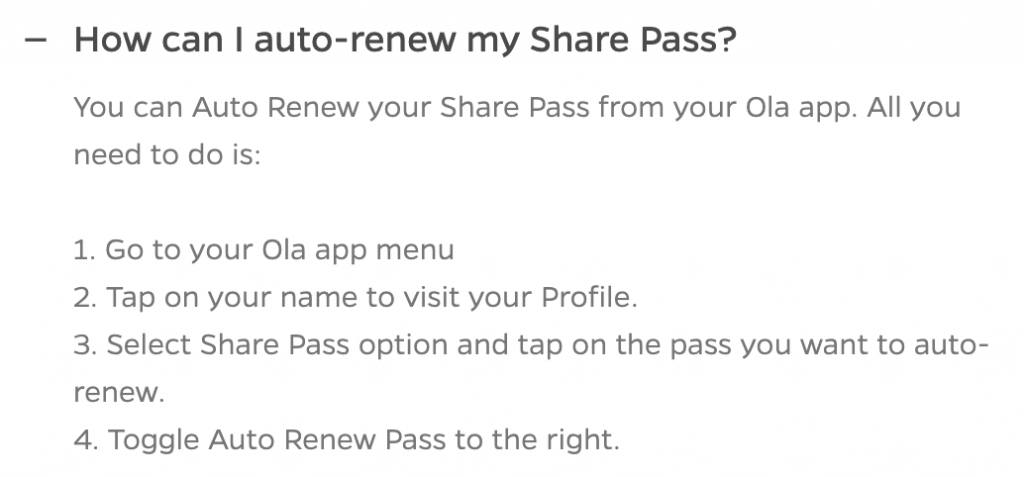 The beauty (from the brand's point of view) of a subscription is very different – you 'subscribe' once and the money is automatically deducted from your card/bank account perpetually, till you consciously stop it. So, you make up your mind just once, to 'buy' it. And then you need to consciously un-buy it, by remembering that you are not getting enough value.
Interestingly, the Uber offer at the beginning of this article is called a 'pass', but is built like a subscription. A pass is usually bought for a specific period of time and then it expires. Uber Pass is a monthly subscription that they say 'You can cancel anytime', which means you buy into the plan's term and not just a one-time plan.
Where else would this subscription model work?
I had taken an IndiGo flight yesterday to Mumbai and thought about IndiGo offering a monthly subscription! What would/should that include to make it compelling, to pay them month after month automatically? Here's my wishlist.
Priority for picking better leg-room seats over non-subscribers, free of cost or at a lower price
Priority in terms of serving food, in-flight (this is already prevalent, for pre-booked food, in some airline brands)
Priority for boarding the plane (this is already prevalent based frequent flier miles or premium seats)
Offer of a cheaper airport transfer option through a tie-up between IndiGo and a cab service provider
Occasional non-menu food items as a special surprise
Other benefits tied to check-in baggage size, arrival etc.
I'm sure I can think of more, so can you. I'd buy the subscription if I'm a frequent flier and if the package is thought-through well, from the point of view of benefits. It is also up to the airlines to make the subscription worth its while financially. After all, people are paying it a flat fee every month!
In fact, there is perhaps an opportunity to offer a flight subscription that cuts across multiple airline brands in India, by a 3rd party. The 3rd party won't be able to offer specific in-flight nuances, but with an official tie-up they can definitely try to sweeten the deal. For instance, a 3rd party vendor may not be able to change the menu-level details for food, but they can definitely hand over hot, personalized food pack to the flyer before boarding, at the airport.
Airline-owned, or 3rd party – if there was a monthly subscription, would you pay? I think I just might, after taking a closer look at the monthly fee and benefits package.
Another related context: A subscription model is very different from a frequent user model. In a frequent user model (very common in airlines, called frequent flier model, or as in Starbucks Card), you don't pay anything upfront or monthly and the benefits are tied only to your ongoing usage. You need to keep using that service to get points, and then benefits. A monthly subscription cuts through all that and guarantees you benefit(s) right from Day 1 regardless of frequency of usage previously.
Comments
comments