The first time I was made aware of the fact that Jet Privilege is a separate, independent entity called Jet Privilege Pvt. Ltd. and is not connected to the misfortunes of Jet Airways was when I shared my view on one of their (Jet Privilege) ads.
This one: Jet Airways' horribly misguided and badly timed loyalty program campaign. (My point still stays, in that post, since it was about the film, and not necessarily to do with the relation between the 2 entities).
Now, Jet Airways is no more. But Jet Privilege continues to exist and even advertises very often, in the expensive front pages of The Times of India.
Every time there is one such advertisement, many, many people ask a simple question based on the simple fact that they too don't know that Jet Privilege is a separate, independent entity, not connected to the now-dead Jet Airways: "what is Jet Privilege doing, advertising? Isn't Jet Airways dead?".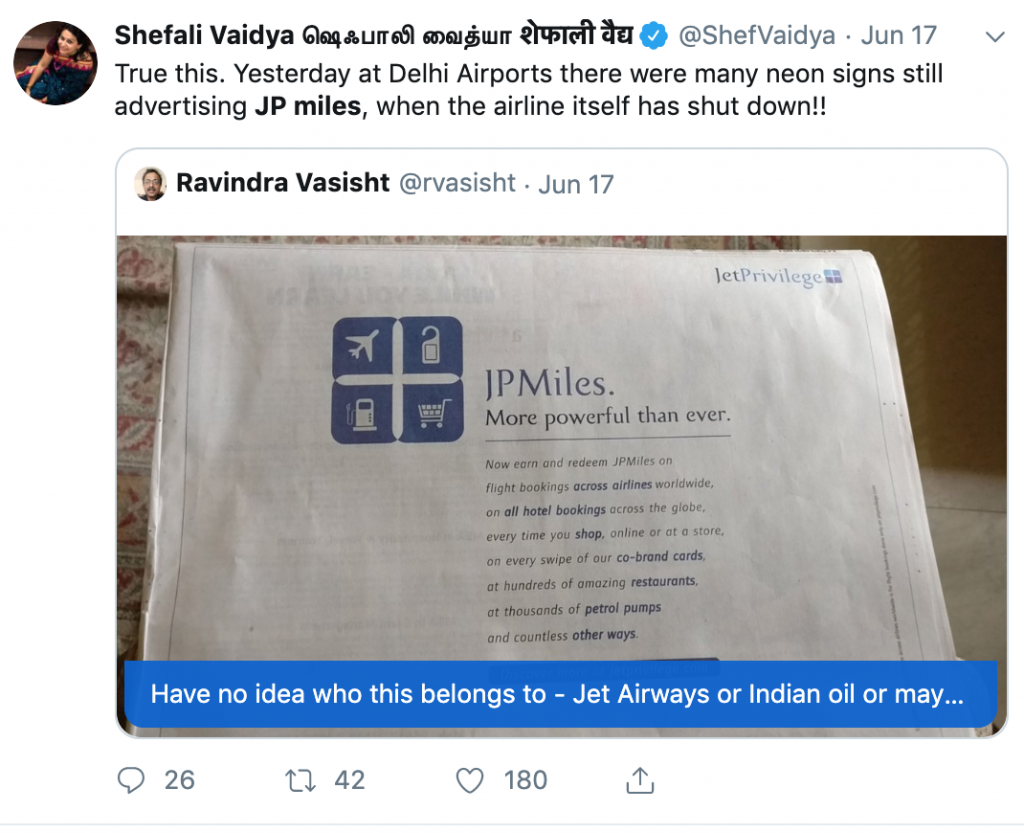 This is merely a snapshot. I see a LOT more updates on Facebook and Twitter every time they release an ad or someone gets targeted with an online ad/banner.
Even Delhi Airport is trying to pitch in by saying things as plainly as possible:
This is quite confounding, but people seem to be completely missing the mild hints Jet Privilege is throwing at them with the 4 icons (flight, hotel, fuel, shopping) and the copy that says, 'earn and redeem JPMiles on flight bookings across airlines worldwide, on all hotel bookings around the globe, every time you shop, online or at a store, on every swipe of our co-brand cards, at hundreds of amazing restaurants, a thousands of petrol pumps…'.
The basic idea still in most people's minds: Jet Privilege/JPMiles means the points you earn while flying Jet Airways. And you can redeem those points by getting discounted tickets or upgrades on Jet Airways.
Now, why could this be? Is it because of the name: Jet Privilege sounds mildly similar to Jet Airways? Or, is it because Jet Airways and Jet Privilege have spent a few decades drilling that association in people's minds that the Jet Privilege Frequent Flier Miles program is from Jet Airways?
So, if Jet Privilege wants to let people know that they do not have anything to do with Jet Airways anymore and that people can get points for MANY other things that have nothing to do with a dead airlines company called Jet Airways because they are now just a generic loyalty company, how should they say it? Particularly if they are not planning to change the name?
How about the easiest and most obvious way?
We are Jet Privilege – a separate, independent entity of the Etihad Aviation Group. We are not associated with Jet Airways.
(with an optional 'anymore' in the bracket, if the management is feeling adventurous enough).
You can earn and redeem Jet Privilege's JPMiles across XX airlines, XX hotels, XX shops online, XX shops offline, XX petrol pumps in XX cities and many more.
The print ads do say that but almost like how a teenage boy musters courage to ask the girl of his dreams for a date after 2 years… while spending a lot more real estate in claiming that they are more powerful than ever, while the actual news about Jet Airways is what people connect it with and feel this ad has slipped through somehow from Jet Airways earlier inventory of ads deal with the newspaper.
If Jet Privilege was direct and explicit enough, perhaps their ads won't evoke so many questions.
The Jet Privilege website, IF people finally do land up there when they stop conflating Jet Airways with Jet Privilege, could also do with a secondary reinforcement. The reinforcement is actually hidden in the FAQs section.
Comments
comments