I stumbled on this ad. yesterday in The Times of India.
The "No gear. No clutch. No license. No registration." caught my attention.
I then checked Hashiko's website. The bikes are categorized as 'with license' and 'without license' – this is a significant selling point!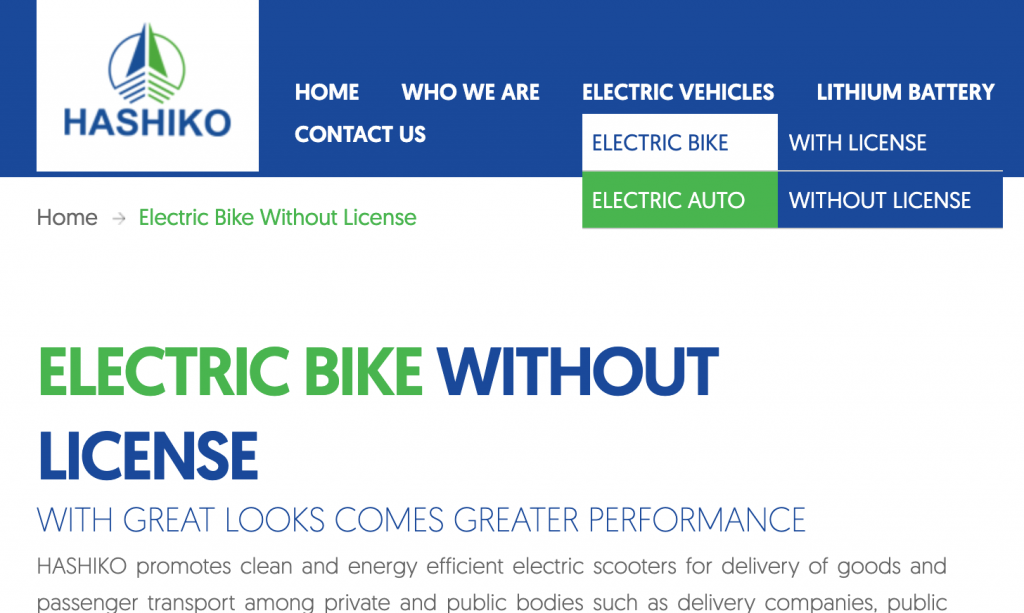 ARAI (Automotive Research Association of India) rules stipulate that electric bikes "which have power less than 250W and speed less than 25 kmph are not categorized as motor vehicles. Hence the transport rules are not applicable for such exempt category vehicles" (meaning license not needed). Note "less than 250W AND "speed less then 25kmph" (not OR).

Hashiko's details of its 'without license bikes" say,
peak power: 500 – 1000W
speed selections: Economy – 20 km/hr | Sporty – 30 km/hr | Turbo – 40 km/hr
I checked other electric bike makers and while many of them use the 'no license and registration' as a selling point, they also adhere to to the 250W + 25kmph rule.

I'm assuming there's some regularization needed in the electric 2-wheeler industry in India.
The larger problem is a lot of very-slow moving electric vehicles (under 25 kmph) that are not registered and the rider doesn't have a license to ride! I wonder how other vehicle owners (with registration, license, and insurance) are supposed to deal with them, in case of an accident! Are they supposed to treat them like bicycles?
Electric is truly the way to go and I love the tremendous interest in electric 2 and 4-wheelers. But it's time the Government formulated guidelines for the entire electric vehicle ecosystem. As a great start, earlier this year, the Indian Government stipulated that buildings will have to allot 20% parking space for EV charging! This is a great start, but we'd surely need to look at the larger ecosystem that includes charging infrastructure, battery disposal (e-waste), consumer awareness, consumer safety, insurance policies, licensing and registration among others, holistically.
Incidentally, the front page of yesterday's Economic Times had this!
Comments
comments