Most people I know hate the Trivago ads. The series featuring their India business head, Abhinav Kumar, in particular. But, since the ads have been given endless rotation in every conceivable TV channel, you just cannot escape them. Like the Airtel girl campaign earlier. We all hate it, but cannot ignore it because the brands have spent a humongous amount of money to bombard us with them.
In the Abhinav-series of Trivago ads, one particular scene caught my attention. And since then, I have been trying to take a screenshot of it. Imagine me sitting in front of the TV waiting for a Trivago ad! Imagine anyone doing that!! Considering I hardly watch TV, I was unsuccessful in that attempt.
Oddly, they haven't uploaded any of their recent ads online at all either.
Thankfully, the most recent series that doesn't feature Abhinav, is up online. That series has this interesting scene too, in 2 ads.
It is Hotel Shyambharose!
I know the phrase 'Ram Bharose'. It's also a name. But 'Shyam Bharose'? It seemed like a joke. And it does look like an imaginary hotel made up by Trivago or its agency.
One, they show it in 2 listings – Goa and Manali. Two, no hotel by that name exists even on Trivago.
This led me to assume that Trivago makes up hotel names shown inside its platform, for ads. It seems true for the hotels shown in these 4 ads!
I wonder if Trivago could offer a paid spot to hotels to be shown in their ads. This goes back to my 'native advertising inside advertising' line of thought.
Why shouldn't Trivago offer, for a fee, hotels an opportunity to be featured inside its ads that are so massively in circulation on TV? Why make up imaginary hotels? Is it because nobody looks at/reads the names of the hotels being shown? If they get money from the hotels, why not add a bit more prominence to the hotel names to get their money's worth?
Or, why not see it as an experiment, to see if there's an uptick in bookings of the hotels showcased in the ads? Or, even better, why not look at Trivago's own search data to see if there are searches for 'Hotel Shyambharose' (and the other hotels shown in its ads – Hotel Puri Beach, Grand Infinity etc.)?
A related thought.
I came across this Malayalam non-film song late last year.
Nice song, fantastic visuals, shot in Vagamon, a hill station in Kerala. I was so enamored by the place and noticed towards the end of the video, in the detailed credits, this: "Thanks to CRIZ Holiday Resort – Vagamon".
What do I do? Yes, of course. Google it.
What do I get?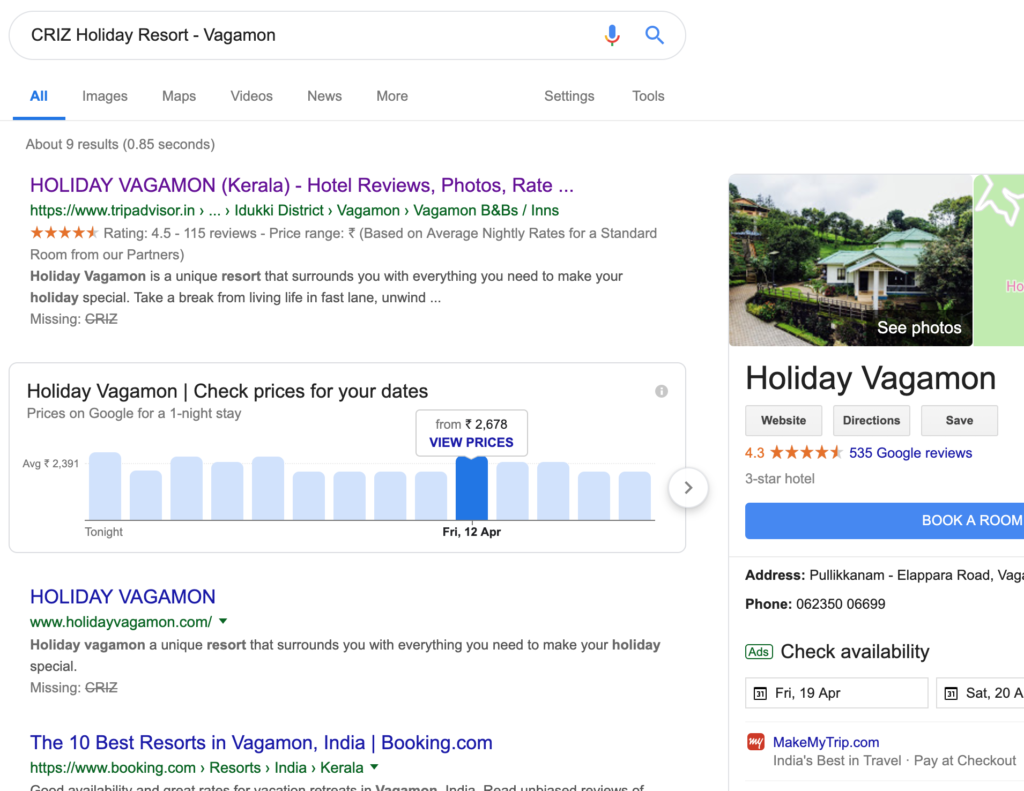 There is no CRIZ Holiday Resort in Vagamon, at least as per Google. Which literally translates to 'CRIZ Holiday Resort' doesn't exist.
When CRIZ Holiday Resort owners gave the permission for the song to be shot in their place, and sought the credits note, didn't they think of people looking them up on Google? Wasn't that the point of letting the resort for the shoot and adding a credits note?
There is a philosophical statement, "If a tree falls in a forest and no one is around to hear it, does it make a sound?".
The new version of that is, "If Google doesn't show you in a name search, do you exist at all?".
Comments
comments