Mindtree's co-founder Subroto Bagchi tweeted about Mindtree's hostile takeover bid by L&T on the night of March 17th.
Mindtree employees have been tweeting with the hashtag #MindtreeMatters vocally. The tweeting started at 3:12pm on March 18th, first by an employee named Subodh Kant Chaurasia, a technical lead in Mindtree.
From then on, it has been a small, steady stream of tweets.
Ironically, and strangely, there were a lot of tweets by fresh, new Twitter users! For many of them, the #MindtreeMatters tweet was literally the first tweet!
For a few others, the tweets were a return to Twitter after a small/huge break, as if they suddenly remembered their Twitter password!
It was not a trending hashtag, from what I see, but quite a number of tweets.
I'm assuming there's an internal Mindtree campaign to ask employees to tweet in support of the company and against the hostile takeover by L&T. None of such 'movements' start organically, particularly with the use of a hashtag and similar sentiments in the tweet.
It probably is well-intended, but to what effect, I'm not sure. The primary tone of the tweets is that Mindtree's culture does not match with L&T's culture, and that the takeover will kill that culture!
Usually, when employees protest hostile takeovers, the predominant tone is about job security and potential job losses, not culture. From that perspective, this is a new tactic.
Mahindra faced the former from Korean employees of SsangYong when the latter took over the Korean auto manufacturer. Korean employees even staged a protest from the top of the factory's furnace, live-tweeting daily and even tweeting directly to Anand Mahindra!
In case of Mindtree, the concerns of employees, going by the tweets, seem presumptuous.
Will they quit if the takeover happens? That is not easy at all because lives and livelihoods are at stake. And it's difficult for employees take such decisions over events that happen beyond their control (like the hostile takeover).
Will it scare the existing clients of Mindtree that employees are seemingly revolting in public? Hardly – clients need assurances from the leadership of Mindtree and individual employees tweeting about potential loss of culture shouldn't matter to them as long as the work they have paid/paying for happens.
Does swaying the court of public opinion matter? I doubt it. Outsiders have no say or stake in the hostile takeover process and for them this is merely news. If, at least, the takeover was by a Chinese company, there could be nationalistic sentiments, but L&T is an Indian company.
The matter is between 2 organizations and it seems unfair that the employees are asked to pick a side, if at all this is being instigated by Mindtree's leadership.
One employee's tweet had an interesting proposition.
But last evening, CNBC India announced that L&T and VG Siddhartha have signed the deal for the latter to sell his shares to the former.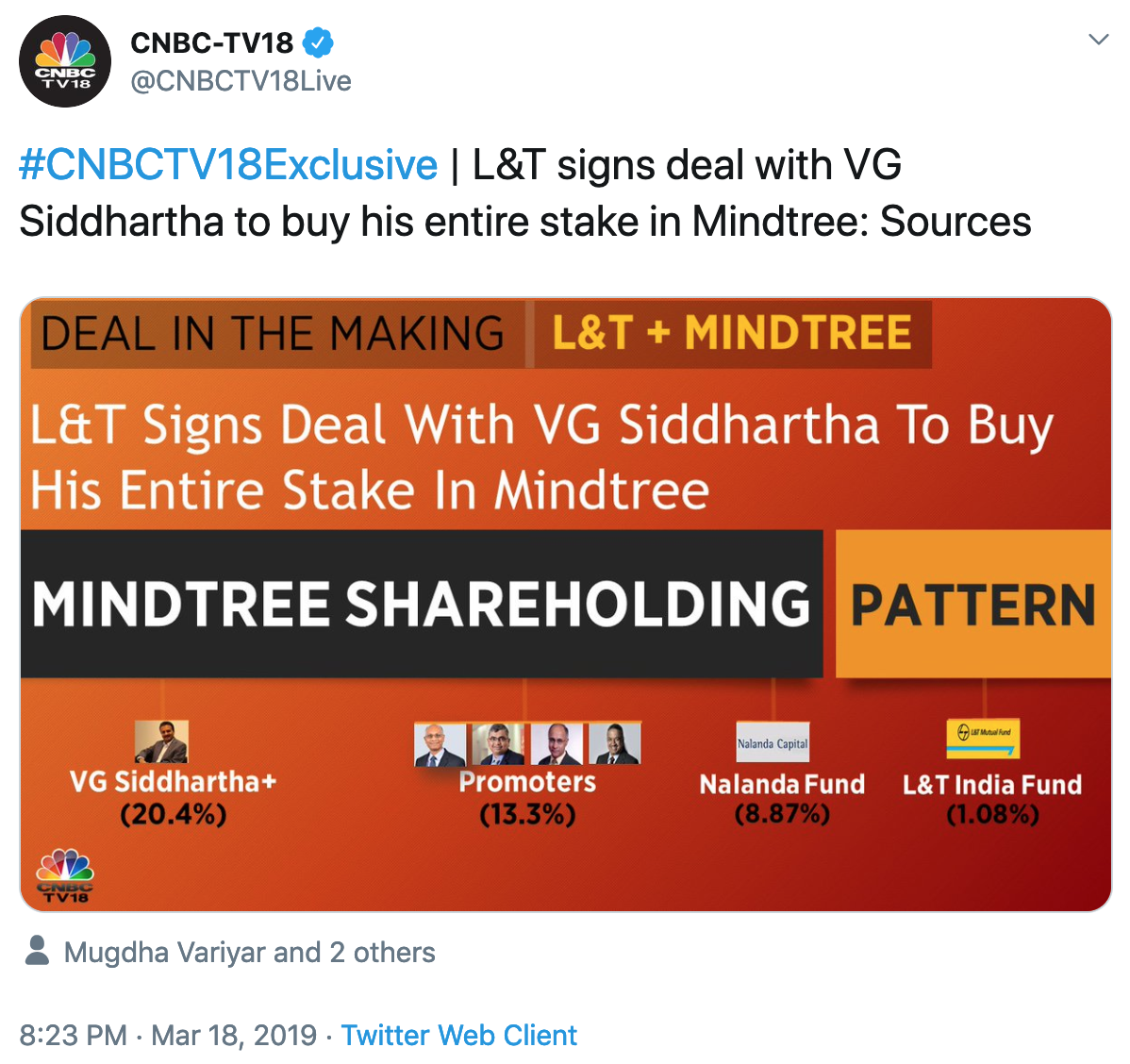 And this morning, The Economic Times confirmed the news.
I also shared my point of view on #MindtreeMatters with The Economic Times.
Subroto Bagchi has also tweeted what he says will be his penultimate tweet, this morning!
Comments
comments