Update: Such use of renaming/rebranding for a campaign/surprise is not new, of course.

As pointed out by Bobin James in a Facebook comment, back in 2005, when the Indian arm of the ad agency St. Luke's was changing its name to Law & Kenneth, the entire team received termination letters! A few minutes later, the shocked team was given appointment letters at Law & Kenneth. The surprise remained only for the employees, and that too for a few minutes only – it did not unfold in public.
Another instance, as pointed out by Munish Dhawan on LinkedIn, when Bombay Oil was renamed Marico in 1990, a print ad screamed '200 employees walk out of Bombay Oil'! But the ad quickly went on to explain the headline and ended with Marico's logo. This was conceived by the agency Trikaya Grey.
Imagine 300 employees telling their friends and families that they are no longer employed with Bombay Oil and just leaving at that. The next day, they inform friends and family that they are now employed with Marico, what they said yesterday was just for fun. That's the effect of what Monster India has pulled off.
---
ORIGINAL POST:
Yesterday, the CEO of Monster India, Chandra Sekhar Garisa, announced on LinkedIn:
"Goodbyes are difficult! The journey with Monster has been amazing and something that I will cherish forever. All good things have to come to an end and change is the only constant. I'm glad to say, I'll be moving on with a company that has me excited for the future and all that comes with it! What lies ahead is an experience that fills me with enthusiasm and I can't wait to share more details with all of you soon!"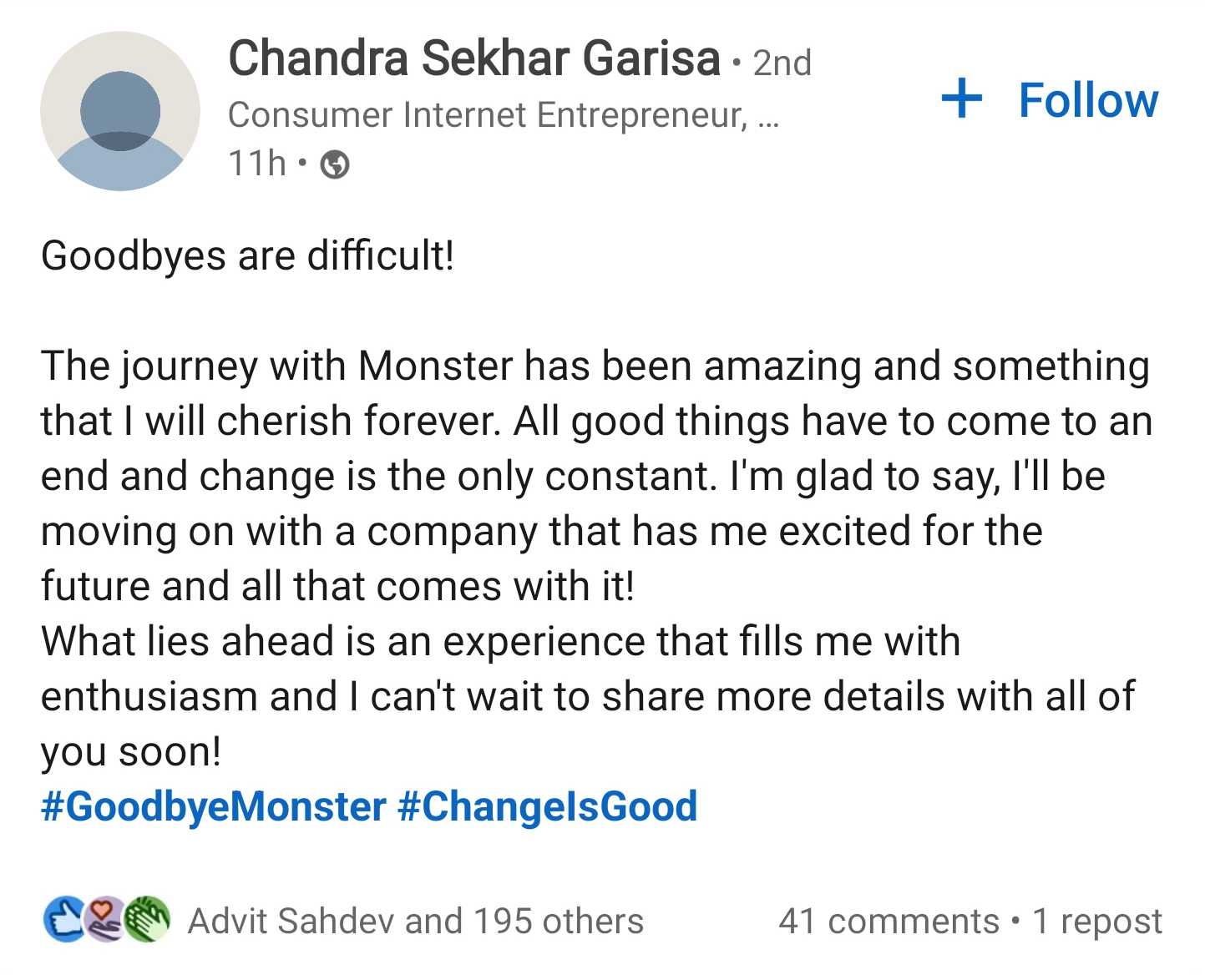 Looks like the CEO of Monster India is quitting. But oddly, this hasn't made news in any online or print media today!
Monster India's head of sales, Anurag Arora too announced on LinkedIn yesterday that he was moving on after 17.5 years in the company!
And then, Rajender Yadav, Monster India's head of customer success, fraud prevention (user safety), and recruitment delivery, was quitting too, after 18 years!
Considering the firing of the user safety teams in Twitter made news recently, this seemed interesting.
More senior heads are rolling, though, at Monster India!
Santosh Kumar Pandey, AVP, India, Enterprise Business, is quitting after just 6 months!
Saurabh Srivastava, Monster's CMO for APAC & ME is quitting too!
With talks of 'the Great Resignation' and mass layoffs in the air, you may assume that something was seriously wrong at Monster India, the brand that was acquired from the global parent by Quess Corp in February 2018.
But then you also notice the consistently loving tone with which all these people talk about their now-previous employer. And you would then assume that something is clearly amiss.
Is this some gimmick?
Search for the hashtag they are all using – 'changeisgood' – on LinkedIn, and you would hit jackpot!
By now, it is mighty obvious that this is some kind of an orchestrated gimmick to tease before an announcement.
Going by the text in all these LinkedIn posts, it looks like Monster is rebranding—renaming—itself.
And you hit Monster dot com and see this!
So, that's about it – Monster India is renaming itself into Foundit (dot in; Foundit dot com is a UK-based company that has nothing to do with the recruitment industry at all!) and all these LinkedIn posts by so many employees seem to be a marketing teaser/gimmick to engineer some visibility and traction towards that news.
At the outset, full marks to Monster India/Foundit for creatively gaming LinkedIn to gain attention. This is out-of-the-box thinking, and I'd argue that this was out-of-the-box for a specific reason: ethics.
Think about what kind of attention they have gained.
If you notice the many employee posts where they have jubilantly announced that they have quit (with near-identical phrasing), the comments are all uniformly 'supportive'. Usually, job-quitting and job-moving posts work wonderfully well on LinkedIn in terms of sheer engagement as demonstrated by the number of Likes (or Support), comments, or Shares (reposts). Plus, tons of comments along the lines of 'Congrats', 'That's a surprise!', and 'Good luck!'.
This is just human empathy at work. Most of us know what it takes to quit a job or join a new one, and it's no wonder that people would like to offer supportive messages or gestures when someone you know is going through the same.
Monster India/Foundit's marketing gimmick makes use of this innate empathy as demonstrated via actions on LinkedIn.
So, are all these people going to post tomorrow that they have not quit the company, technically, but have moved to a new entity that is just a renamed version of the older company? I'm assuming that would be on the agenda if the marketing team is properly orchestrating this campaign on LinkedIn.
When they post the reveal, I do wonder if the many who commented on their earlier post would take it as a joke where they were, quite literally used and taken for a ride. Some may, and some may not.
But that's where the unsavory part comes in: our social media timeline is usually a snapshot of our lives unless we clearly call it out as a parody handle. LinkedIn is particularly more trustworthy (rather, 'trusted') because everything we utter on the platform is right next to our entire education history and employment history!
If we say something that is categorically false (a lie, to put it mildly), it is bound to affect our trustworthiness, particularly after we announce the lie as a mere joke (a joke on the people who took it seriously for no fault of theirs).
Does that logic sound too stretched because you thought anything goes on social media platforms?
Consider what Harsha Bhogle did in March 2022.
That post has many past examples of celebrities faking a scenario and then revealing that it was all gimmick, including Sreeshant and Priyanka Chopra, Arbaaz and Malaika, and Shah Rukh Khan.
That's the same spurious marketing tactic being employed by Monster India/Foundit, on an industrial scale, by using many, many unsuspecting employees' LinkedIn profiles as a media vehicle.
To be sure, using employees' LinkedIn profiles for a corporate marketing campaign is not a crime at all. That's just called employee advocacy if done right.
Bengaluru-based software company Eka did it very well back in 2020 and that is a legitimate LinkedIn case study for a reason because it involved no subterfuge like Monster India/Foundit.
What did Eka do? Simple – to announce a brand repositioning, they got 400 employees to simultaneously change the cover picture and share a post reflecting the positioning. The timing of the change of cover picture and the post sharing was engineered internally to make it seem like a wave (earlier used by agencies on Twitter; called a 'tweetstorm') and hence this gained significant traction organically on LinkedIn and outside.
Eka did not ask employees to say something untrue – they simply asked employees to inform their connections about what their company was doing.
Monster India/Foundit crosses a line, not just at an organizational level, but also at an employee level, given the number of people they have unwittingly roped in for this so-called gimmick.
Monster India/Foundit could perhaps claim that the employees' posts are not false at all, technically. Because the company's name is changing, they won't really be working for Monster India from tomorrow onwards and if people mistook it as a job change announcement then that's the mistake of the readers/people… cannot blame Monster India for this. That reasoning and logic would be very obviously a sham. Monster India knows precisely what it is going for in this campaign – it is expecting people to think that these employees are really moving jobs. That's when the campaign will work. Even if they take umbrage in the double meaning of the posts, they know exactly what meaning would be commonly and normally understood by people.
Of course, Monster India/Foundit could also argue that all this was done in good, harmless humor and we need not take it this seriously at all. Fair argument indeed… IF this was done by the corporate handle of Monster India alone. A corporate handle is not an individual profile. They can pull off such tricks because that's what companies/brands do to get attention. That's the marketing game.
The line-crossing happened when Monster India/Foundit roped in individual employees to perform this gimmick for the company… individual employees who have never lied blatantly on their LinkedIn profiles. All for what… a mere company name change?
If this is fine, think about what more could be done!
A travel company could get its many employees to post on Facebook that they have divorced their partners (taking a cue from the Arbaaz-Malaika gimmick I cited above) on Day 1. On Day 5, they could all update that the divorce is canceled after they took a dream vacation to rediscover the love, thanks to the travel company's great deal!
An insurance company could orchestrate its employees to post on Linkedin that their mobile phone has been stolen and that they are alerting their networks if they get a call from them, it could be a spammer/fraudster. 3 days later they could post an update that thanks to the fast insurance settlement by the company, they got a new phone and sim and all is well!
The so-called creative possibilities are limited only by our imagination if we let our guard down and allow patently untrue messages on a personal social media timeline for a corporate campaign.
Incidentally, Monster India is planning to reveal the new brand name later today (23rd November) even though if you go to Monster-dot-com now (in India), you'd automatically be taken to foundit-dot-in where the new brand has already been updated.
And almost as if planning an ambush, there's a front-page ad by Monster India/Foundit's rival (both Bengaluru-based), Indeed, in The Times of India, today 🙂 For context, Monster India's caption was 'Find better' 🙂
Update: And here it starts… "what I didn't mention…"
Comments
comments