To be honest, Sri Lanka was not even on our list when we were planning a vacation towards the end of October. A chance meeting with Srikanth Natarajan and his wife Maha led us to that path since Srikanth and Maha have business interests (for their upcoming travel cafe in Indiranagar) with Sri Lanka and highly recommended the trip! I had been eyeing Nuwara Eliya for a long time after seeing it in a Tamil film called Varnajaalam where they passed off Nuwara Eliya as Ooty!
Srikanth had recommended Red Apple Tours and Travels. After getting the initial suggested route and package, we customized it to suit our needs. We figured once we reached that there are several such tour agencies and most of them operate on a similar plan and route. While Red Apple was very efficient and recommended, do check for 1-2 more options before you finalize. Another name I recall seeing often while we were there included Jetwing.
Do expect a long'ish planning time. Sri Lankans seem extremely chilled out and not as active as you may want them to be. So, your responses and updates may come late, but they do come eventually – don't fret if they are delayed 🙂
If what you read further seems interesting to you, and you want to speak with Red Apple, do connect with me on Twitter DM – will share with you the contact details.
—
We had a Deepavali family get-together planned in Chennai, so we drove to Chennai, parked our car there and took the Chennai-Colombo flight. There's a midnight flight (at 3:30am; lands at 4:30am in Colombo). This killed our sleep completely for that night and made us groggy for the next day, but that's just for the first day.
Once we landed in Colombo, the first thing we did, after meeting our driver, was to convert the dollars we had, into Sri Lankan Rupees. I recommend carrying at least US$ 300-400 and have that converted at the airport. You cannot convert Indian Rupees directly to Sri Lankan Rupee from authorised money converters (only shady dealers do that). So, it is better to carry USD from India and have it converted. You'd need at least SLR 40-50K for a 5-6 day trip (in INR, it's about half the value). And take it from me – you need that much of cash in hand. Don't trust cards all that much.
The second was to get a local SIM card. It's right there at the airport and costs Rs.700 LKR. My wife got one, while I took another route even before we landed in Sri Lanka. That another option is to go for Airtel's International Roaming prepaid card for 10 days. It costs Rs.1,499 and gives you 3GB data (for 10 days, not each day) and unlimited incoming calls + cheaper outgoing calls. Airtel works smoothly all over Sri Lanka and this plan was a lifesaver, for a lot of reasons. I used it to check Google Maps, mainly, and to check on entry fees for assorted places we were visiting. Besides the occasional tweet or Facebook post about our travel, of course 🙂
For the travel, since we wanted to avoid any time wastage or delays, we opted for a Toyota Hiace through Red Apple (like a larger version of Nissan Evalia, with sliding doors, that come in really handy when parked in smaller spaces) and upon landing in Colombo, figured that it is like the national vehicle as far as tourism in Sri Lanka is concerned! There are Toyota Hiaces all over the place. It's a good, comfortable vehicle for the trip, with generous space for luggage.
Red Apple's package also includes 2 X 500ml water bottles per day, per person and this is an excellent addition.
Day 1 (October 28 – also happened to be my birthday!):
Having managed these basics, we headed to Kandy (since we get to spend time in Colombo on our way back). On the way to Kandy, Red Apple had suggested an Indian restaurant called Vishwa Chandra Indian restaurant that also works as a transit hotel. The room was functional, and that was good for an hour's nap. Clean bathroom too. The breakfast was very average. If you are able to pick a different transit pace, I'd recommend that.
On the way to Kandy, our first stop was Pinnawala Elephant Orphanage. It's a simple affair but also breathtaking to see as many as 30 elephants of all sizes being given baths in a delightful setting that's straight out of Kerala, but greener and cleaner.
On the way to the river, there are tons of souvenir shops including a few that make and sell paper made of elephant dung! The first shop, with the statue of an elephant showing its butt (and dropping dung!) is a fantastic photo opportunity 🙂 I recommend not to buy souvenirs here since most of them are cheaper in Colombo.
The orphanage is managed by the Lankan Government so the prices are mentioned upfront, though they are 20 times more for foreigners, compared to locals! Considering everyone in Sri Lanka looks like us, that's the first culture shock – to realize that we are foreigners, despite being in a surrounding that could be straight out of Kerala 🙂
The entry fee for foreigners is 2500 LKR per head, but for SAARC countries, it is 750 LKR per head. So, show your Indian passport and avail that fee. Children under 12 are charged 350 LKR.
We then headed to our first hotel, Earl's Regent in Kandy. It's a very beautiful property with spectacular views.
Very comfortable rooms that include Indian style plug points, to charge phones. We had a pretty good lunch buffet that included vegetarian fare, at Oak Ray Regency, a few minutes away. The dinner and breakfast at Earl's Regent was very good too.
Kandy is not a hill station but is at an altitude. With some drizzle, the place can be chill, not cold. It's a large'ish town with spectacular views all around.
That evening, we went to the Sri Dalada Maligawa or the Temple of the Sacred Tooth Relic in Kandy. It's a huge, imposing temple and is incredibly clean and beautiful.
Foreigners are allowed a separate entry, and the fee is as always, a lot more than it is for locals. Children under 12 are not charged any fee – remember that. The entry fee for foreign individuals is 1,000 LKR per head.
You need to remove your footwear at the designated spot outside and they do ask for donations. A small'ish amount (like LKR 20) is considered appropriate. The temple looks particularly more beautiful in the night, with wonderfully aesthetic lighting. As I entered the temple, there was live music playing inside that sounded completely alien to me (in terms of tone and sound) and reminded me of the famous dialog from the Tamil film Vikram, 'Indhiyaavum Salamiyavum…'. I wonder if Tamil writer Sujatha, who wrote the source novel, Vikram, used Sri Lanka as the inspiration to create his fictional country of Salaamiya!
Day 2 (October 29):
We checked out of the hotel after breakfast (tons of photo opps in the pretty hotel, btw) and headed to Nuwara Eliya. On the way, we made a stop at the Peradeniya Royal Botanical Garden, in Kandy. It's a massive garden and can easily beat the living daylights out of equivalent botanical gardens in say, Ooty or Coonoor in terms of the variety of flora, size, cleanliness, facilities and the way it is organized and maintained.
The entry fee is steep: at 2,000 LKR per head (and 1,000 LKR for children). Given the size of the garden, I recommend hiring a buggy/golf cart to take you around. A large buggy would cost you 2,000 LKR more but it is worth it. The garden has an incredible number of places to take photos. Take your time to soak in the greenery!
You'd also notice a board that shows famous people around the world who have planted trees in the garden – I noticed 2-3 from India, including Indira Gandhi.
After the visit to this garden, on the way to Nuwara Eliya, there are a couple of small stops – including a viewpoint in Kandy and the spectacular Ramboda waterfalls. Both offer great photo opps, and are quick stops.
We had lunch at a place called Oak Ray Tea Bush, close to a more famous Hanuman Temple that was closed by the time we reached. The hotel had spectacular views too!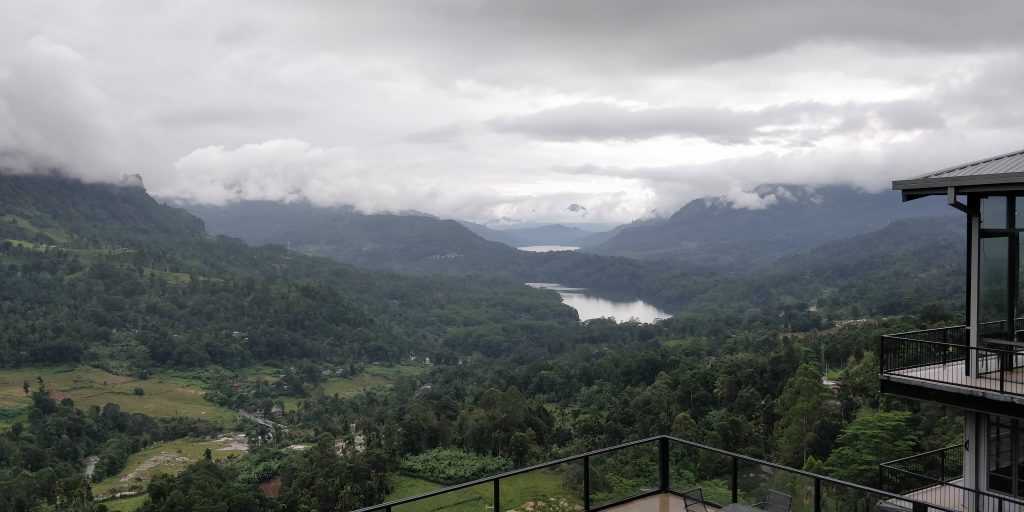 We reached our hotel, Araliya Green City in Nuwara Eliya by 3:30 or so. It was our favorite hotel among the 5 we stayed in Sri Lanka. Excellent food, has a shopping area inside and is well-located, close to the Victoria Park (walkable distance).
In the evening, we went on a boat ride in Gregory Lake. Standard hill station boat ride, but good fun nonetheless, given the size of the lake and views from the lake. The lake entry fee is 200 LKR while the boat ride was 2,000 LKR per head (and 1,000 LKR for children under 12). The entry fee is Government-mandated, while boating is private, so you can try and negotiate the boat ride fee.
Nuwara Eliya also has a very good Indian restaurant called Indian Summer. We ate at the hotel's branch in Colombo, so this hotel is highly recommended since it faces the lake and offers excellent food.
We went around town that night and the place looks like any other Indian hill station, only prettier, cleaner and better managed overall, with far better roads all through.
Day 3 (October 30 – also happened to be our wedding anniversary):
We checked out the next morning after breakfast and headed to the plains, towards Yala National Park.
On the way, we stopped by the Seetha Amman Temple. This is a mildly baffling place since it also has an enclosure for Hanuman! My daughter had asked me once even before we left for Lanka about why the country would have a temple for someone who allegedly (as per the mythology) burned down their country. I had no answer to that!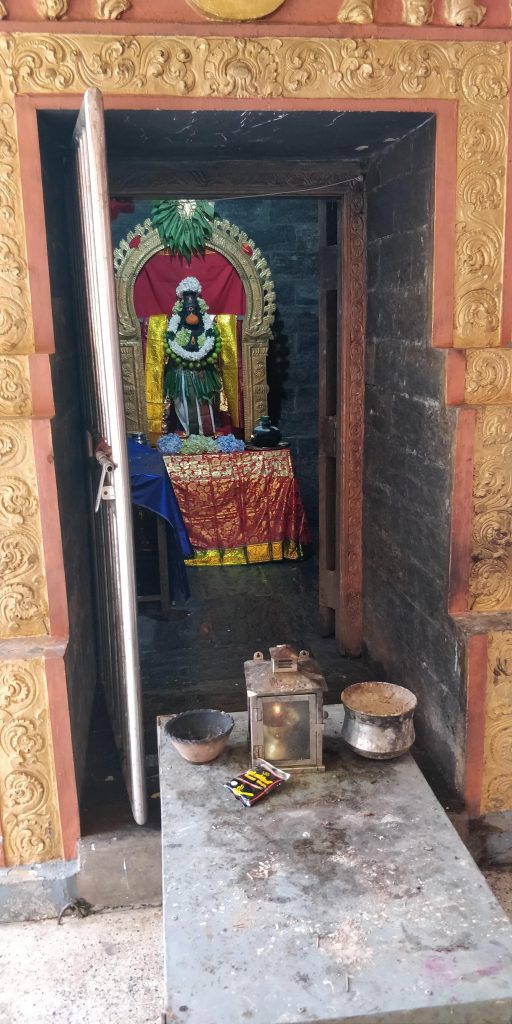 We posed this question to our driver too and he (a Sri Lankan Buddhist) was nonchalant about it, framing it as the Indian perspective and that they are not too perturbed by it or hung up on it. He also mentioned that Ravana is revered in his country, understandably.
Close to the temple was the Hakgala Botanical Garden. This is half the size of Peradeniya Royal Botanical Gardens, but equally green and dense. The entry fee is 2,000 LKR and half fee for children. I again recommend hiring a golf cart (2,000 LKR for a 7 seater, and 1,500 LKR for a 3-seater) since this garden is not flat like Peradeniya Royal Botanical Gardens. The walk is rather steep and a buggy would surely help.
We had lunch at a place called Ella, on the way. The place is teeming with foreigners (white-skinned) and even most of the shops are catering to them directly, in terms of things they sell or the food they sell.
All through our drives, there were 2 things that I felt was striking. One, Damro, the furniture brand that I recall seeing in Bangalore. It's literally all over Sri Lanka, including really small towns! I had no clue it was a Sri Lankan brand (founded by Damitha Ramanayake).
The 2nd was the presence of beauty parlors literally everywhere, all with largely similar-looking fully-decked up Sri Lankan women! The uniformity of their presence and ubiquity was pretty striking.
Before reaching Yala late in the evening, we went to a place that our driver said was not very well-known – a rock-cut Buddha statue called Buduruwagala. Our driver had thoughtfully bought a few packs of local Marie Biscuits and said it was a surprise (for our daughter). Before we reach the Buddha statues deep inside the jungle (easily accessible through the vehicle up to a point, with the last half kilometer only accessible by walk), there were streams and lakes that were full of fish. We fed the fish those biscuits and it was a joy to see hundreds of fish (protected by the Government, we were told) lap up the food.
The rock-cut Buddha was a majestic and wonderful sight! The fact that this is not a popular spot showed in the entry fee – 364 LKR for foreign adults and 182 LKR for foreign children (US $2 and $1, respectively).
We reached our hotel, Cinnamon Wild in Yala, late evening. It's an incredibly placed resort at the edge of Yala Wildlife Reserve. There are no boundary walls for the resort, so walking without escort (that you can contact the reception for) is not allowed. All creature comforts exist, though – air-conditioned rooms, large and clean bathrooms and mosquito-netted beds. We were shown a video of an elephant that had walked into the resort's reception just a week before, casually strolling into the bar and looking for food 🙂
Day 4 (October 31):
Next day morning was our safari at Yala National Park. The prices are rather steep, so do plan this one well in advance: half-day safari (one trip) is US $35 (for a 6-seater jeep) and US $60 for 2 trips (one in the morning and one in the evening, each lasting about 3-4 hours). Some tour operators also charge on a per-head basis (US $25 per head!), besides the entry fee of US $15 for foreign adults and US $8 for foreign children. Please do your check before finalizing this safari. You can plan for this safari from the hotel you stay in (like Elephant Reach, or Cinnamon Wild) or through your tour operator.
On our trip, we saw more than 40 other jeeps at the morning safari, all filled with white-skinned foreigners (besides the really loud Gujarati groups, of course, that you simply cannot ignore). The morning safari starts at 5:30am, so you need to be ready by 5:15am.
The national park is supposed to be a paradise for leopards, but our luck was rather poor – we couldn't see even one. We saw only the usual ones – elephants, bald eagles, monitor lizards, deer, etc. Still, a thrilling ride that includes a stop at the beach at the edge of the jungle!
If you go on the morning safari, make sure you come back by 9-9:30am for breakfast at your hotel.
After checking out from the hotel post breakfast, we headed to the proper seaside of Lanka, towards Galle.
On the way, we bought bananas to eat and felt like they were the equivalent of the 'Poovan' variety we're used to from Tamil Nadu. Very sweet and filling! The vendor had given us a few Lankan coins change and I was also astounded to see Tamil text in the coins of another country (that is not India). Tamil is also everywhere, in every kind of signboard, given Lanka's 3-language system (Sinhala, Tamil and English).
By the way, Sinhala also has a half 'a' sound that appears at the end of words very frequently. Like Marathi (dhagal'a' lagli gal'a'). Unlike Tamil. So Sinhala, Ella, Hikkaduwa all end with a half 'a'.
We reached Galle by evening and it was perfect to walk around Galle Fort. It's a delightful place worth a few hours of walk and soaking in.
The whole fort city looks like Pondicherry, only cleaner and more organized! There are fantastic, picture post-card kind photo opportunities in Galle, particularly in the evening, towards sunset, if you time it well!
We headed to our 4th hotel, Heritance Ahungalla in Bentota, next to Galle. It's a superb hotel – incredibly large and beautiful, right on the beach. The beach is a 2-minute walk away! And what a lovely beach it was!! We went to it on the next day morning, early enough to avoid the harsh sun.
Day 5 (November 1):
We checked out of the hotel after breakfast and before heading to Colombo (2 hours away), made stops at 2 places. Remember to not wear shoes during these stops – almost all of them would need you to remove shoes and muddy them. Wearing flip-flops is best!
The first was one of the many turtle hatcheries dotting Bentota's coast. The one we went to was called Victor Hasselblad Sea Turtle Research & Conservation Center, Kosgoda. It's a phenomenal place where they get the eggs turtles lay on the beach and leave, incubate the eggs, let them hatch and nurture the baby turtles till they are able to move into the ocean themselves. They literally act like the turtles' mother, protecting them till they can be on their own! You get to see and touch (and lift some) so many sizes and kinds of turtles! Given the number of hatcheries, entry is relatively cheaper, at 500 LKR per head. These are also private spots, and given the competition, increase or reduce the fee as they wish.
The 2nd spot was probably our most favorite thing in the entire trip – the Maduganga Mangroves River Safari! It's a 90-minute boat ride with 3 stops! The boat was highly ingenious since they have a retractable cover that is shut and open for specific occasions. It's open when your boat goes through really low bridges and when you need to take photographs inside the mangroves. It is closed when the sun gets really, really hot and you can barely sit in your seat!
The first stop from the boat was to a floating island where they have small cubicles with lots of fish, You can sit on the side, dangle your feet and let the fish scrub dirt off your feet! It's a fantastic and hell of a ticklish experience 🙂
The 2nd stop was to a Buddhist temple in another island.
The third stop was to a 3rd island where they grow cinnamon trees and make cinnamon right in front of your eyes. Wonderful experiences, all of them!
Given that the river safari is by private players, the fee can oscillate wildly, starting with US $20 per head (US $10 for children) for a boat that can accommodate about 8 people (you can book your own boat too) to a more rounded packages of US $25 for a full boat (no per head costs!). So, please do your check among the many options you have in Bentota.
Post lunch, we headed to Colombo. There is a fantastic tolled highway to Colombo and this highway, modeled along US highways, is absolutely brilliant. The view on both sides continue to be incredibly green and scenic, while the road itself seemed far more smoother than many tolled roads I have experienced in India. The specific thing was that the roads were uniformly smooth with no bad patches at all (something almost expected in India, without which you may actually feel cheated!) 🙂
We ate at Indian Summer in Colombo that night, after roaming around the many malls and public spaces in the city.
It's a lovely city, as chaotic as any cosmopolitan capital, but with considerably more aesthetic sense and order than any Indian metro. There seemed to be a sense of design and purpose to everything in the city, and I was ashamed (as an Indian) to see lane adherence on traffic and the sheer respect pedestrians and smaller vehicles are accorded by larger vehicles! In India, driving/riding is a combat sport, meant to win at any cost, without caring for anyone but oneself.
In fact, across the tiny country, all roads have clear markings for lane, even for just 2 lanes, including the yellow/white zigzag markings. This seemed like a completely non-negotiable basic across every place we went and most drivers seemed to be adhering to this order! The one exception was autorickshaws, called TukTuk, that continued to behave as if they can travel through matter and move in all directions without caring for lane or road discipline. Most TukTuks are Bajaj RE or Piaggio Apé, by the way!
Day 6 (November 3):
We took the flight back to Chennai the next day afternoon.
I'm sure there's a LOT more to do and look at in Sri Lanka but we had only 5 days and had to decide on a specific set of things that we can meaningfully achieve within that time. I found these helpful guides in the Srilankan Airlines' in-flight magazine (called Serendib, one of Sri Lanka's earlier names) that help you with your planning.
You can convert your remaining Lankan currency back to dollars at the airport, and do plan for more time at the security when entering the airport. There are at least 3 security checks after the recent bomb blasts, including one check just before you enter the plane (part of boarding!). The first 2 checks do not involve too much effort – basic frisking and bag checked through the machines, but the 3rd one was thorough. Barring your clothes, you need to remove everything, including shoes, watches and belts.
—
This trip was truly an eye-opener for me. I had no specific expectations from Sri Lanka except for generic views that it was a beach country. But what we got, in a span of just 5 days was a range of scenes and landscapes – exotic hill stations, fantastic beaches, thrilling jungles and a cosmopolitan city! And all these were fairly easy to reach, by road, with no hardship in terms of traffic snarls or poor infrastructure.
The best part was that the country felt extremely familiar (very like India, but a better kind of India in terms of aesthetic sense and cleanliness), the people felt very similar to us (in features, skin tone, language etc.) and made us feel like we're at home. Except that we weren't and had to carry our passports to showcase our foreign'ness 🙂
But it was mighty clear that Sri Lankans know what their country's one big chance and opportunity is – tourism. The country is blessed with so much greenery and natural beauty and the people have fully internalized that as long as they keep this natural beauty intact, they have a thriving economic opportunity. If they lose it, everything is gone. And hence, every single person in the country pulls this rope along, caring for their country, keeping it clean, making people feel safe (we saw many, many young white women, casually strolling alone in Bentota and Galle and I have heard from many Indian women too about how safe the country is, in a stark contrast to our country).
Every tourist spot is spic and span and extremely well organized, even if they don't have anything out-of-worldly spectacular. Don't expect the most exotic flowers in the botanical gardens (or perhaps, they may be, in specific seasons). But the gardens more than adequately satisfy with their sheer lush greenery, so lush and green that it may make your eyes bleed.
In one way, Sri Lanka in the beaches was like Goa or Kerala, but with the greenery and cleanliness spiked 10x. Sri Lanka in the hilly areas like Kandy or Nuwara Eliya was like Ooty or Kodaikanal, but with the greenery and cleanliness spiked 10x!
And this tropical island paradise is a mere 60 minutes from Chennai!! A truly memorable vacation… one that I highly recommend, if you haven't been to the country yet!
Comments
comments