3 months ago, I wrote about RRoyal Rajasthan, a restaurant on Sarjapur Road (Bangalore) and how the restaurant's owner used Zomato to have a go at customers who don't have charitable things to say about his restaurant (see my post on LinkedIn).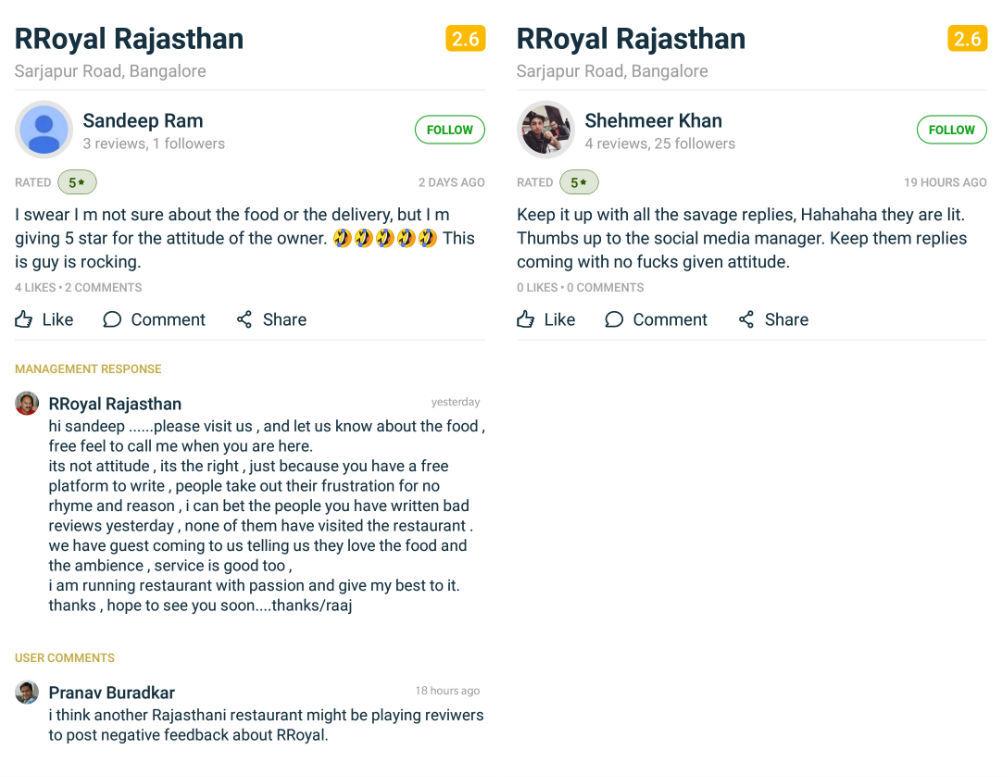 —
It was an interesting counter-intuitive strategy, whether he consciously adopted it or not, and went against the grain in the service industry where the owners are usually expected to become doormats to customers.
RRoyal Rajasthan is still around, though the owner has stopped being aggressive to negative reviews on Zomato.
Brands generally try to be polite and accommodating to all kinds of people, on social media – you never who might become your customer, after all. Recently, Netflix India was seen pushing the boundaries of what they can say and cannot say with some sassy work by their agency, Glitch. See my posts on LinkedIn: http://bit.ly/2Dh0n4u & http://bit.ly/2DkUcMG
Netflix was trolling detractors, spamming random people based on their surname and in one instance, they even told off a Twitter influencer who has 1.3 million followers, but not him personally, but using his Twitter handle as the theme.
These are sporadic attempts. But I have found a brand handle that not only pushes the limits but also goes so beyond the limits (and stays in character while at it) that they can't even see where the limit is anymore 🙂
dbrand is a Canadian device skins maker. Their Twitter handle, handled by @robot, is a riot!
If you can take a joke, that is. It is very easy to be offended looking at their responses. They rubbish brands like Samsung, Nokia and BlackBerry, use expletives liberally (in context, mostly!) and don't think twice putting random people down! And this is not one-off activity – they have been at it consistently, for a long time!
I don't know where this sense of confidence comes from. It could be the quality of the products they are offering, something that Apple fans use to gloat aggressively about the products (even as the brand itself remains diplomatic, understandably). But a brand going at people this abrasively and completely staying in character all through is new. At the very least, it makes you take notice!
Comments
comments