UPDATE: An earlier version of this post was titled, "Lay's chips put a mouth on their packs. An Indian chips brand did it in 2016!". The following is an additional context based on the new information. The rest of the post, as-is, continues to be below the update.
Edelman India reached out to me with additional information about the campaign idea first being used in 2015, in Egypt by a chips brand named Chipsy.
Chipsy is owned by Pepsico and is the name of Lay's, in this region! This campaign was conceptualized by Impact BBDO, Cairo and was perhaps the first attempt at putting the mouth on the chips pack!
Subsequently, the same idea was used by Lay's in Thailand and Pakistan too, in 2015 and 2016. I couldn't find the agencies credited for the conceptualization and execution in these countries.
Thailand (December 2015):
Pakistan (July 2016):
I presume BBDO is the first agency that came up with this concept that has subsequently been owned by a host of agencies across countries since they were all serving a common client – Pepsico. The odd one out, now, of course, is Popkon, in Kerala!
ORIGINAL POST:
Edelman India recently made adequate noise about the Lay's Smile campaign. Some of the numbers being quoted include "185 million impressions and 8.2 million engagements, with 75% of the influencer outreach being completely earned" (Source: Partner Content on Campaign India. I presume 'partner content' is euphemism for not-earned content which is minor irony given the campaign's focus on earned outreach.)
The campaign is credited to Edelman India as "conceptualised and executed by Edelman India".
What was the central idea? Put people's mouth on the product pack.
Why? As per Edelman's note: "based on a simple insight that a smile can lead to connections; and Lay's brings a smile to people's faces".
When was the campaign launched in India?
To time it with World Smile Day, 2019 – that is, October 4, 2019.
And then Wunderman Thompson is credited for the TV campaign, featuring Ranbir Kapoor and Alia Bhat.
Now, let's move back in time: February 8, 2018!
Pepsi US announced a tie-up with Operational Smile and launched the campaign that was the precursor to the Indian equivalent, eventually credited to Edelman India.
Operation Smile and Lay's to Spread Smiles across America! Lay's is on a mission to spread smiles in 2018. The brand is releasing specially designed bags featuring infectious smiles to create a ripple effect of smiles across the country in support of a life-changing cause. For every purchase of Lay's specially designed bags, a donation will be made to Operation Smile, an international children's medical charity dedicated to improving the health and lives of children and young adults worldwide who suffer from cleft conditions by providing access to safe surgical care.

Source: Operation Smile
The central idea? Put people's mouth on the product pack.
Agency credited? The Marketing Arm!
Now, let's move back in time, again! To July 2016.
Here's the starting point of a Kerala-based chips brand called Pling!
And then Pling asking people to do the 'Plingface', using the pack of chips!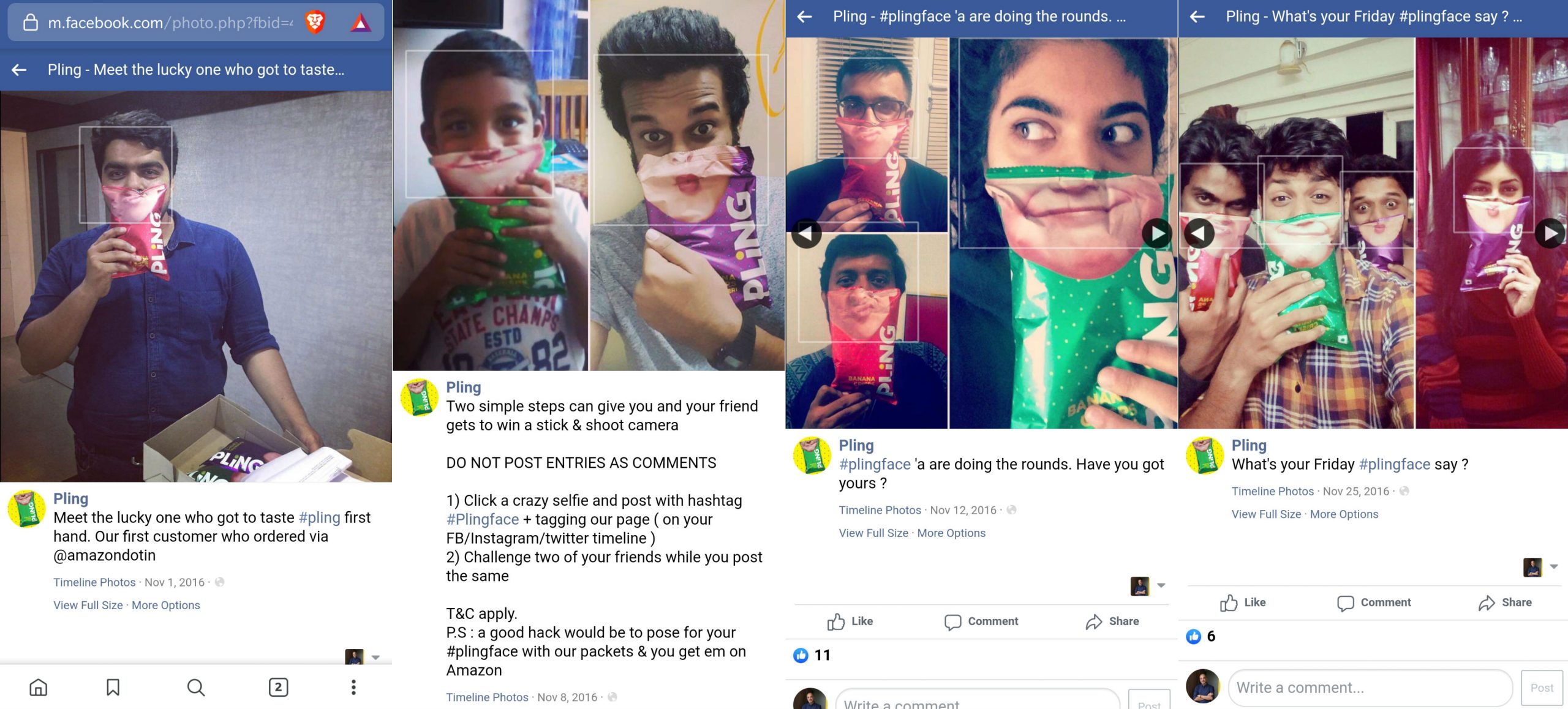 And some more Plingface featuring famous people!
And a shot of Pling and Lays on the same shelf!
What was the central idea? Put people's mouth on the product pack.
Who designed the Pling pack? It was by the agency that came up with their ad campaign too – Popkon Creatives, Kochi, and Jaison Antony, who is Creative Group Head and Managing Partner at Popkon.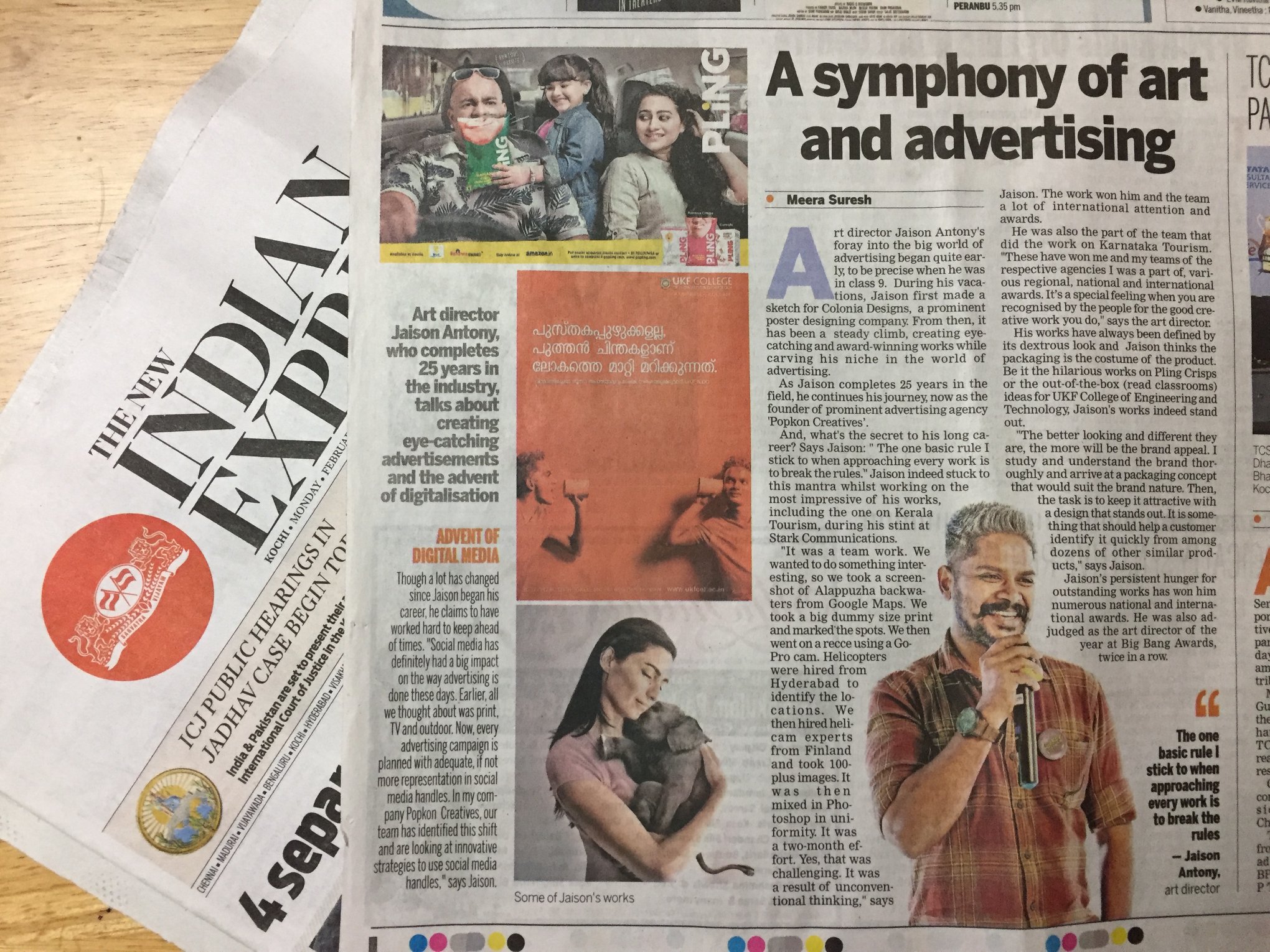 ---
The central idea is the same, across the 3 iterations. The variation is that Lay's pegged it around smiles, with a social cause/purpose, in the US, and with no purpose, in India. Popkon helped Pling with a unique package design that then led to the marketing campaign on those lines, but with no smile, just a jaw and a facial expression on top of the pack.
And the products are the same – chips!
It's just incredibly sad that an Indian idea went unnoticed in its Indian iteration, while the one in the US, 2 years later, led to the Indian recreation, and multiple agencies taking credit for the same idea.
PS 1: Hat tip to Jayakrishnan for the lead!
PS 2: I'm not a fan of this creative idea, overall. A chips pack with a mouth on top of it (without the full face) gives me 'unhygienic' vibes. More so if it is a mouth/jaw with a beard!!
Comments
comments