I was watching something on TV along with my daughter when the Ariel washing powder ad appeared. It features Chefs Sanjeev Kapoor and Damodaran, and played in Hindi. At one point, Sanjeev Kapoor asks, 'Who can remove these tough stains? Popular powder? Or New Improved Ariel?'.
My daughter, who is learning Hindi in school, has been asked to speak more in Hindi at home to get familiar with the language because there are limited avenues for her to pick up the language naturally. Incidentally, she picked up Kannada far easier because not only is she learning it in school but also speaks the language to a lot of people, in an out of school.
So, she asks me, 'Appa, what is jaanamaana?'.
I tell her that it means 'popular'.
And then it struck me: Why is Ariel calling another powder popular in its own ad?
I found the ad online and noticed a couple of things (see the Hindi version first, and then the Tamil variant).
One, the Tamil (and other regional language variants) have Chef Damodaran on the right, while only the Hindi version has him on the left, with Sanjeev occupying the right spot. Considering Damodaran is a Tamil chef, I guess Ariel made this switch, for familiarity.
Two, only the Hindi version has the other powder marked as 'Brand X'. The Tamil, Telugu, Kannada and Malayalam versions have something called 'Brand X Matic'.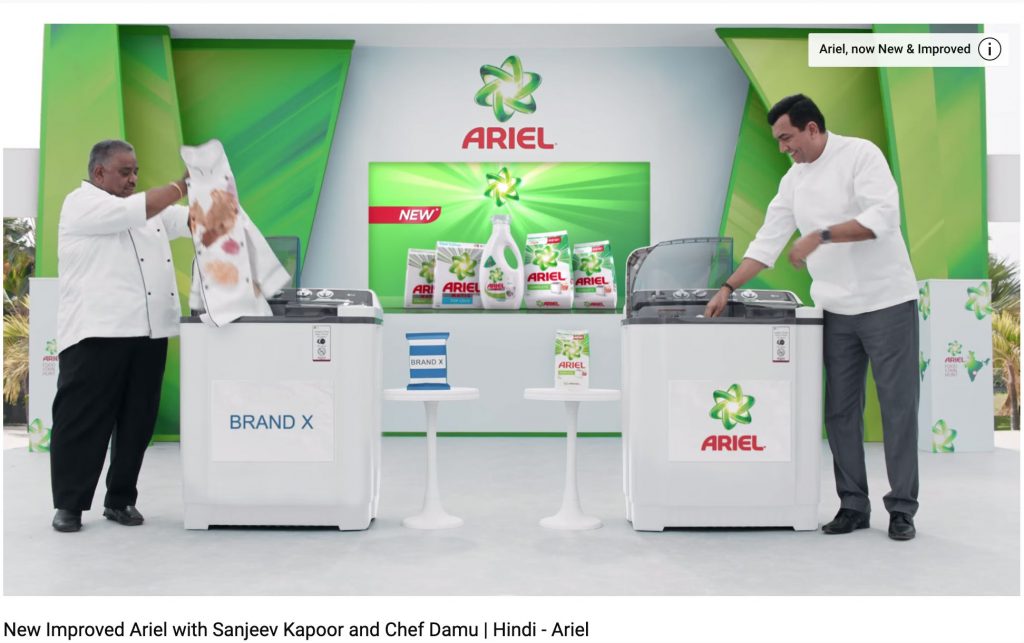 (Also note – the regional language versions showcase a side-loading washing machine, while the Hindi version shows a top-loading washing machine!)
Ironically, Ariel has a product called 'Ariel Matic' too, but I reckon the aim here is to indicate Surf Excel Matic as the other powder (X Matic is an obvious giveaway). I wonder why the change from 'Brand X Matic' to 'Brand X' only for Hindi – was there a complaint by Surf against the Ariel ad? And if so, why wasn't the change extended to the regional language versions?
But larger point – why would Ariel call Surf Excel Matic or even a 'Brand X' as 'popular' powder in their ad? That 'jaanamaana' is a very odd addition because that literally implies that people have preferred another powder (even as Ariel exists) because it does the job well. And that Ariel itself admits that they are playing second fiddle to a popular powder that everyone seems to prefer! After all, why would a washing powder become popular if it is not good?
The usual stand in such comparisons with X is a very different context – they are usually simply termed as 'Brand X' without the 'popular' specifier, or another not-so-flattering specifier is used.
For example, here's how Harpic contextualizes the rival 'detergent' when one woman says, 'I use costly detergent' (to clean the toilet).
So, for Ariel to call a rival washing powder 'popular' (and remember: that powder is popular despite the comparatively questionable cleaning prowess, as Ariel wants us to believe) is either remarkably honest and candid or done without adequate thought.
Comments
comments