You Click. We Plant.
That's the simple and promising premise of Tata Projects' Green Thumb initiative. In its 4th year, the initiative is extremely well-intended.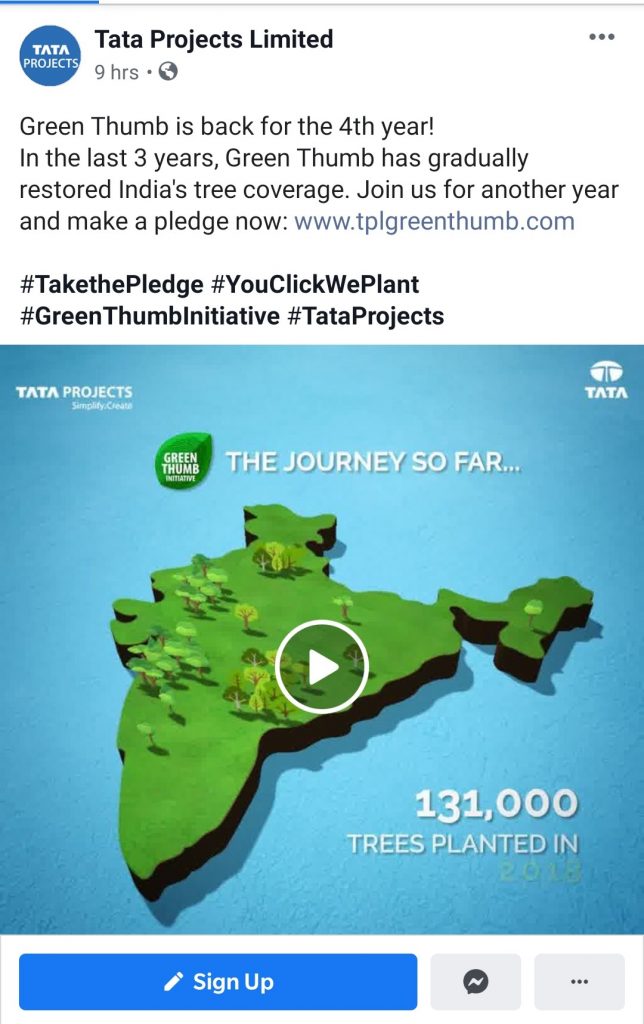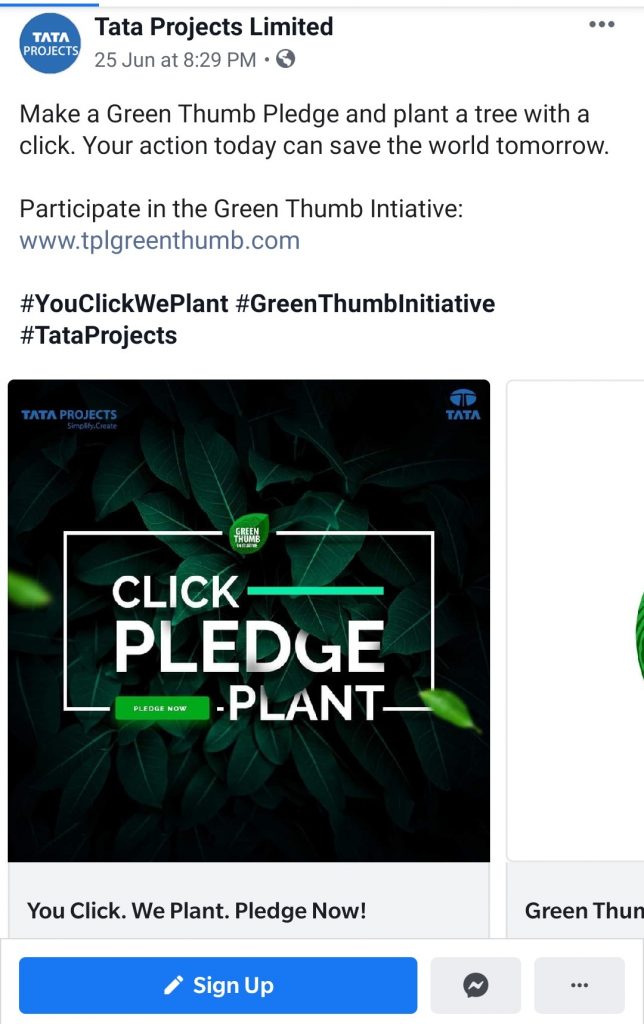 After all, any number of trees being planted is always welcome. And when they promise to plant more than 2.5 Lakh trees this year, that is so much more welcome.
The campaign website, launched on World Environment Day, is very simple.
You fill a form with your name, email ID, who you want the tree to be dedicated to and your phone number (optional). That's it – as soon as you fill it, you'd perhaps see your dedication-tree up on the index page.
The campaign won the award for 'Best use of Social Media in Marketing' at the 2018 Global Marketing Excellence Awards by Global Marketing Congress.
What I seem to be missing is some semblance of accountability.
Before I get to that, let me question myself – "They are promising to plant 2.5 Lakh trees. And they are involving people in the process using a simple method. More than entering their name in the form, people don't need to do anything – no fees, no more details to be shared, nothing! So, should someone pose a question on accountability at all, for something as low-involvement as filling a form?".
One answer to this is: No. Nobody has the right to question Tata Projects. They are promising to do something very useful. Let them do it. No questions should be asked. At all.
Another answer could be: Yes. We should question everything. Even if our involvement is a paltry form-fill. Why not? I'd love to know some follow-up details about where the trees were planted, how the trees planted in year 1, 2 and 3 are doing now, who is taking care of the water needs of those trees and so on.
Tata Projects is mighty clear in the terms and conditions.
"There will be no dedication/name of participants on the tree" —and this is understandable because if we get into those details, it becomes way too complicated. So the dedication is an instant digital gratification one gets to see in the index page of the campaign microsite.
So, by design, all questions about when and where the saplings are being planted are generally left unanswered.
This is THE Tata Group we are talking about, known for building trust over a century, in assorted industries. If it any other brand with not such an established track record of trust built, and they say, for every Like on Facebook, we'd feed one hungry child, you may not trust them as much.
So, the best intent scenario is that you trust Tata Projects, because of Tata Group's legacy, and believe that they would do the right thing and plant those trees as promised. Why won't they, after all? They did commit to it in public, for the 4th year.
I agree.
Still, it'd be truly wonderful if they complete the loop every year and showcase some semblance of validation that the job has been done. Not necessarily individual trees with names on them – no. Just before-and-after views of barren lands vs. small saplings, then after some period of growth and so on.
To be fair, there is a hazy 'media' section in the microsite that has some pictures of some saplings and some pleasant looking people ready with more saplings. They perhaps don't do justice to the scale being promised here – 42,000 in 2016, 48,000 in 2017, 131,000 in 2018 and now, 250,000 in 2019!
You can argue – even without all that, they are getting lakhs of form-fills. So, why bother? Suppose they showcase some proof – imagine the numbers then! Imagine your own frame of mind when you go to the campaign microsite and instead just asking your details, it showcases proudly photos of before and after, for the past 3 years! My reaction would be to immediately trust them and tell as many people as I know about the initiative… because they have been so convincingly transparent in the initiative.
In fact, they could augment this trust even more, by tying up with an NGO focused on the environment and getting them to validate/ratify the effort with a 'Green Thumb Audit'. That 3rd party validation will go a long way in getting more participation.
That also is the second level of PR opportunity, beyond that announcing intent every year once. It's the closure of a promise that can build trust on Tata Projects even more!
Comments
comments