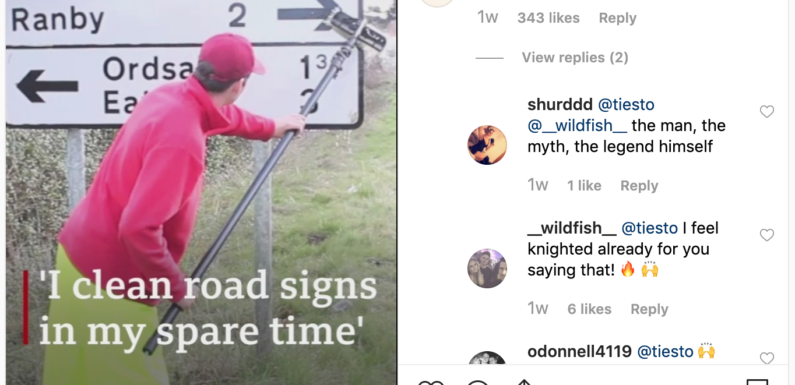 Liam Wildish is my hero! Who Liam Wildish, you ask?
Liam is a 21-year-old from Retford, Nottinghamshire. He runs a window cleaning business called Clean Scene Window Cleaning.
One way he promotes his services to win new business is to go around cleaning road/street signs in his spare time. And that work gets noticed very often by motorists and people, and he gets new window cleaning work as a result.
The word-of-mouth on that spare-time work got so viral recently that BBC did a story on him.
Many other news outlets picked it up and DJ Tiesto even commented on BBC's Instagram video!
Why is Liam my hero? Here's why.
In my workshops (for CXOs, and for employees of large companies, as part of employee advocacy programs – on personal branding using social media), I help people understand the value of branding yourself based on what you'd like people to recognize and remember you as, and highly effective and practical ways to make use of social media to do that.
To build the 'who knows you' factor. The more people that know you, the better it is for assorted opportunities to open up for you.
One great way to do this is to showcase visible and consistent interest/curiosity and be helpful to others, in the area of your work, no matter what kind of work it is.
The operative words are,
visible – people should know that you are sharing something; social media, beyond how people abuse it, can be put to excellent use for this purpose if you knew how to use some of the main platforms
consistent – you should do it regularly, and diligently
interest/curiosity – you need not be an expert; you can learn as you opine, from others. Be open to ideas of others while you share.
helpful – showcase great instances in your area of work so that you become a helpful source for other people to learn
So, if you are in marketing, you read more on marketing around you and share your views. If you are interested in HR, read more on the kind of HR updates in your country and outside, and share what your viewpoints are, on those. If you are a McDonald's counter clerk, use your free time/weekends to read more about the fast-food industry and food retail, and share your views on it.
The more you do this online, the more people would associate as being genuinely interested in the subject. Not as an expert, but as someone who is passionate about that topic.
Liam does the offline version of this beautifully.
He is in the window cleaning business. And his spare time activity is to visibly and consistently be helpful for the community he lives in, with the help coming in the form of what he does best/for a living – cleaning.
So Liam is,
being visible – on the streets!
consistent – he does it whenever he has spare time; not a one-off gimmick. Now people write to him on Facebook pointing to signs that are dirty!
demonstrating interest/curiosity – he shows interest in cleaning street signs that don't pay him, but he sees that time and effort as a marketing investment
being helpful – while it is a marketing investment, it also helps the community!
This is absolutely brilliant!
I practice what I preach myself. For my workshops, I'm the first guinea pig to prove that I know what I'm talking about. I have been blogging since 2000 (yes, on music plagiarism; and since 2005 on music reviews and since 2008, on PR, communications and marketing). My online reading and use of social media is also directly related to largely these themes. So, I don't waste time on 'browsing' at all.
Since I quit full-time employment in 2018, I have been blogging every weekday. That's 5 posts a week. That's literally those 4 points I mentioned above. And almost every single opportunity I get, for my workshops or consulting gigs are from that effort – it is, at its core, inbound marketing.
Another way to understand this effort from a personal branding perspective: Years ago, when Indian IT boom was at its peak during the early 2000s, there was a lot attention on waterfall method vs. agile method of software development. Many IT service companies used their agile method as a USP to showcase their superiority.
In very simple terms, Waterfall treats analysis, design, coding, and testing as discrete phases in a software project, performed one after the other. Agile method treats these as continuous, iterative activities.
In the conventional sense, we have always been told that our work should talk for ourselves; we shouldn't. So, like the waterfall method, you do your work, and let it talk about your, once it is done (in the form of promotions, increments, awards etc.).
In the agile method, you do your work, and while doing it, you share milestones, experiences, others' work, your opinion on your industry, your views on others' work and so on. You still need to do good work – that is non-negotiable, because if that falters, all that you built up will fall at some point.
—
PS: Having written all this, it'd be a shame not to plug my work 🙂 I conduct workshops on the topic of personal branding using social media. The workshop is usually a day-long session meant for 2 kinds of audiences:
CXOs – a maximum of 8 C-level executives of an organization. The workshop is customized to the 8 participants at a personal level.
Employees – as part of employee advocacy program. The logic being, if an organization wants its employees to be its brand ambassadors online, they have to credible and known individuals themselves first.
Besides my workshops, I also help organizations on their communications, as a consultant – around PR, digital/social media marketing, story-telling and content strategy.
If the workshops or the consulting part interests you, do reach out to me for a discussion.
Comments
comments