If you still haven't seen the new Samsonite video for #KeralaIsOpen, please do that first!
It's a lovely, simple video with a heart-warming point to make. I did feel the video was a bit unpolished, but the intent was so perfect and considering this is the first brand to take this mantle, I cannot complain at all. This is a splendid effort by Samsonite, particularly for the way they kept the brand push so very limited (just the first shot!). They could have shown more, but that restraint is particularly beautiful, given the context of the video.
But this post is not about Samsonite. I have already fawned enough about this video.
This post about the agency that made this video for Samsonite. And that agency is Bangalore-based Autumn Worldwide.
Before I go to make my specific point, let me start with some context.
I have been in 2 kinds of agencies in my 2-decade career handling communications in the client-side and the agency-side – PR agencies and advertising agencies.
PR agencies, by nature of the kind of work they do, cannot lay claim to the work they do. That they have started doing it recently, for awards, is a different state of evolution, but in principle, PR agencies are supposed to let the client's work speak for itself. That is, PR effort is directed towards getting the clients' words or work in front of people in a medium that is more credible than paid-for spots (which is advertising's domain). The idea is to earn the trust of an intermediary and let that credible intermediary go to audiences, talking about a client.
That this has morphed into a muddled mess now is a different story. PR agencies have started calling themselves 'marketing communications' agencies, while everyone wants a pie of the paid-for spots is a statement on the evolution of media and social media than the agencies' work.
The crux is – PR agencies' output appears in credible (earned) media, while advertising agencies' output appears in paid-for media. Because of the credibility angle, PR agencies cannot traditionally claim ownership of their activity because then it may not seem credible anymore.
But advertising agencies, because of the output appearing in paid-for spots, have never had any qualms about taking credit for their work that they do on behalf of their client. So you see the agency's name in print ads. And most agencies do press release + media interaction (along with the client) to talk about the work they did in a campaign, TVC etc.
The conventional way is that the agency's media representative conjures a note explaining the context of campaign, gets the statements of the agency head, creative head, and a client-side marketing person. This serves as a starting pitch to get marketing media to talk about the work, and this helps all the people in the equation – agencies get more work (their own branding), clients get spoken about in the right circles etc. Agencies talking about their own work is as normal as famous actors acting as a concerned person impressed about a brand in advertisements.
But, this agency-talking-about-its-work needs a process overhaul. The outdated method of depending on media as an intermediary applies to the broader PR world as much as it does to advertising agencies trying their hand at PR. When agencies have never had any qualms about taking credit for a campaign in the past, what's stopping them from using their owned media to take that credit? Particularly when the world is positively talking about their work?
Let me get back to Autumn, now.
Samsonite's Kerala Is Open video surfaced on their online properties late on 25th September night. From then, it really exploded on Whatsapp all through 26th, and starting late night on 26th, also on social media properties like Twitter, Facebook and LinkedIn. By 27th, it was everywhere and the hashtag, #KeralaIsOpen that was first coined and used by an Alappuzha-based resort called Marari Villas on September 8, 2018, has now become a generic tagline for everyone to use, including Central and State ministers.
When I shared it on 27th morning, I wondered aloud who the agency was, more than a day after it was online. I searched everywhere – on LinkedIn, Twitter and Facebook for any clue on any agency that has been credited for this work somewhere. Nothing at all!
Jithin tweeted to me that the agency is Autumn Worldwide, but one look at all their online properties, there was no confirmation.
Another friend mentioned a Facebook post by one of the actors in the video, where he had mentioned Phataphat India as the agency.
Here's another post by the same actor, from the shooting.
I did notice that Phataphat seemed more like a production agency than a creative agency, but since they were mentioned as 'the agency' by one of the actors, it seemed apt to name them as the film's agency.
The film's make-up man took to Facebook to proudly showcase (as he absolutely should) his work and credited Phataphat India, like the actor.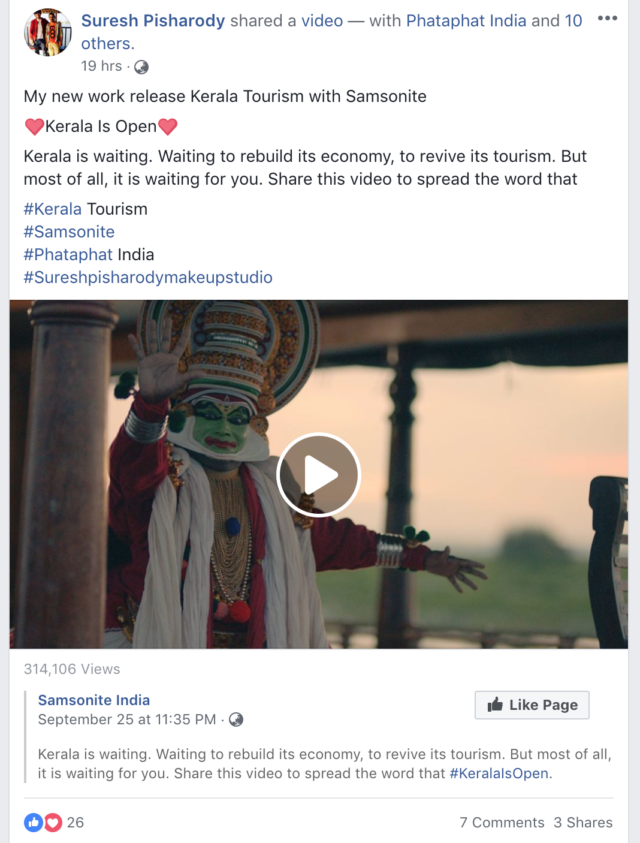 Then Jithin tweeted to me another Facebook post by (possibly) an employee of Autumn where he had categorically called it out as Autumn's work for Samsonite India.
I also noticed a Facebook post by Autumn's founder yesterday morning where she had shared the Samsonite video and added 'so perfect' as her comment. Not 'so proud of our work for Samsonite' or something that can actually mean Autumn did, in fact, create the video.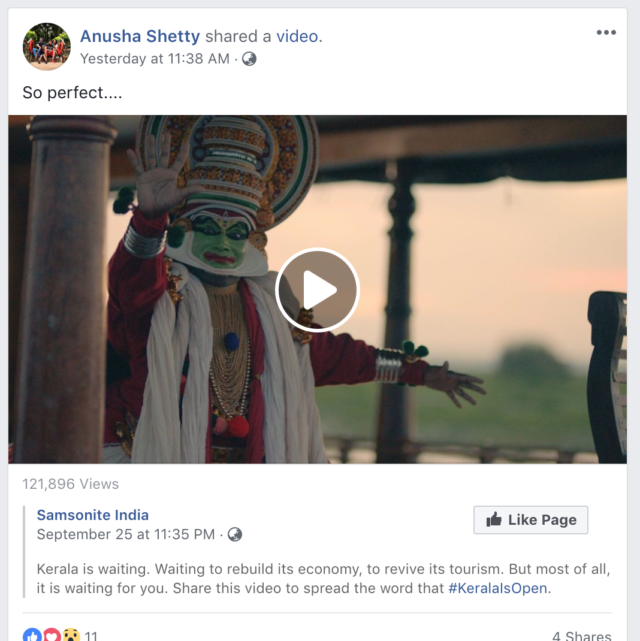 Respected professionals from the advertising fraternity are asking a pointed question, tagging the agency. And… no response from the agency!
And late in the evening of 27th, another agency called Momomoto Studios laid claim to the video as the producer and director, alongside Autumn Worldwide. This, even as they started their life on Twitter, perhaps noticing that people are asking a question and someone needs to answer, if Autumn doesn't seem interested. These are the studio's first 2 tweets!
And then, finally, Autumn took to Twitter to explain. They credited themselves and called out 2 partners – Phataphat and Momomoto Studios.
A few minutes later, possibly alluding to Momomoto Studios' earlier claim of being the only partner involved in producing and directing the video, Autumn said,
Why this kolav… sorry, confusion?
Momomoto Studios, sensing the tremendous confusion all over, posted yesterday evening what Autumn should have done on the morning of September 26th, simply as a process, using their owned media online – a detailed update with complete credits.
Notice the 'Kerala Line Producer' Amir Ul Rameez? He is the founder of Phataphat Studios! Makes sense, now… about why Momomoto was cagey of Autumn crediting Phataphat ("after all an on-location line producer… getting studio-name credit alongside us, the actual producers of the film?"). It's a different thing that Autumn was cagey of crediting anyone, including themselves, till a LOT of people started wondering who made this wonderful film.
Autumn took to Facebook too (F-I-N-A-L-L-Y), to post a customary update, but with no credits whatsoever to clear the air, except reiterating what Nishant Ananthram, their creative director, had the presence of mind to do, a day before!
And Autumn's Anusha did respond on Twitter by the end of the day.
I don't quite agree with the 'we allowed the film to talk' line in response to a pointed, 'wonder who made this film?'. If we all allowed the respective products and services to talk, there'd be no need for communications/advertising/PR agencies in the world. Everything worth earning an attention will earn that organically through word of mouth. But the very job of an advertising agency is to get a client to be talked about… remembered. And now that the task has been achieved and there's a follow-up question of who made this fantastic task possible… why hold on to the outdated 'let the work talk' line?
There is a place and occasion to claim rightful credit. There should be no shame in it, unless the client had put in a clause that agencies involved should not take credit (happens, sometimes… with some terrible clients). And here, people love the film and wondering who made it. They are not going to forget Samsonite just because they became aware of who made the film. Every brand in the equation has a place and context. And nobody is going to forget the cause the film is showcasing just because they came to the name of the agency that made the film.
My question is – why are advertising agencies, that are custodians of client brands, and are responsible to take those brands to the world, so poor in their own branding? Or, why are they still holding on to outdated methods of letting their work talk? If they recommend that brands use their owned media (digital) to do their own talking, and not just depend on other forms of media over which they have limited control (besides paying money to gain some notional control), why not apply it to their own agency brands?
One great demonstration of this phenomenon is agency handles on social media. Most agencies have a terribly perfunctory presence on social media. These are the very agencies that pitch social media to clients and win those businesses too!
When the world was celebrating the Samsonite video, why was Autumn, the brain behind the video, so silent in taking their rightful credit? And worse, when an employee (Nishant) has the presence of mind to take credit for the work, what's stopping the agency from doing so? They don't need to crow about it – all it takes is a simple, 'We are incredibly proud of our work for Samsonite, for a very important cause' and the video (either uploaded afresh, or sharing a Samsonite post on any platform).
What's particularly sad is that when people are wondering if the agency is Autumn, by tagging the agency on Twitter, there is absolutely no reaction from Autumn at all for the whole day. Across multiple platforms. If there was no tagging, I'd understand (actually, even that's unpardonable – tag or no tag, a/any brand, agency or client, should be on top of what people are talking about it online) that they may not have seen the message online. But with a tag, and with no response (or an incredibly late, after-thought'ish response – on a day when your new work is literally going places online) it simply means the agency doesn't have a process to manage its own reputation online. Even more bizarre – this was an incredibly positive association that they can easily take on and own. It's like there is a demand for a product and the brand in question isn't aware of the demand, and shuts the door to the demand!
This is a sloppy effort from Autumn. For such a wonderful piece of work, at that.
And, to be honest, most agencies are no different. If they can devise a strategy to coordinate a client's digital properties for a big reveal/campaign launch, work with influencers to time their updates with the campaign launch, what's stopping them from coordinating their own announcement? Imagine coordinating all your employees to proudly share your work the day the client's work is revealed, online! Imagine your own agency handles on social media own the piece of work while also giving credit to the client on the day the work is revealed online! And letting people know both the facts – the work itself, and the brain behind the work.
Advertising agencies not listening to or imbibing what they tell their clients to do (and get paid for it) is the greatest irony of our times.
Or, they go the other extreme, sharing their work on a day that is most inappropriate to do so, like MullenLowe Lintas sharing the work they did for Tanishq on a day when Onam was being literally being cancelled due to Kerala floods, mid-August!
They have since removed this post from LinkedIn.
Comments
comments